Sticky eyes are something pretty much every parent will be dealing with at some point. It is so common in the early days when the tear ducts are so small that they become blocked in the blink of an eye. So to speak. Even Gemma and Jacob still suffer occasionally. At the moment, we tend to deal with it using cotton wool and some cooled boiled water. Easy – but a bit fiddly if I am honest. Not only do you have to wait for the water to cool down, but I find cotton wool breaks apart, even when it is wet. Plus it just feels….horrible!
We were sent some Dentinox eye wipes recently, and have been giving them a good try out on all 3 children. These wipes are saline wipes, made to cleanse eyelids and lashes, as well as clean out any gunk, and they are safe to use from birth.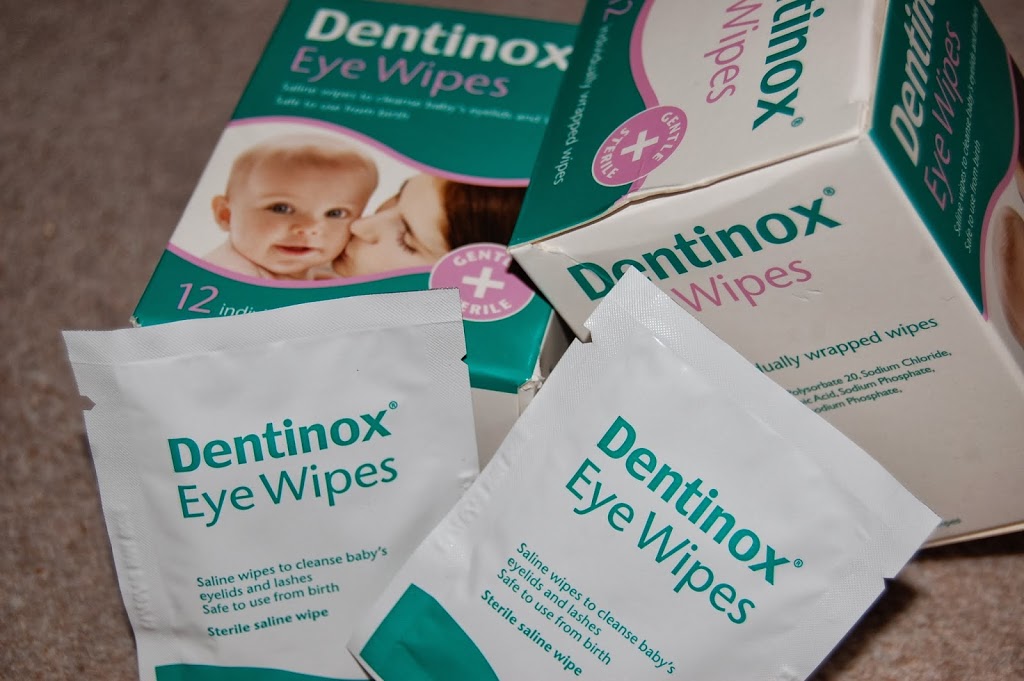 Now, Max is not a fan of any type of wiping in the face area. Messy weaning chops and the general grubbiness of an almost crawling baby means a lot of wipib, but when he sees you coming near him with a wipe, he flaps and shouts. It was no different with these, but he did stop in surprise when I wiped his eye rather than his mouth or cheeks! He has had a slightly sticky eye for a couple of days – partly due to the fact that he likes to rub dinner into it. The Dentinox eye wipes made light work of the little bit of gooey-ness in the corner of his eye, and left him looking bright eyed again.
It is so much less hassle to use one of these wipes instead of messing about with cotton wool and water. It's quicker, easier and much less time consuming. It takes seconds. I also think it is much more hygienic – each wipe is individually wrapped and sterile, so you know you are not introducing any nastiness into the eyes, and also makes them perfect for popping in the changing bag when you are out and about.
* I was sent some Dentinox eye wipes free of charge for the purpose of this review. I have also been compensated for my time as part of this Britmums project – however, all thoughts and opinions are my own. *