Finding time to read books that don't feature Peppa Pig or a fairy is hard these days – I am either too busy or too tired. When Mumsnet got in touch offering me the chance to review a new novel, I vowed to make time to read for me again – and I'm glad I did!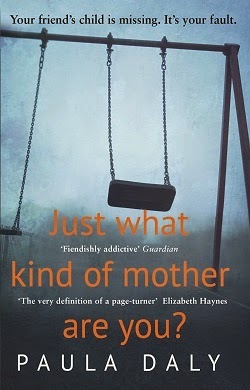 'Just what kind of mother are you?' is the debut novel from Paula Daly. The cover makes you think this will be a dark, suspense filled thriller of a book, and that's pretty much what you get. It tells the story of a hard working mum of 3, Lisa, who takes her eye of the ball with devastating consequences. It's a character I think many of us will relate to – a mum with too much on her plate, sometimes forgetting things.
When her best friends daughter goes missing whilst in Lisa's care, she sets about trying to discover the truth. Along the way, she finds out that the place she lives and the people in her life may not be what she thought they were.
It's a real page turner. There is suspense, an unravelling of characters and a great ending – as I get towards the end of a book I can usually work out how it will finish. In this case, I was pretty sure I knew what was going to happen, and right at the end I was proven wrong. I don't want to say too much and ruin the story – but I didn't see it coming!
I can highly recommend this book, but I can not be held responsible for the fact that you will stay up late reading it, as you won't be able to put it down!
Have you read a great book lately? I am looking for more titles to add to my reading list, and would love to know what you have been enjoying.