The big move from primary to secondary school isn't an easy one, for parents or their children. It's a big step, and one that doesn't always go as smoothly as you might have hoped. While most kids will adapt to the larger classrooms, the sea of new faces and the increasing volume of homework well, others may struggle to make the transition and could face a few hiccups along the way.
As a parent, you're bound to want the best for your kids, and seeing them unhappy or emotional, for whatever reason, will undoubtedly affect you too. Being there for them every step of the way, so that they can be confident in themselves, will help to make the move to 'big school' as easy as possible, and there are plenty of ways in which you can help.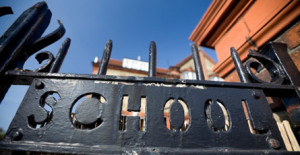 Build their Excitement
Don't wait until the summer holidays to start chatting about the transition. Help to get them excited by talking about the move in a positive way and, as September draws nearer, involve them in the preparations so that they can look forward to secondary school with excitement.
Take them along to George at ASDA, where they can pick their own uniform essentials. Give them the choice of school shoes, skirts and school bag. Let them go wild in the stationery aisle, allowing them to inject a little personality into their back to school basics.
Talk to Them
Let them know that you are there to talk to, if they have any qualms about the move. After all, you've been through it (albeit a long time ago!), so you know how it feels and you can help to shed some light on their issues. Alternatively, if your child isn't the talkative type, why not buy them a nice new diary or notebook so that they can get any worries down on paper?
Take them for a Visit
There will undoubtedly be an open day or two between now and September, so make use of them. Take your child along to the school so that they can get used to it beforehand. This will not only be beneficial to you, as a parent, but will also help them prepare themselves in advance, so that they know what to expect (and will also reduce the chance of them getting lost in the corridors!).
Limit the Stress
Don't make a big deal out of the big transition. Use the time to build their excitement by taking them to George for their uniform and to the school for visits, but don't put too much emphasis on the whole ordeal. Take it in your stride, and if you're feeling nervous for them, don't let them see! Your emotions and nerves are bound to reach fever pitch by the time September comes, but stay strong and positive for them – the last thing they need to see is you crying at the school gates!
The move from primary to secondary school is a big one, but for most kids, it's fairly straight-forward, especially if they're going to the same school as their friends. For the majority of children, it's a step that they're looking forward to taking – just make sure you're there for them, just in case there's any wobbles along the way.
* This is a sponsored post *