I have always looked to the supermarket brands for my baby shopping. They tend to be much cheaper, readily available and do the job of bigger brands just as well. We were recently sent some goodies from the Tesco Loves Baby range – and I have to say, I wasn't disappointed!
Tesco Super fit nappies & Ultra soft baby wipes
As a lot of you will know, I am a cloth nappy user for the most part. However, there are times when I use disposables – for nursery, for holidays/travelling and sometimes for night time too. So I was really loking forward to seeing how the Super fit nappies would stand up to my little wriggler. The nappies have a 4 way flex system, with elasticated panels between the legs, at the sides and at the inner and outer leg cuffs – this ensures a soft but secure fit for those babies who never stay still (yes Max, I am looking at you). They also have a fast dry zone which locks in wetness to keep your little one comfortable, even overnight.
The fit is perfect – there is no gapping around the leg cuffs or the waist, and the elasticated tabs mean that there is a huge amount of adjustability as Max grows. They stay in place even during crawling, wriggling and climbing on the sofa (yes, that's you again Max), and even overnight they stayed in place and we had no leaks.
As well as the nappies, we also received some Tesco baby wipes – these are a brand I regularly use, as I find them to be soft and gentle, and one of the only brands that doesn't give Max a sore bottom. The plastic cap stops the wipes from drying out, and yet you don't end up with that horrid pool of wetness in the bottom of the packet. They are even soft enough to use on mucky hands and faces – on all 3 children!
Tesco Baby don't just provide nappies and wipes though. They also have a great range of weaning items.
Tesco Baby bowl, cutlery set and beaker
I find it really hard to find bowls that are the right size for Max's meals. He eats whatever we eat, just smaller portions.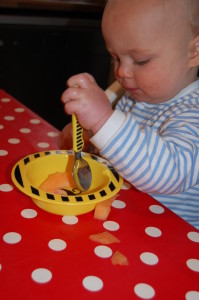 Nearly all bowls are either teeny, and not big enough for a spoonful of mash, or just enormous – to the point where he might as well have an adult plate. The bowl we received seemed to be a nice balance – a great size for cereal in the morning, and a nice ladle full of casserole at dinner time. The design is bright and appealing for little ones too. The matching cutlery set is lovely too – a soft plastic handle for little hands to hold, and the right size to practice eating with.
The beaker is a 'grown up' cup and ideal for Max now he has moved on from a bottle. He will happily drink his bedtime milk from it, although we did have to remove the valve for a more free flow of milk – with the valve in place it didn't come out fast enough for him. The beaker is designed for babies from 7 months though, and so younger babies may find the valve much more suitable for them.
By far my favourite thing about the beaker is the fact that it is insulated. This means that when we are out and about for the day, I know Max's drink will stay lovely and cool – with this hot weather we have been having this is very important! It is dishwasher proof too – not a big deal for some, but for someone like me who loves their dishwasher, it's a big bonus! Despite the cup having no handles, which is what Max is used to, he managed this beaker independently. My boy is growing up…