It's that time of year again – schools almost out for summer, you have probably met your child's new teacher for next term, and you may well have shed a tear or 2 at the thought that in just a few short weeks your child will be in a whole new year – for us it will be Year 2 and Year 4. How did that happen?!
I like to make sure we are well stocked up on school uniform before the summer holidays. The kids don't tend to have massive growth spurts now, and I always buy a size up where possible to make sure things last. This year, we are lucky enough to be a Matalan blogger – and part of that involves trialling the Matalan school uniform range.
We were sent a full selection of the school range – everything from shirts, jumpers and dresses to vests and socks – so everything you need to get ready for school in the mornings! Both my children usually wear polo shirts, but Gemma loved the blouses she was sent – she said they were 'grown up' shirts and has chosen them almost every day since. She also loves the 2 dresses – one is a traditional checked summer dress, but the shape is beautiful – it sort of nips in at the waist and has a slight tulip style skirt. It's unusual, and I like that. The other dress is a pinafore style with subtle pleats in the skirt and a thin black belt at the waist. It also has thinner straps than the usual pinafore style, and again Gemma likes this and feels it is fitting for a child about to start Year 4.
Jacob was sent both polo shirts and long sleeved shirts – due to the hot weather we have only tried the polo shirts so far. They are lovely and soft, and they fit and wash well. We also received a pair of black school trousers – however these are far too long in the leg for Jacob, and so he hasn't worn these yet.The vests and socks are all ideal for school – plain white, sleeveless vests for the colder months, and black or grey socks to tone in with uniforms. Jacob actually has a bit of a habit of choosing very bright socks for school (he thinks that no one will notice under his trousers), but he has been independently choosing the Matalan ones recently, which is a bit of a relief – I don't want to get into trouble with the teachers!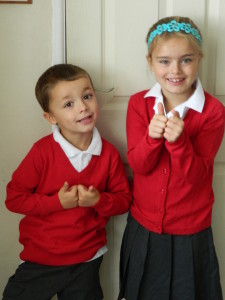 I think my 2 favourite items are the super soft cardigan and jumper. They are a gorgeous material, and feel ever so soft against the skin – even for sensitive Jacob. They are also lovely and light, which has made them ideal for the summer term, and much more practical for a warm classroom than a heavy sweatshirt. I can imagine they will be perfect for autumn too, when you just need something to ward off the slight chill in the air. Again, they have washed really well, held their shape, and retained their bright red colour.
I think that thanks to Matalan, we are pretty much sorted for the new school term. The children have a lovely selection of uniform for both warm days, and for days when there is an autumn chill in the air. I intend to go and buy Jacob a few pairs of shorts – he prefers to wear shorts rather than trousers anyway, and the Matalan trousers are just far too long, despite being the right age for him. That is really my only criticism – everything else fits exactly as I would expect, and the kids have loved showing off their new togs.
Have you started to get uniform for next term yet? Do you buy direct from your school, or do you tend to stick to places such as Matalan and the supermarkets?