Once your kids start school, you very quickly realise the value of personalised items and name labelling. Without it, things get sucked into the vortex of lost things, never to be seen again. You name it, we have lost it – jumpers, PE shorts, socks, drinks bottles and even a show once. How a child manages to lose one shoe is beyond me but there you are.
Anyway, I digress. Personalised items are a good thing, and that's where Stuck on you comes in. A website that started out with name labels, and has now frown to include a fabulous range of personalised gifts and kids clothing. We were sent a personalised drinks bottle and an embroidered towel to review.
The drinks bottle is ideal for school – it's big enough to hold plenty of water for the day but still fits into Gemma's lunchbox. It is made from stainless steel which means I am confident it will last, and is BPA free and spill proof (as tested by Max), so it really is ideal for school, where it is likely to get bashed about and shoved into bags upside down. Gemma loves the print on the front, which is girly yet grown up, and I love that it doesn't peel or flake off when washed. It has a flip cap with a sports style pop up drinking bit, which my kids all find easy to use.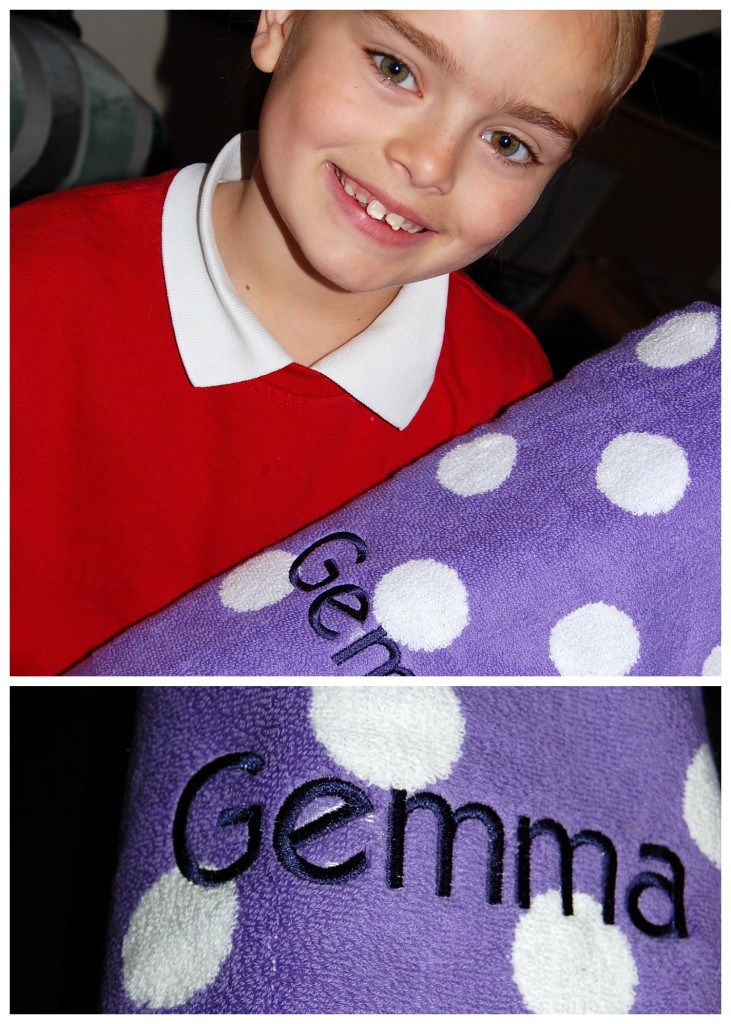 The embroidered beach towel is HUGE and plenty big enough to work as a beach towel, bath towel or swimming towel, which is what Gemma has been using it for. She swims twice a week at school, and the children are asked to bring a large towel to allow them to wrap themselves up after getting out the pool. This towel more than suits that purpose, and I am confident that Gemma will be kept warm after her swim. It is super soft, it feels like silk to touch even after several washes, and it is absorbent enough to cope with a dripping child too. The embroidery is beautifully done, and again means that items are unlikely to get lost – and if they do, they can easily be reunited with their owner! Gemma loves the bright, purple colour and the novelty of having a towel with her name on, and I love that it does the job it is designed for so well.
If you like the look of the Stuck on You products, why not enter my competition? 2 lucky winners will each recieve a £20 voucher to spend on the site. Good luck!