I recently came across a post over on We're going on an adventure about hyperemesis gravidarum. I feel very, very lucky that this has never happened to me, but I have a close friend who really suffered, and there just wasn't enough support out there. She was admitted to hospital so many times with dehydration, but she needed the emotional support too. As a single mum, battling this condition alone, she found it incredibly tough, and I am in awe of how well she managed. I am all for raising awareness of this condition, and without further ado I hand you over to the lovely Caitlin from Spewing Mummy.
When was the last time you had a bad tummy bug? Have you ever had food poisoning? Think back to what it's like being really, really sick for 24 hours… now imagine if that lasted a week… now imagine it lasting a month… now imagine if it lasted nine long months. And on top of that, imagine if no one believed you.
Not only are women with hyperemesis gravidarum throwing up and constantly nauseous for at least 5 months and often (60% of sufferers) for the full nine months of pregnancy, but they are also being bombarded with nonsense about how they shouldn't be sick – because they are only pregnant!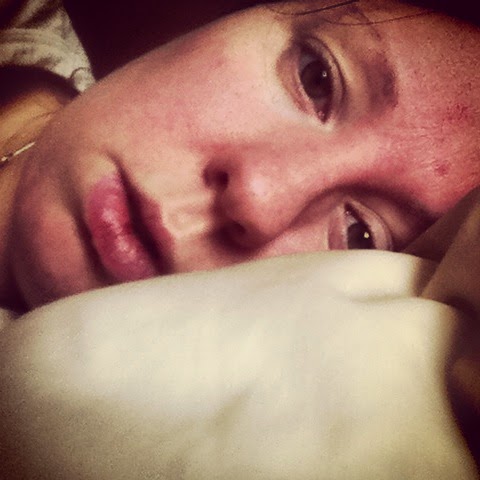 Other unhelpful misconceptions which currently abound in society about hyperemesis gravidarum (HG) include:
It'll be over by 12 weeks
It doesn't harm the baby, it will take what it needs from your reserves
It's just a bit of morning sickness, have a shower, go for a walk and you'll feel much better
Ginger helps with pregnancy sickness
There is no medication safe for use in pregnancy
Women who take medication for morning sickness are selfish
And these are just the tip of the ignorance iceberg!
Yes, morning sickness is a normal part of pregnancy with up to 80% of pregnant women experiencing it to a greater or lesser degree. But hyperemesis gravidarum is not a normal part of pregnancy, it is a dangerous complication of pregnancy, which without treatment can have serious consequences for both mum and baby. In the UK nearly 10% of wanted pregnancies complicated with HG are lost due to a lack of knowledge and inadequate treatment by healthcare professionals.
And that is why we need to raise awareness about this horrendous condition which can lead to multiple hospital admissions, long term health complications, significant mental health problems and poor pregnancy outcomes. Social isolation, financial problems and employment discrimination all come along as standard for many HG sufferers and their families.
Women in the depth of the condition find it incredibly difficult to speak up and advocated for themselves. Getting out of bed can be near on impossible when it triggers violent emetic episodes. So having to battle with their doctor or midwife, their unhelpful mother-in-law or their boss, about just how seriously ill they are and how much they need their life-saving medication and time off work is like a whole other level of torture – a preventable level!
This is a common experience of HG sufferers around the world and yet it's the only part of hyperemesis that we currently have the cure for. There are a number of medical treatments available for HG which are safe but their efficiency is far from curative. Admittedly they do cure some women of their symptoms, particularly at the lower end of the spectrum. But for those with severe HG they serve only to "take the edge off" and keep the sufferer alive.
What we do have the cure for though is the lake of misconceptions and ignorance that the condition is swimming in, not just with the general public but the medical world too. We can, and must, drain that lake and raise the profile of HG to the level it deserves. Women suffering HG have done nothing to cause or deserve their symptoms and yet they are frequently met with cruel comments and wilful neglect.
It's 2014 and it's time that things change. Women should no longer need to suffer unnecessarily just because they have a complication of pregnancy. They deserve to be treated with kindness, compassion and the most up to date, evidence based treatments available. That is my mission and that is why I have co-authored a book with my colleague Amanda Shortman called Hyperemesis Gravidarum – The Definitive Guide. It is due to come out in September and once it's on the UK market there will no longer be any excuse for the public and medical world to claim ignorance about this horrendous, joy destroying, miserable condition which kills babies and limits families.
If you are suffering now then get in touch with charity Pregnancy Sickness Support for help and information and check out my blog Spewing Mummy were I write about everything HG from excessive saliva to how partners can advocate for you. Don't suffer in silence because you are not alone.
To be the first to find out when you can order the book Hyperemesis Gravidarum – The Definitive Guide click here and fill in your email at the bottom.
About Caitlin Dean: A three time hyperemesis gravidarum survivor and a Registered General Nurse she is passionately dedicated to raising awareness about HG and providing support to sufferers. She is a trustee for the charity PSS and a national spokespersons for HG. She has just returned to her Cornish farm after 6 months of travelling around North America with her husband and three small kids.