Today I have a guest post from the lovely Jade – and she has a recipe today that has me drooling! Who wouldn't want a pizza cake?!
I'm Jade and I blog over at Late For Reality! I am super excited to be guest posting for the lovely Kate and thought I would share with you one of my favourite simple bakes!
My brother Jack is a real foodie. He is only 19 but for a good few years now food has been a real passion of his. Man Vs Food started it off and gradually his tastes have become more refined. After a college course in catering he was left with the skills to put his foodie dreams in to action and has been making the family delicious meals since, I am not saying healthy meals but tasty all the same.
When it came to his birthday this year there was only one cake I wanted to create. I had been imagining this cake for some time and was very excited to put my baking skills to the test!
I made…A Pizza Cake!
This cake is so easy to make and looks really impressive. The base is a simple sponge cake and the toppings can be literally anything you think looks like it belongs on a pizza. I opted for a Meat Feast-esque pizza with meatballs, bacon and beef (Chocolates, bacon jellies and cola laces).
Ingredients
4-4-4-2
Which essentially is…
4 oz Self Raising Flour
4 oz Caster Sugar (I use granulated sometimes and it still works)
4 oz Butter (or Margarine if you like)
2 Eggs
Also adding 1 tsp of baking powder will add a much needed lift to your sponge.
Strawberry jam – No bit's looks best as it is to represent tomato sauce.
Sweets/Chocolate for topping.
White Chocolate
Recipe
Tip the butter into a large bowl and cream in the sugar with the back of your spoon.
Add the eggs and beat until smooth.
Gradually add the flour and baking powder being careful not to be too rough and knock the air out.
Pour into a greased cake tin, a 7 inch tin should be the right size depending on how thick you want the cake.
Cook at 180 degrees for approx 20 minutes or until the cake is golden and cooked through.
TIP – use a knife to check the cake is cooked by gently inserting into the middle, if it comes out clean the cake is cooked, if it has cake mixture on it needs more time.
Decoration
Once the cake is cooled spread over the jam as if you were putting tomato sauce on a pizza.
Decorate the cake to look like a regular pizza. I used hazelnut whirl chocolates for the meatballs, the bacon sweets from the egg and bacon jellies mix in Tesco, chopped up cola lances for the beef bits and a mixture of jelly beans to represent peppers. You could also use fresh or dried fruit to top your cake if you wanted a healthier option.
Finally grate over white chocolate as the 'cheese' to complete your pizza!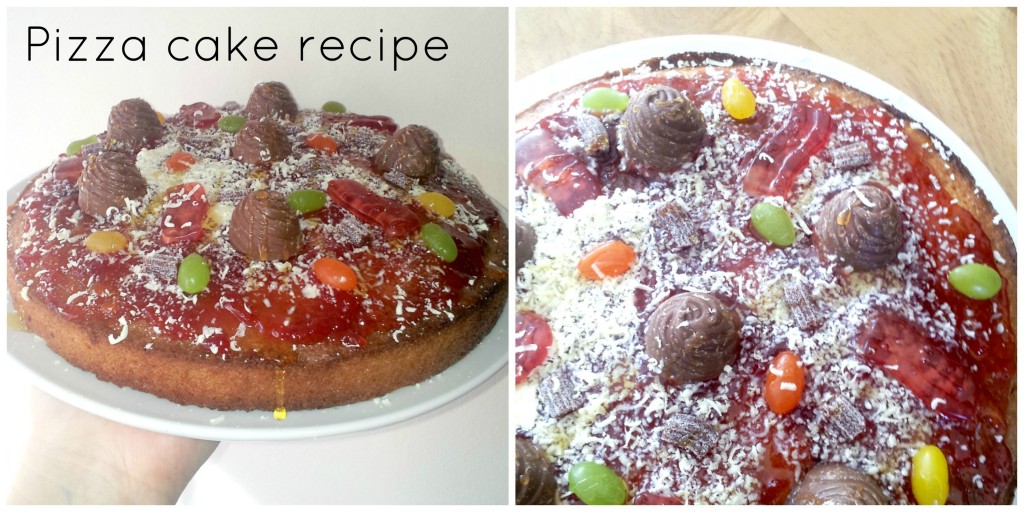 I can't wait to see what idea's you all come up with for your pizza's so please tag me in any pictures (@JadePirard) if you follow the recipe!