Today on the blog I have a delicious recipe, thanks to Angela at The Life of Spicers. This is the sort of food we love to cook and eat – healthy, delicious and fairly simple, using store cupboard ingredients!
Mince is a staple ingredient in our house due to the cost and the variations you can create with just a pack of plain looking mince. My 7 year old doesn't really enjoy eating it, but as it features on our meal plan at least once a week, I try to make it exciting and different for her each time.
With courgettes growing in the garden, I was planning on adding one to my mince and making a pasta bake. Once I had started cooking the mince however, I realised we didn't have any pasta, so substituted for rice instead. So here we go with Pork Mince Rice Bake.
Ingredients
Pork mince
Tomato puree
Water / stock cube
Onion, chopped
Choice of vegetables, chopped. (I used courgette, green beans and mushrooms)
Garlic
Cooked brown rice
Grated cheese
Method
Brown the mince with onion and garlic
Add the stock or water mixed with tomato puree
Add the chopped vegetables
Allow to simmer whilst rice is cooking according to packet instructions
Drain rice
Add rice to pan with remaining ingredients, stir and transfer to an oven proof dish
Sprinkle with cheese and grill for ten minutes until melted.
Serve and enjoy!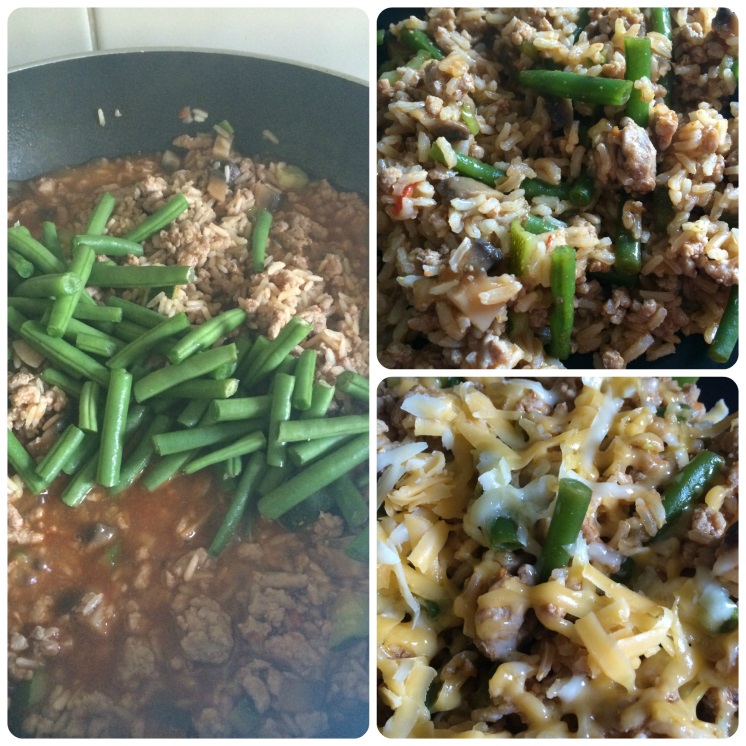 Doesn't this look delicious? If you love the look of this pork rice bake, then why not also check out the burgers and meatballs that Angela has made recently?