If you are anything like me, you are always on the lookout for unusual and quirky baby clothes. I love Max to be wearing something a little bit different – and that's where I'groo come in.
A British baby clothing company, they are proud of the fact that everything is sourced in the UK, made from 100% cotton and smooth print techniques. The products are designed to be quirky, fun and cheeky and to appeal to both adults and children alike – wonder if that will mean no more getting dressed battles? Can't guarantee that one!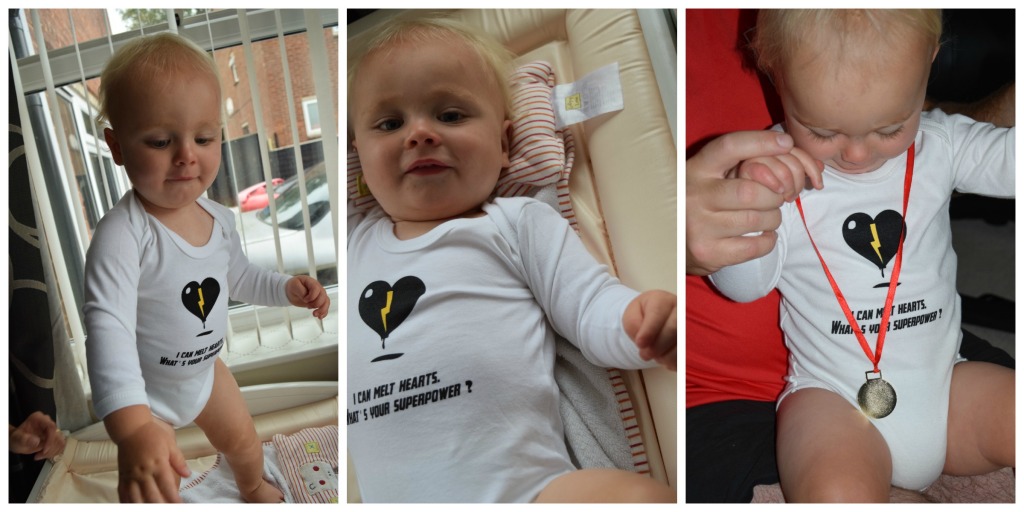 We were sent the 'Born with Superpowers' bodysuit to try out, priced at a very reasonable £7.95 Available in sizes 0-3, 3-6 and 6-12 months, the sizing is very generous – Max is 16 months and the 6-12 months fits comfortably. You can definitely tell it is made from 100% cotton – not only is it soft and supple but it washes really well and doesn't irritate Max's sensitive skin. Even the labels have been well thought out – they are on the exterior of the clothing so as not rub. The usual 3 poppers at the bottom of the bodysuit make for easy peasy nappy changes too.
I have received several comments on this bodysuit when we have been out and about – lots of people have mentioned how unusual it is, and how nice it is to see a slogan top that isn't over the top or too grown up. I also love the colours, as it makes the bodysuit so versatile and able to be worn with almost anything, from jeans to shorts, and Max has also worn it in bed – it works really well with a Grobag, as it keeps his legs cool but his arms covered.