I am a big fan of Joe Browns clothing. I have previously reviewed Caroline's favourite dress, which is still one of my favourite wardrobe items, and has been worn here, there and everywhere!
This month, I was sent a Lace Print jersey dress, part of the new autumn/winter range, which has been built on 2 themes – Shangri-La and Sovereignty, all with the unique Joe Browns twist you expect!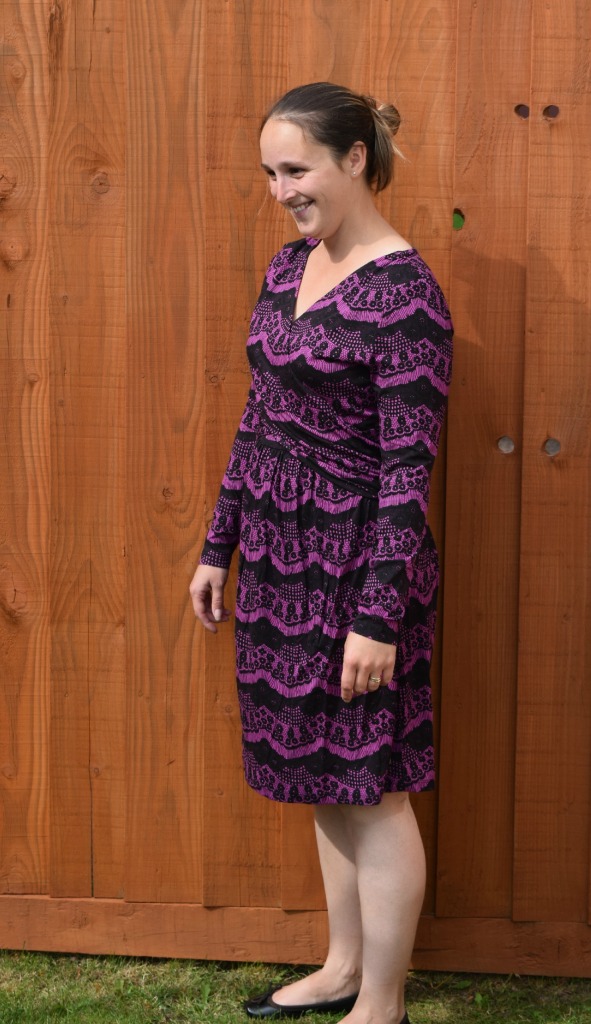 I love the dress, even more than I expected to. The material is so comfortable – the jersey fits close without being clingy, and it's very good at skimming over lumps and bumps too! The wrap top design is really flattering, and nips in at the waist to give you a sculpted effect. The length is just right for me too – the dress sits on my knee, making it perfect for wearing on its own or with tights or leggings in the colder months.
One of the first things you notice about this dress is the bright, bold colour – in my opinion it is just right for autumn – warm and deep. The pattern is a lace effect, and the black overtones work really well with the purple, as well as making it easy to team with dark tights etc. I also really love the little buttons that sit at the base of the dress – little pearly heart shapes that just add that little bit of interest.
The combination of the beautiful design and colour, the long sleeves for autumn/winter and the jersey material that gives a flattering, comfortable fit makes this dress a staple of my autumn wardrobe for sure – I will be wearing it for years to come, whether that be with flats, heels, a statement necklace or a chunky cardigan!