All 3 of my children are water babies – and I am sure some of that stems from the fact that we have taken them all swimming from a very early age. All 3 have attended parent and baby swimming classes from about 4 months old, and they have continued up through the ASA swim stages over the years, with Gemma now being a very competent stage 6 swimmer, and Jacob having just taken the plunge into the big pool and stage 3. Max swims with me in the baby classes every week, and we often go together as a family at the weekend – our local pool runs Fun Splash sessions, with squirty toys, woggles, floats and inflatables for all to play with.
To me, swimming is SUCH an important life skill, something I really want my children to have a grasp on. Let's face it – one day it could save their life. Huggies have recently launched a new campaign, designed to inspire parents to go swimming more often. It can be one of those activities that gets overlooked for so many reasons – it can be expensive, sometimes it's not appealing when it's cold out, and OK – changing afterwards with a wriggly baby in tow can be a nightmare. But the joy the children get from it and the feeling of achievement afterwards is well worth the niggles in my opinion.
Teaching water safety from an early age prepares and encourages children to be confident and accomplished swimmers as they grow. Fascinating fact of the day – babies can be taught to swim before they can walk, talk or crawl. Isn't that amazing? Seeing your baby swim from under the water up towards you is just incredible, and something you never forget. It also helps them settle and sleep, as well as promoting a bond between baby and parent. There really are no downsides to teaching babies to swim – none at all.
Getting the right kit for swimming is important – you both need to be comfortable and safe in the water. For myself, I love the range at JD Sports – lots of lovely styles and designs to choose from. For Max, I go for the Konfidence Babywarma – it keeps him warm, helps me to get a good grip on him both in and out of the water, and it doubles as a rather fantastic beachwear option – as modelled by the gorgeous Amy from We're going on an adventure, and my very own little Max.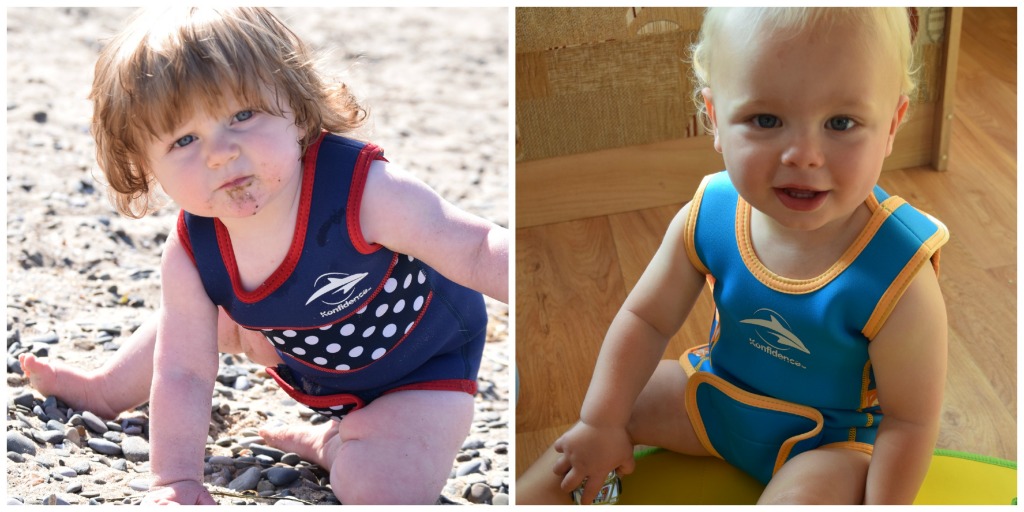 A good swim nappy is absolutely essential – you don't want to be worried about leaks or discomfort when you should be enjoying splashing about. With all 3 children I have opted for Huggies Little Swimmers – they were recommended to me when I had Gemma 8 years ago, and as they have always worked well for us I have seen no reason to change. They fit close without rubbing, contain pretty much anything (we have never had a leak) and are not too bulky underneath close fitting swimwear. We recently used them on holiday, both on the beach and in the pool and they coped well – even when on Max for most of a fun filled seaside day out.
One of the new items from Huggies is the Hygiene Mat. It's a fabulous idea – perfect for when you are in a tight, cramped changing room, especially if you are unlucky enough to end up with one that doesn't have a changing table. You don't want to lie your little one on the cold, hard and possibly dirty floor – so what do you do? Well, you use one of these! Cushioned, non slip, easy to roll up into its own little bag and machine washable, it's a must have for any swimming trip. This now goes with me everywhere – to be honest, it works fabulously as a portable changing mat too!
Do you swim with your little ones? What age did they first dip their toes in the pool? Do you have any top tips for swimming with children?