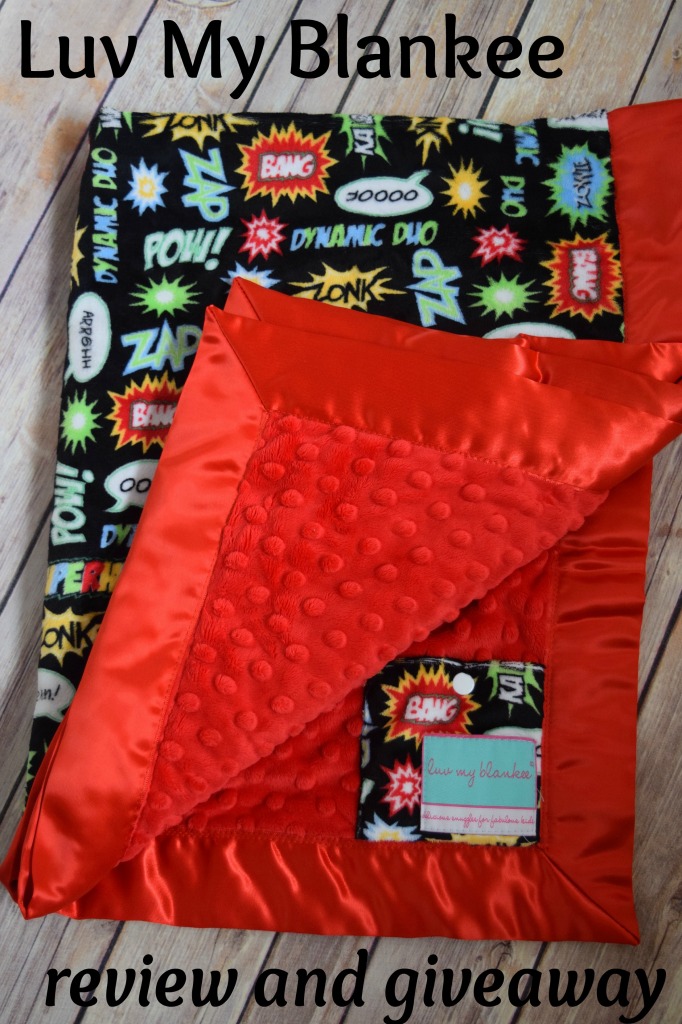 If you are anything like me then you have piles and piles of blankets around the house. There is something about a soft, cuddly blanket that I just can't resist, and they come in so handy for all sorts of things, from cuddling on the sofa film nights to teddy bear picnics in the garden. So when I was contacted by Luv My Blankee offering me one of their new plush blankets for review I didn't have to be asked twice!
The first thing I noticed on opening the box was that the blankets are handmade in Devon – in fact, just down the road from me. I love this – I try to support local businesses when I can, so this really struck a chord with me. As does the fact that these blankets are handmade.
We all know that certain blankets can become special items for some children – they get some serious abuse, being chewed, sucked and dragged around in all conditions. So I was very pleased to read that the Luv My Blankee range is machine washable – to be honest, I don't think I would ever buy a blanket or comforter that wasn't – it's just not worth the stress! We were sent the red Pow! blanket for review, but there are heaps of designs to choose from on the website – they would make a gorgeous new baby gift. Measuring up at 70cm x 90cm, not only is it an ideal size for pushchairs, car seats and bouncers, but also as a playmat, changing blanket or snuggly comforter.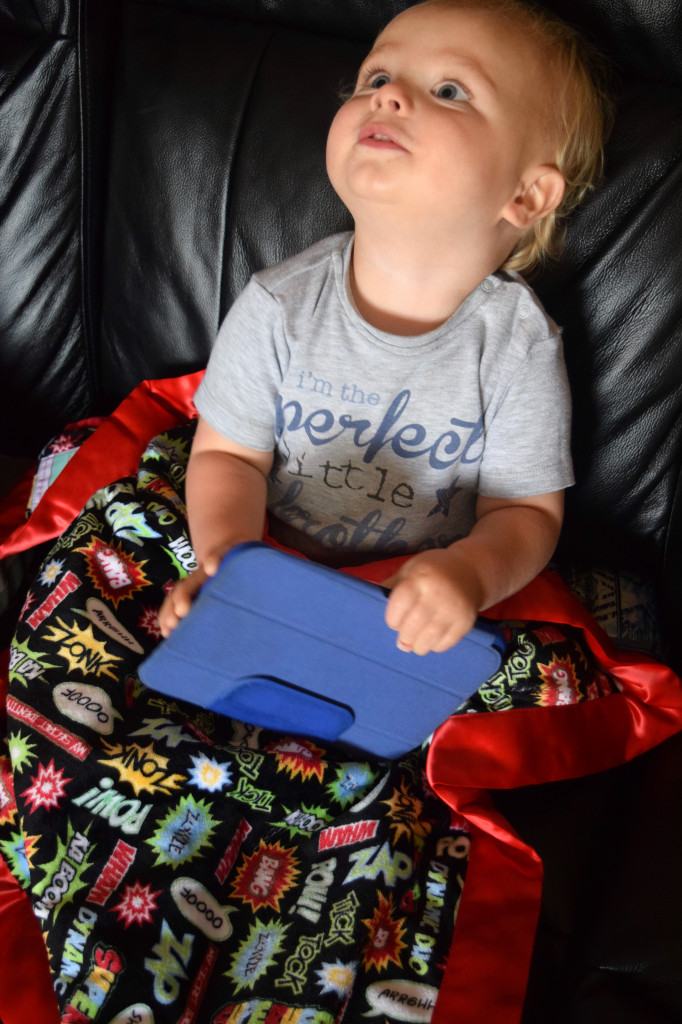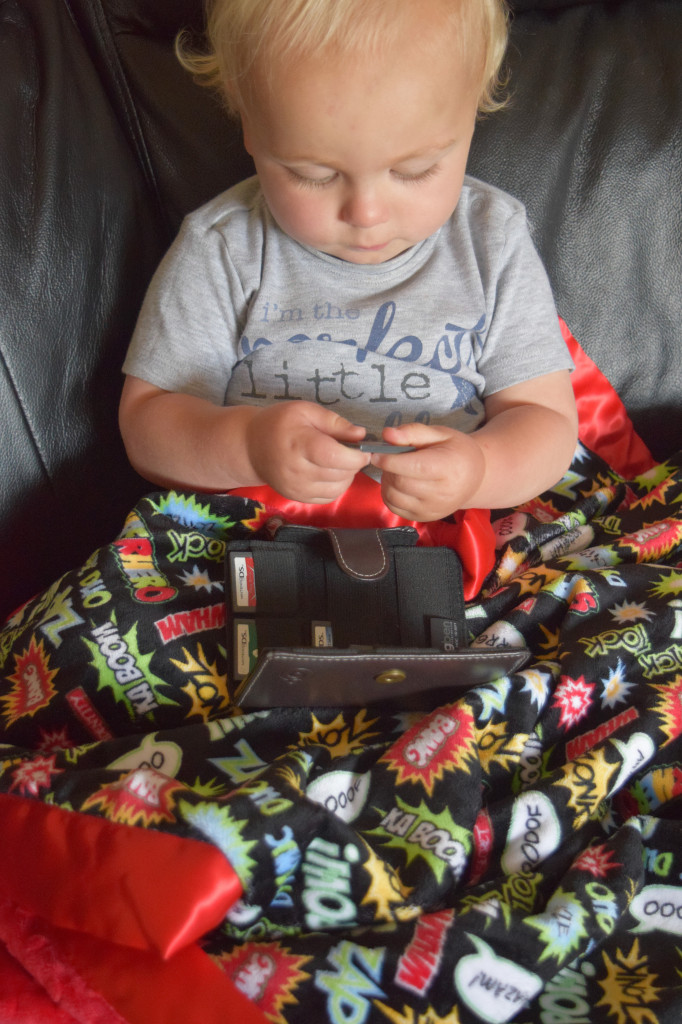 Max has claimed the blanket as his own, and I can totally see why. Soft doesn't really do it justice – I would describe it as a silky, plush fabric, with the dimpled effect that seems to make it all the more snuggly. The top layer has the design on – as I mentioned before we have the utterly gorgeous Pow! superhero print, which I can't rate highly enough. It's just so COOL!
But that's not all. Not only are these blankets pretty, practical and super soft, but they have a clever hidden extra – the dummy pocket. For those of you have a child that uses a dummy, this will be a godsend for you. It is SO easy to lose a dummy when the child isn't losing it. It either gets thrown out the buggy, lost in the depths of the changing bag or just vanishes off the face of the earth. If you use a Luv My Blankee then you can popper the soother neatly and safely into the little pocket to keep it to hand. It would also work for small toys too.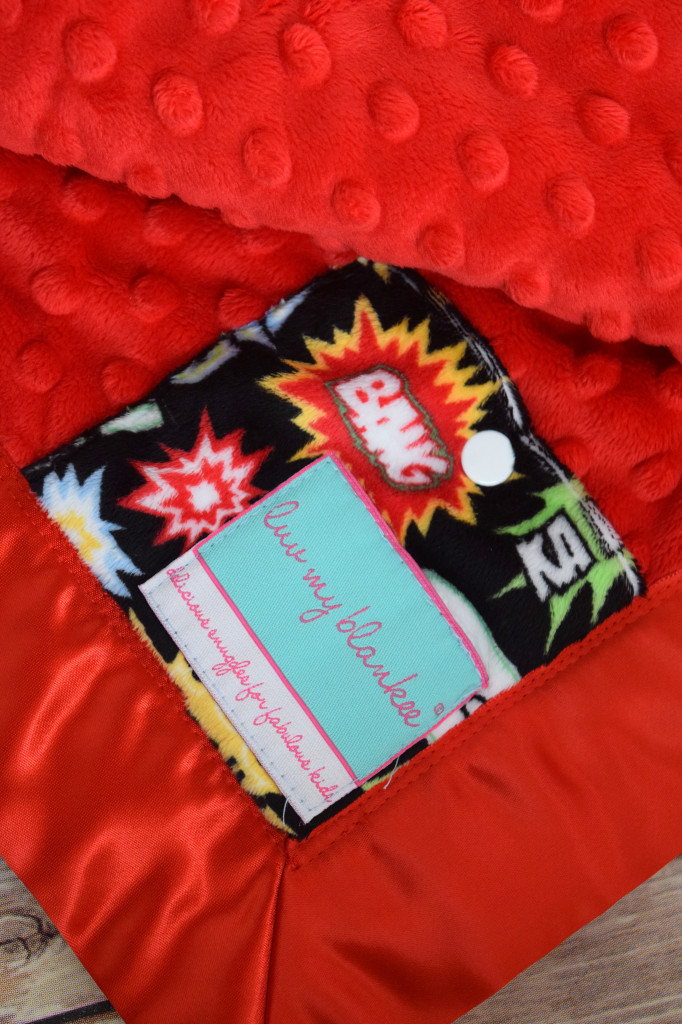 The quality of these blankets is second to none. Honestly. From my huge heap of blankets, this is by far my favourite, mainly because it is just so soft! I definitely haven't stolen it to cuddle up on the sofa when Max is in bed though. Absolutely not.
Priced at £60, these blankets are at the more expensive end of the market, but you really do get what you pay for. Quality, practicality, flexibility of use and gorgeousness all round. You can even opt for a personalised option if that floats your boat, having a black and white photo with some text popped on to a 50cm x 50cm blanket. Again, something to consider for a special gift – maybe a Christening or first Christmas?
In the meantime, how do you fancy winning a blanket of your choice, worth £60, from the available stock on Luv My Blankee? Entering couldn't be simpler – just follow the instructions on the form below, and good luck!
T&C's – open to UK residents. Competition will close on 6/10/14 and winner will be randomly selected from all correctly completed entries. Winner will be contacted by email and must claim their prize within 10 days or it may be redrawn. Prize supplied directly from Luv My Blankee. Win competitions at ThePrizeFinder.com