Wherever we go, whichever nursery, playgroup or toddler centre it is, Max always sniffs out the toy kitchen and happily whiles away his time opening and shutting cupboard doors, clattering saucepans and stirring with spoons. All kids seem to have a love for toy kitchens, and I especially love the wooden ones – well made, built to last and don't look too offensive in your living room – I have a real fear of too much plastic tat taking over my home!
Step up the Plum Products Cookie interactive kitchen.
Isn't it just the prettiest kitchen you ever did see? It's nicer than my kitchen! I love the neutral colours, all the extra details such as the water dispenser painted on the fridge door and the the twisty dials for the cooker that make a clicking sound when turned. It's all very realistic, and screams out for some imaginative play.
It does take a while to build, so if you are planning to buy this for a Christmas present, allow a good couple of hours to build it on Christmas Eve. The instructions are well laid out and fairly easy to follow, but it does really take 2 people and a couple of coffess to tackle it. We built it one evening after the children were in bed and left it in the living room for them to discover the next morning. Max was first up, and as predicted he was straight in there, opening all the doors, looking inside and cooking with the pots and pans. In fact, he cried real tears when I pried him away and took him to nursery, so I think it's safe to say he loves it.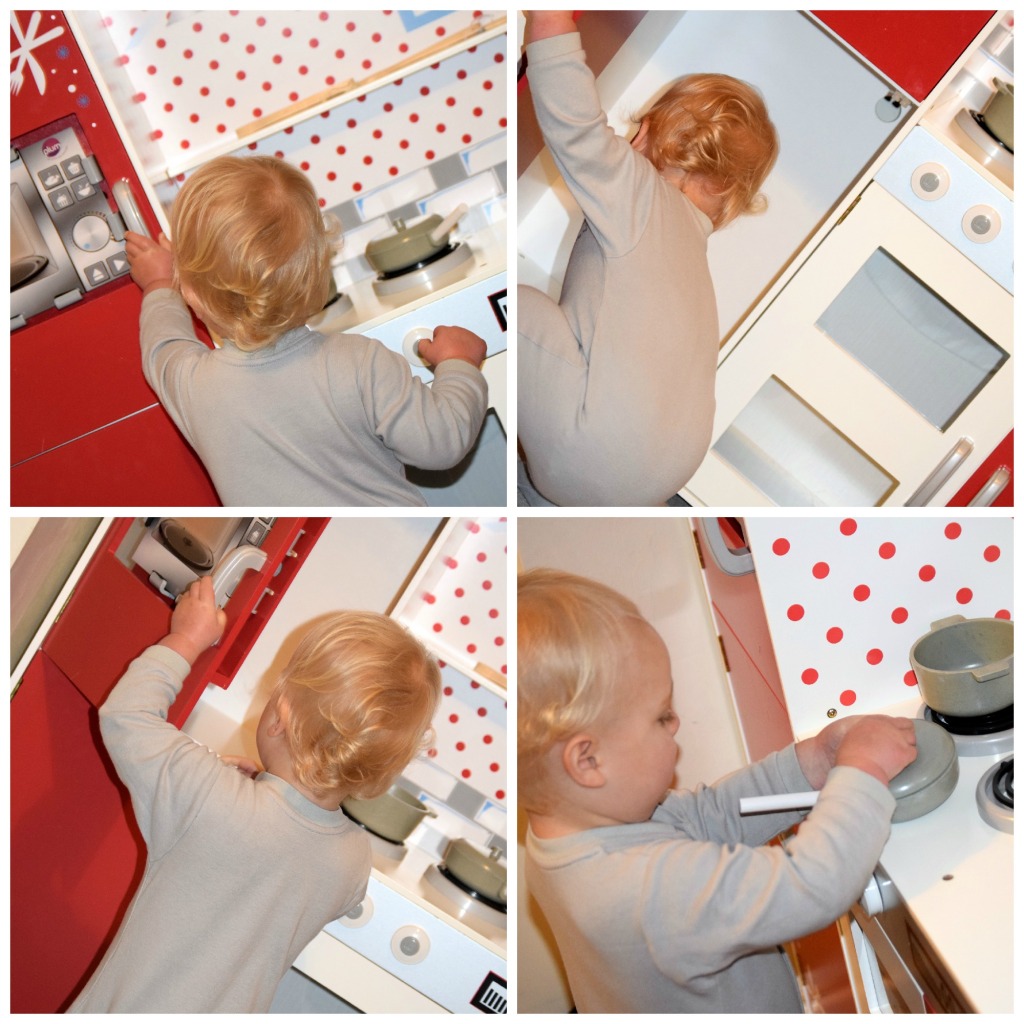 He's not the only one who loves it. Gemma and Jacob have been playing with it pretty much daily since we got it too. Jacob loves to role play cooking and washing up, while Gemma uses it as a base for her 'cafe' and will come and take your order with her pen and paper before assisting Jacob with cooking it up.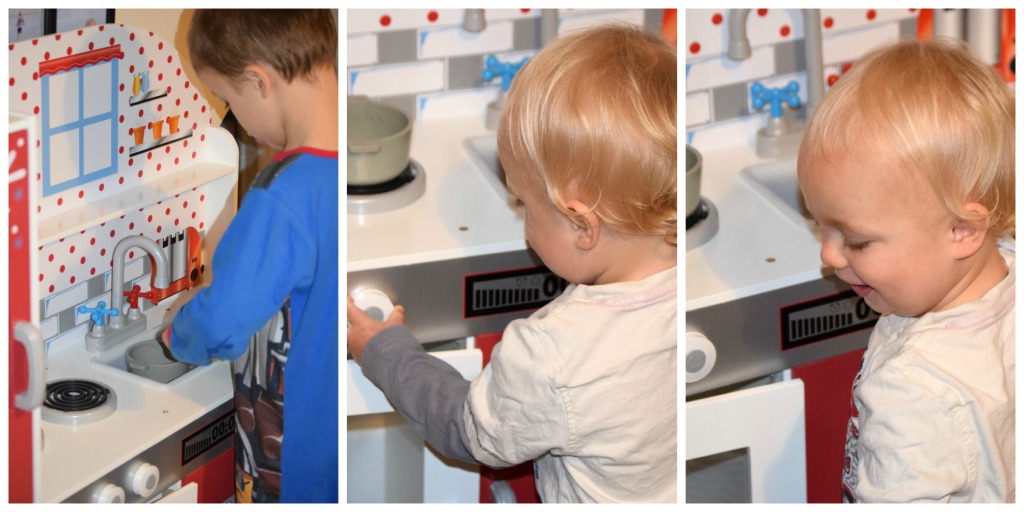 It didn't take Max long to discover that the dials for the cooker made a noise either. I didn't show him, but left him to work it out, and it wasn't long before he was putting something in the oven (usually a slipper – tasty) and turning the dials just like Mummy does when making the dinner – amazing how much they pick up from watching you. I don't cook slippers though – just in case you were wondering!
The taps and sink are also one of Max's favourite features. The tap moves around so you can angle it over the sink or tuck it out of the way for more worktop space. The tap handles turn round, and are red and blue to signify hot and cold – again, a great learning tool for real life. Washing the pans, the spoons and his hands has become one of Max's favourite things to do.
So we have established that the Cookie kitchen is gorgeous to look at, well made and full of lovely features. But what makes this kitchen a little bit different? This does….
You may have noticed in the previous photos that the top cupboard just has a cardboard picture of a microwave in it. This is fine for everyday use, and to be honest the kids didn't even notice that there were brackets for something else. If you replace that cardboard picture with your iPad which has the free to download Plum kitchen app on it, then you get a whole new interactive experience!
It's not a feature I would use every day, purely because the iPad is MINE lol, but for a fun new way to play it's really great. I was worried that the app would be a bit gimmicky, and detract from the imaginative play, but it doesn't. It's so simple, and fits seamlessly into the way the children use the kitchen naturally. It's a new idea that I haven't seen on any other product of this type before, and one that most children these days will be able to use with ease. Max can't manage it yet of course, although he does tap at the screen, but Gemma and Jacob can use it to the full potential, and it works well with Gemma's cafe game.
The Plum Cookie kitchen is priced at £149.99, which I think is really great value for an item of this quality. It will last for years and years, be enjoyed by any child, and has so much scope for play possibilities. I wouldn't hesitate to recommend this to anyone, and we will definitely be looking to get some more products from the Plum range.