If you have a toddler, then you probably find a lot of the things they do hugely frustrating. Don't get me wrong, I love my toddler dearly, but there are some things he does, day in day out, that drive me up the wall. Can you relate to any of these?
Pulls all the wipes out of the packet and leaves them lying around on the floor, so that when anyone walks across the carpet they get wet socks.
Puts everything in the bin – rubbish, remote controls, toys, books, socks. If you can't find something, you then have to dig through the bin just to check that Max hasn't thrown it away.
Takes all the phone chargers out of the drawer and drags them around the house. When we want to charge a phone, we can never find the charger and always end up checking the bin….
Takes all the apples and oranges out of the fruit bowl, takes a bite out of each one and then puts them back – and yes, he does bite through the orange skin. When anyone wants a piece of fruit, you can't find one without teeth marks in, and the older children then won't eat them.
Has an obsession with the toilet roll holder. Takes all the toilet rolls off, unravels them and leaves them all over the bathroom and bedroom floors, and then runs off with the holder.
Throws all the food out of the trolley when we go shopping. It doesn't matter what it is, it goes. Eggs, glass jars, fizzy drinks – he doesn't discriminate. We usually come home with half the things we need, and those we do have are battered, broken or fit to explode.
Sneaks off with my mobile and changes all the settings. My apps get moved around, he texts strings of random numbers and letters to anyone in my address book, ans he changes my ring tone, so when someone rings me I don't realise it's my phone until it's too late. Oh, and he puts it in the bin too.
Turns the answer phone off on the landline, so no one can leave a message, and no one can ever ring me on my mobile because I don't recognise the ring tone, or it's in the bin. With the house phone.
Says 'bye' to anyone who comes to the door, and tries to shut the door on them. This is great when it's a cold caller, but not so great when it's my mum or the postman trying to deliver a parcel.
Points at everything and says 'what's that?'. A hundred times a day. Even when you have told him what it is and he has repeated you – 2 minutes later he asks what it is.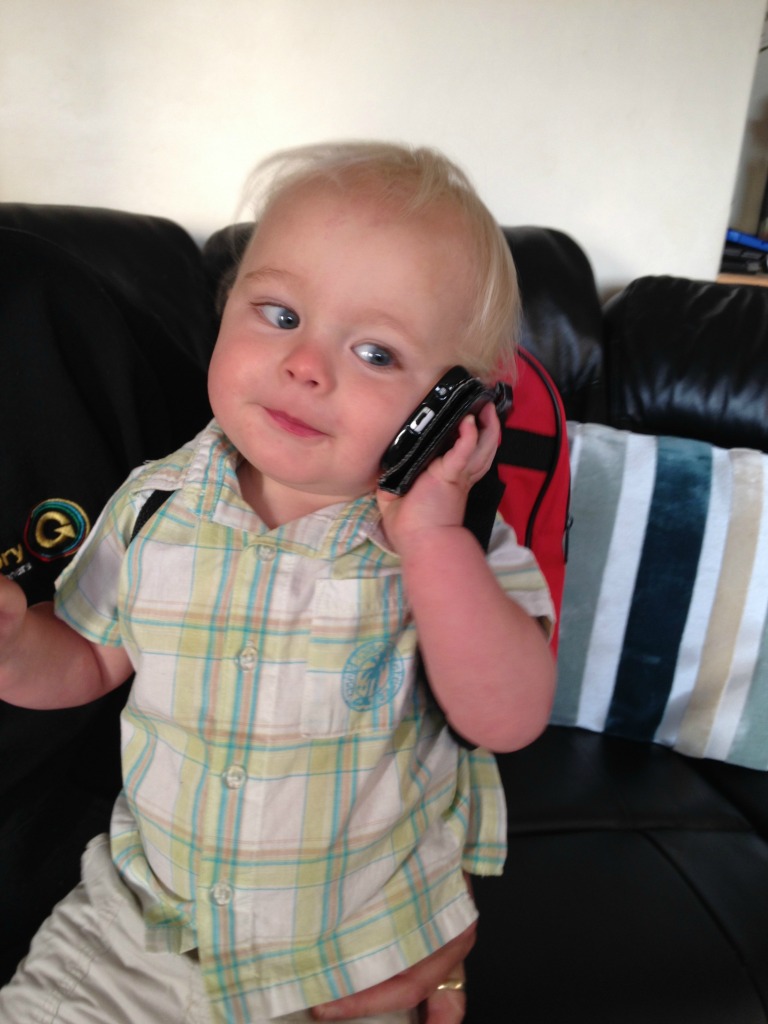 Yes, he drives me potty but I wouldn't have him any other way. He makes every day that little bit more interesting – you never know what you will find in the bin, or where to find a toilet roll when you need one.
Does your toddler have any annoying habits?