My kids love playhouses, and we have almost always had the plastic versions – they are fairly cheap, they last pretty well and they are easy to put together. But let's be honest here, they don't really compare to the gorgeous wooden versions that you see, and that I have lusted over for years. A couple of weeks ago we were sent a rather gorgeous Bunny Playhouse from Garden Buildings Direct, and with Christmas now less than a month away (how is that even possible?!) we set about creating our very own Santa's Grotto in the garden.
First things first – you might be like me, and terrified that building one of these wooden playhouses requires a degree in carpentry and a shed full of power tools. Thankfully, you would be wrong. I won't pretend it's the easiest thing in the world, but if you have ever managed a piece of flat pack furniture then you should be able to build one of these without too much stress. It's worth roping in a couple of helpers to hold pieces in position and pass you screws and nails as you go along.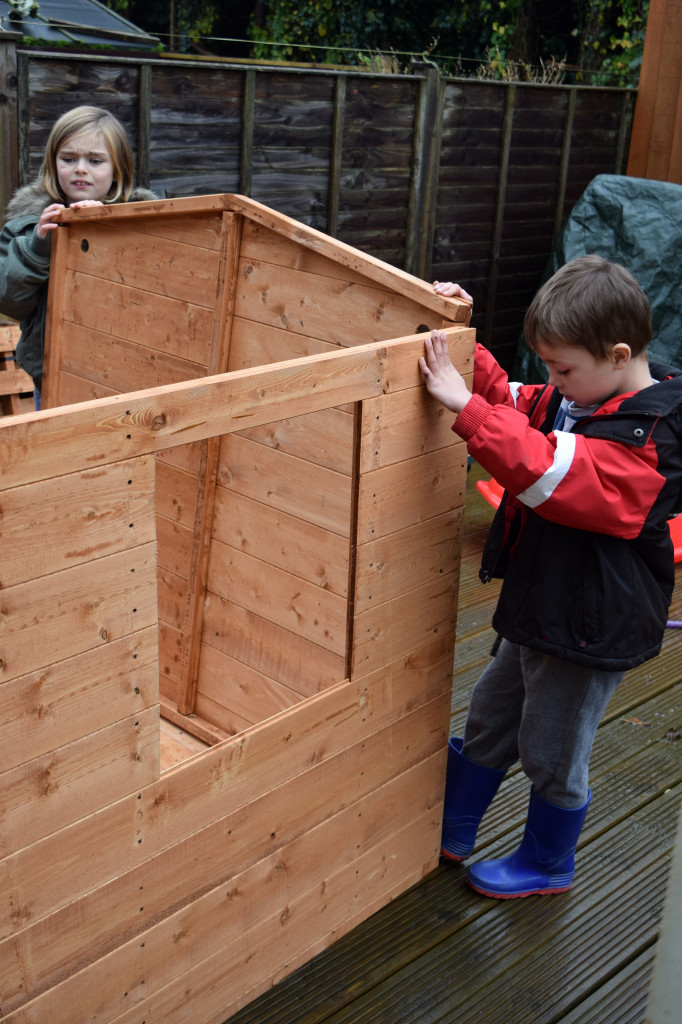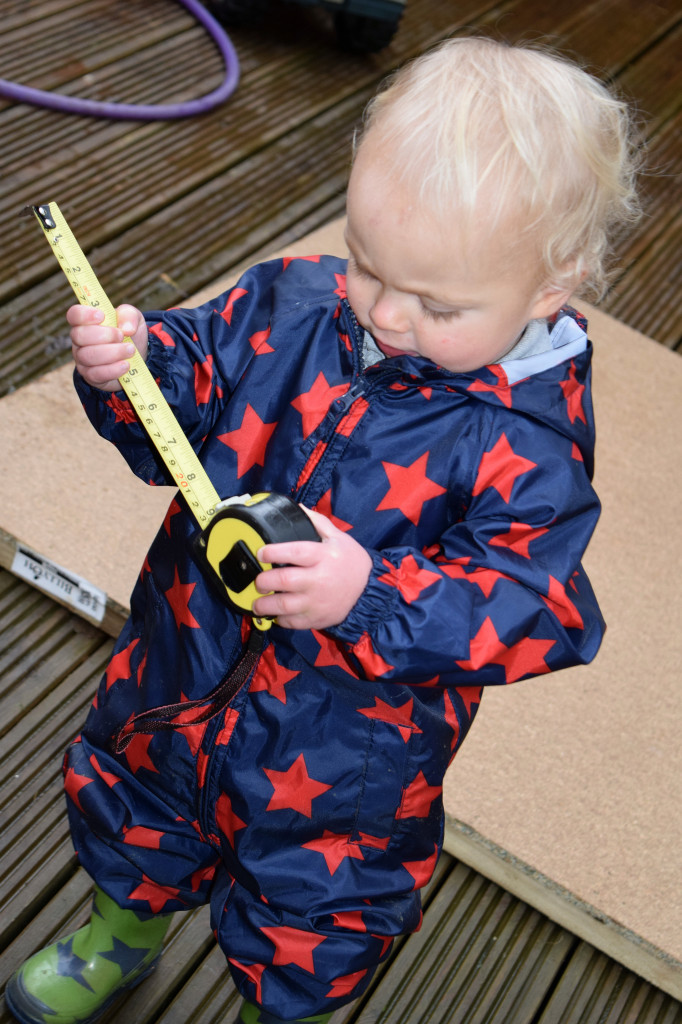 Probably the trickiest part of the build is securing the roof felt – it's not really hard, but is a little fiddly. It's well worth the effort though, as you end up with this: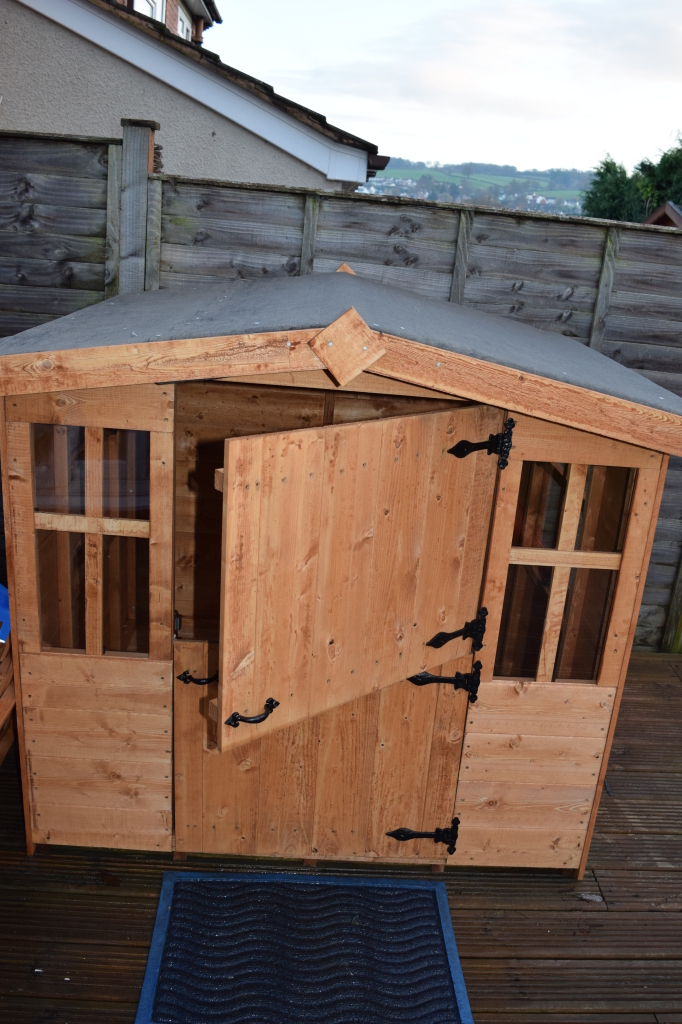 The kids wasted no time in filling the playhouse with cushions, mats and toys to make it a bit more homely, while Kevin and I stood back and admired the beautiful finish, the cute stable door and the picket fence which just finished it all off.
But with Christmas looming, we knew the children were desperate to transform their already lovely playhouse into a special Santa's Grotto ready for all the festive fun and play to come. To do this, we used Christmas decorations, gift boxes, a Santa door cover and a spot of tinsel – things most of us already have at home, so you don't need to go out and spend a fortune!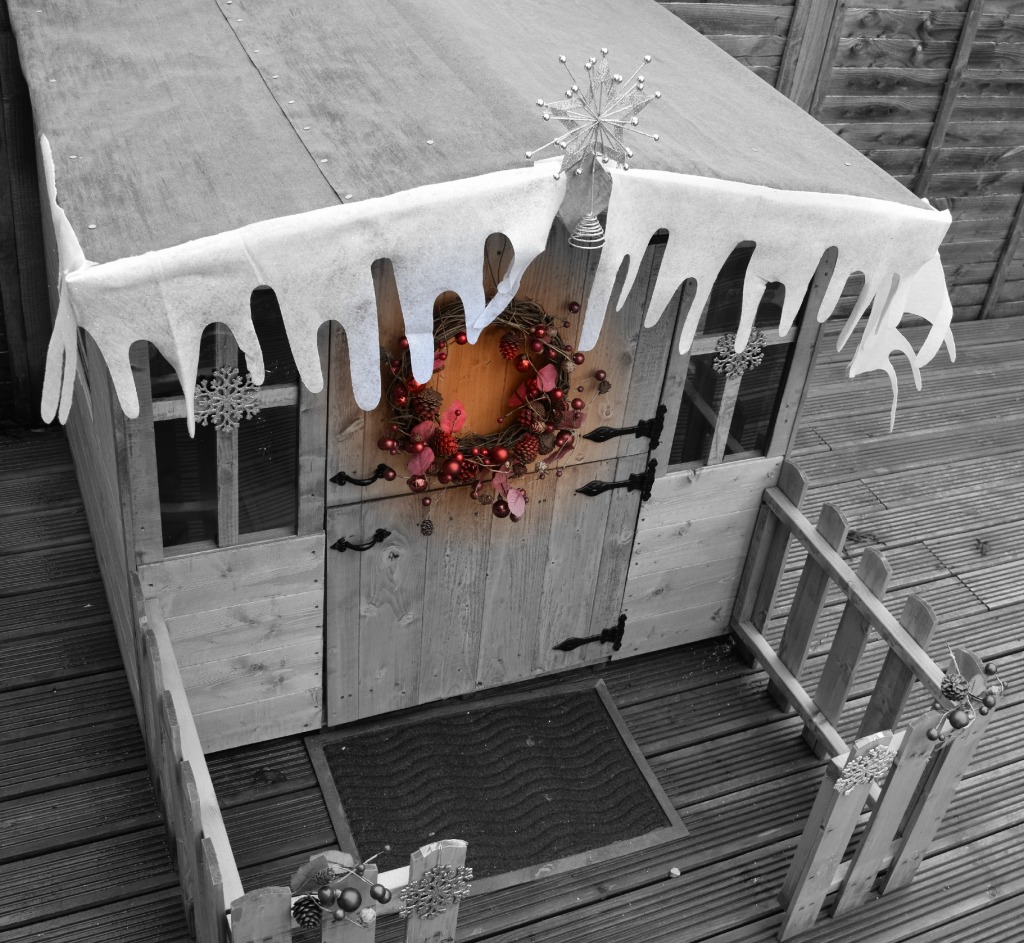 It was really super simple, and took about half an hour to complete, but I think it's really effective – do you?
We have felt icicles and the Christmas tree star on the roof, the wreath on the door, snowflake tree decorations on the windows and fence and the Santa door cover pinned to the back wall. Inside became a cosy grotto, with a green felt carpet, plenty of cushions and some tinsel wrapped gift boxes all ready for those on the good list!
I think the kids faces say it all. Santa's Grotto is a hit, and I have barely seen the children since we made it – they are always in it! Max comes home from nursery, fetches his wellies and stands by the door saying 'side mummy, side' (outside to you and me), and Gemma and Jacob are out there as soon as they get back from school.
It's a gorgeous playhouse, and we had heaps of fun creating a Santa's Grotto. Think we might decorate it for a few other seasons too – Easter hideaway or summer beach hut anyone?
We were sent this playhouse for the purposes of the #SantasGardenGrotto project. All ideas and opinions are my own.