I have received flowers by post a couple of time in the past, and have always been pleasantly surprised with the quality and how well they last. I recently had a flower delivery from the Anniversary flowers range at Debenhams.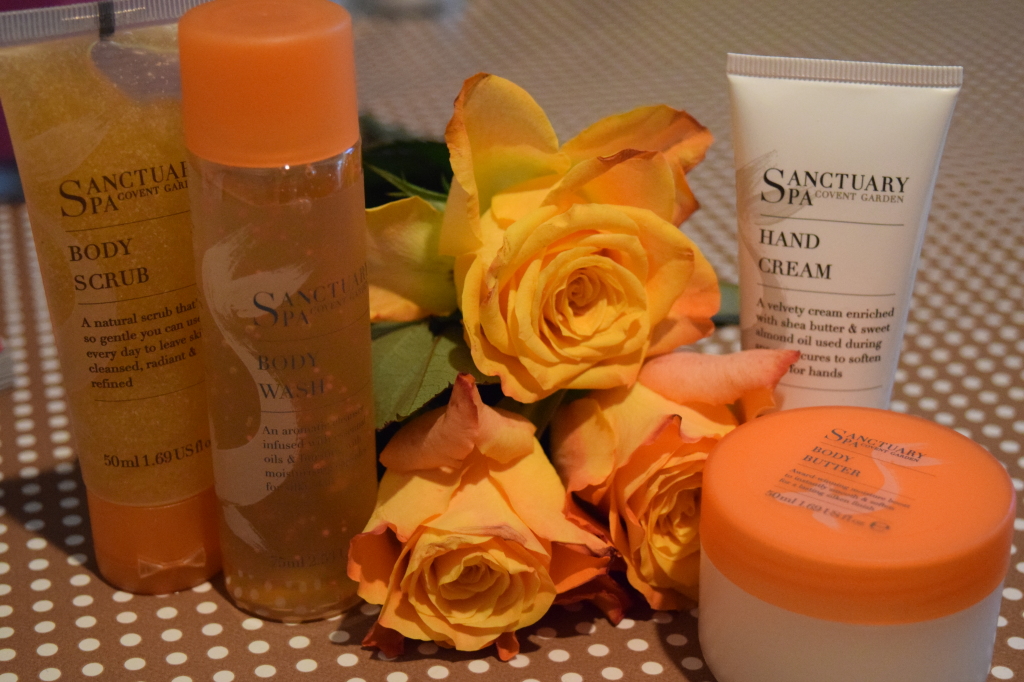 I chose the Spa Retreat gift set for 2 reasons – because I love the Sanctuary Spa range and because the flowers were such a gorgeous colour. For £34.99, you receive a bouquet of cherry brandy roses and the Sanctuary gift set. I think this is pretty good value – you get a decent selection of goodies, as well as the well sized bouquet of roses, which is interspersed with green Hypercium berries for colour and interest. The flowers are guaranteed to last for at least 7 days, or you get your money back, so you can rest assured that you are ordering good quality, and that it is a gift that will last and can be enjoyed. My flowers lasted for about 9 days, which I think is pretty good – especially for roses.
The Sanctuary gift set is lovely, and contains body scrub, body wash, hand cream and body butter, all of which are lovely to use and smell delicious too. These would be great as a travel set if you were planning a holiday or trip away, and I love that the orange bottles tie in with the colour of the flowers too.
If you like the look of this range (and quite frankly, who wouldn't?) then I have a discount code that entitles my readers to 40% off a luxury bouquet – simply enter DFBLOG40 at the checkout! Perfect for anyone who has a birthday or anniversary coming up, or even for those who want to have some fresh flowers on their Christmas table.