With all the chaos surrounding Christmas, especially when you have had a full morning fighting your way through the crowds to finish the last bits of shopping, sometimes it is nice to eat out. With 3 small children in tow, we tend to stick to the tried and tested family friendly locations – and one of those is Brewers Fayre.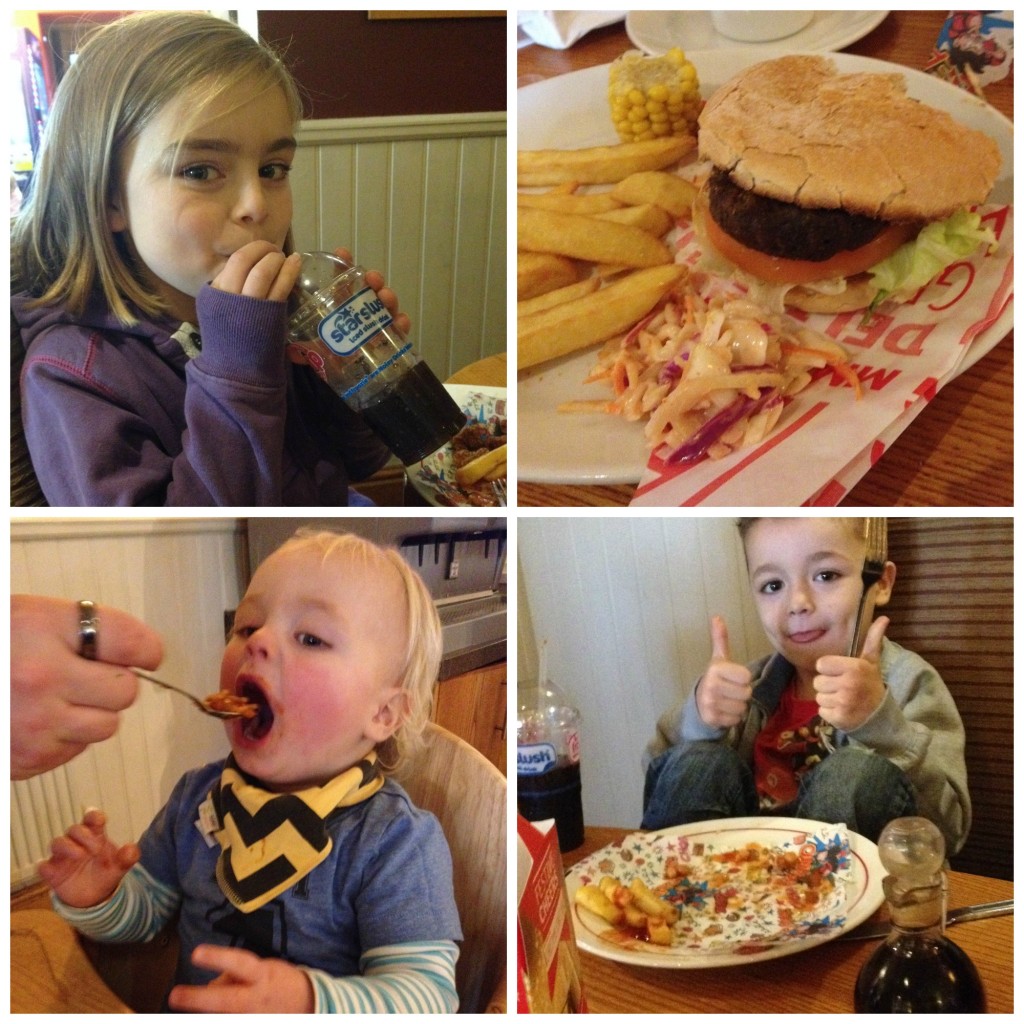 We had booked a table for 12.30 as the children are used to eating quite early, and settled down to study the menu. We originally chose the festive roast turkey, advertised as being available from 25th November – 18th December, but unfortunately we were told that this was not available on the day we went (14th December). We were not told why, just that it wasn't an option. We were a bit disappointed, but ordered from the extensive standard menu. We love that the kids menu has the option to choose each section of the meal separately, so the children can customise their own lunch the way they want it.
The kids chose chicken poppers, chips and beans, we selected a spaghetti bolognese for Max, I went for the Mighty Stack burger and Kevin had a mixed grill.
Now, if you have children you will appreciate that a fairly quick service is pretty essential. The children can be entertained for a while with the magazines and crayons provided, but ultimately they just want their dinner. After a 50 minute wait, we were finally served out food. What made this worse was the fact that we had not been informed that there was this length of delay when we ordered, and so were unable to give the children any idea of when their lunch would be ready – if we had known we could have taken them outside for a run around or let them go off into the soft play area as a distraction.
The food itself was lovely. Everything was cooked well, the portions were generous, and all plates were cleared. Gemma and Jacob both had a cola slushy with their meals – but by the time the food was served they had managed to drink most of this and were then thirsty during the lunch. Luckily, I had gone for a bottomless soft drink, and so I was able to share with them.
The Brewers Fayrs O'Bridge site in Taunton has a fantastic on site soft play area – it is much more than just a few padded bricks and a ball pool. It is bigger than a lot of stand alone soft play centres, and has areas for all ages – it's a great place to burn off some energy after lunch, or even to visit on its own – the adults can sit and have a coffee at the restaurant tables while the kids enjoy themselves. A really good touch, and ideal for somewhere targeting families.
Would we go back? Yes, we would. Although we had an awfully long wait for food, this could be a one-off, and happens in a lot of places. I would ask next time I ordered food, so we were aware of any delays. I was also disappointed that the advertised festive menu was not available, as we had all been looking forward to trying this, but the food we did try was pleasant and well priced. Brewers Fayre offers good quality food at an affordable price.
* We were provided with a £50 voucher to sample the Brewers Fayre menu, but all thoughts and opinions are my own. *