There are only 4 more sleeps until Christmas. 4 more sleeps! How on earth did that happen?
I think we are pretty much there with the shopping, although I do need to go back through everything and just double check that I have something for everyone, and that it all wrapped and ready to go. I need to pick up one more item that is ordered and is waiting for me in the shop. That's definitely a job for tomorrow.
If you still have a few last minute items to pick up, or if you are one of those crazy people who does all their shopping on Christmas Eve, then you might be on the lookout for a couple of bargains. There are a few ways to save money on the last Christmas spends:
1. Homemade gifts. These have such a lovely personal touch, and can be really simple and inexpensive to make. One of my favourites is a 'cake in a jar' kit – pop all the ingredients you need to make brownies or fudge cake into a jar – put the heaviest ingredients in first and then build up in layers. Print off a recipe and attach this to the top of the jar with some string. Decorate with a bit of ribbon and some holly berries or a snowflake decoration.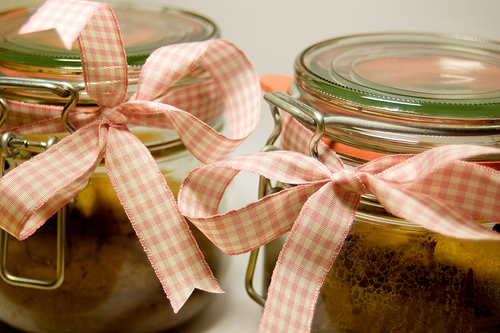 Photo Credit: hekris via Compfight cc
2. Use vouchers. Try voucher sites such as these on deals for the hut and you could save a small fortune. Offers such as 20% off some items, or free delivery, can really help keep some pennies in your pocket at this expensive time of year.
3. Set a budget. If you are buying gifts for friends children, all agree a budget in advance. That way, all the kids get a similar sort of gift, and everyone is happy with the amount they have spent.
4. Consider charity shops. They are not all full of old junk – there are some real treasures to be found. People donate brand new, boxed items, and other things such as toys, clothes and books which are almost new. They make great stocking fillers, and cost a fraction of the price that you would spend in a major retailer.
5. Offer your time. Often, relatives are hard to buy for – especially parents and grandparents. Why not offer them an hour of your time and cut the grass, tidy the garden, do their shopping or make them some meals for the freezer instead of buying a gift that they do not want or need? It's a lovely thought, and often appreciated more than a new jumper or an ornament for the mantlepiece.
Are you all set for Christmas? Have you got all the gifts sorted and under the tree or do you still have shopping to do?