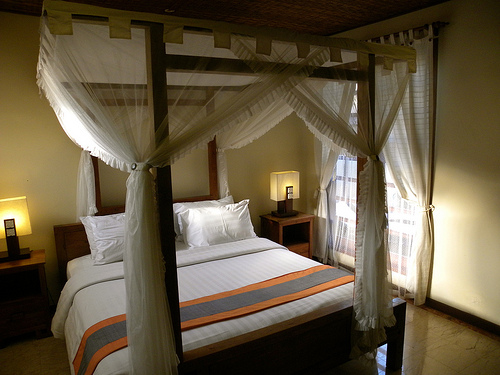 Photo Credit: JasonParis via Compfight cc
All the best bedrooms exude luxury. These spaces should serve as a refuge from the chaos of everyday family life and offer the opportunity to relax and unwind in style. If your bedroom has seen better days and you think now's the time to inject some extra beauty and comfort into it, take a look at these great design ideas.
Invest in quality bedding
Of course, a good quality bed and mattress are essential features in this part of the home. However, a surprising number of people fail to appreciate the importance of complementing these products with equally impressive bedding. A super-soft duvet and supportive pillows can transform your bedtime experience. Soft furnishing specialists like Julian Charles offer a broad range of bedding options. For the ultimate in comfort, it's worth trying out goose feather and down versions. There is no substitute for the sumptuousness of these natural fillings, and they are superb when it comes to keeping you warm during the winter months.
Add an array of indulgent accessories
Don't stop at replacing your duvets and pillows either. For the full effect, make sure you select bedspreads that both look and feel great. Why not treat yourself to stylish Egyptian cotton versions? This soft material is sure to help soothe you to sleep. You can take your pick from a variety of different designs and colours. For added visual impact, team your bedspread up with a throw and some extra cushions. Arranging these accessories on your bed will lend instant splendour to your sleeping quarters.
Think about introducing more detail elsewhere around your room too. Perhaps a soft rug would make the ideal addition to your floor, and maybe some new artwork would look stunning on your walls. Meanwhile, fresh flowers can bring colour and vibrancy, as well as sweet and relaxing aromas, to these spaces.
Choose your window dressings wisely
Take care to choose the ideal window dressings too. If you sometimes find yourself inexplicably awake in the early hours during the summer months, it may be because your room is too bright. To stop sunlight streaming in, you can fit blackout curtains. These products can also dull street noise and help to regulate the temperature. When pulled to, they can keep rooms cool during the summer and warm during the winter.
Whichever curtains you opt for, consider investing in some tiebacks to go with them. This seemingly minor detail can in fact have a major impact on the aesthetics of your boudoir, adding another layer of class and sophistication.
By following these simple suggestions, you can kickstart 2015 with a brand new bedroom that you can be proud of.
This is a collaborative post.