Max is now a fully fledged toddler, and into EVERYTHING. I really do mean everything. He opens cupboards and takes out all the stuff inside, he climbs the stairs and the ladder to the top bunk. He opens doors and escapes into the garden. He gets into the tiniest spaces and either gets stuck, or finds forbidden items that we had hidden away.
It's definitely high time we toddler proofed.
Now I don't believe in toddler proofing every single thing in your home. I think it is good for children to learn a few boundaries where they can, and understand right and wrong. The door to our garden leads just to our garden – he can't get out, and so that will not be toddler proofed. The worst he can do is go and get wet socks – we will just continue to say 'no' if he can't go out, or encourage him to put his boots on if he can.
One area I will not risk is kitchen cupboards. Not only do I not want him stealing food, I also don't want him pulling out glass jars, heavy tins or chemicals that could harm him. I find cupboard locks the best option here – especially the magnetic ones, as they are installed inside the drawers and cupboards. This means there is no way that Max can get to them, and because you can't see them, they don't ruin the look of my new kitchen either!
Another area of high priority are the stairs. We live in a 3 storey house, and so have 2 flights of stairs. If Max fell or slipped, he could really, really hurt himself. At the moment we have a stair gate across the living room doorway so that he cannot get to the stairs without an adult, and another gate across the second flight of stairs. I do want to get another to put across his bedroom doorway too – now that he has worked out how to open doors, I don't want him wandering around upstairs at naptime, going into our bedroom or the bathroom without us realising. That's definitely the next thing on my toddler proofing shopping list!
If you are at a similar stage, and are starting to think about toddler proofing your home, then I have a fantastic giveaway for you. One lucky winner will receive a Safetots self closing stair gate! This is a pressure fitted gate with a self closing mechanism, allowing you the reassurance that the gate will always be closed and your child will not be able to reach anywhere dangerous. Fantastic, right? All you need to do to be in with a chance to win is enter via the rafflecopter form below – good luck!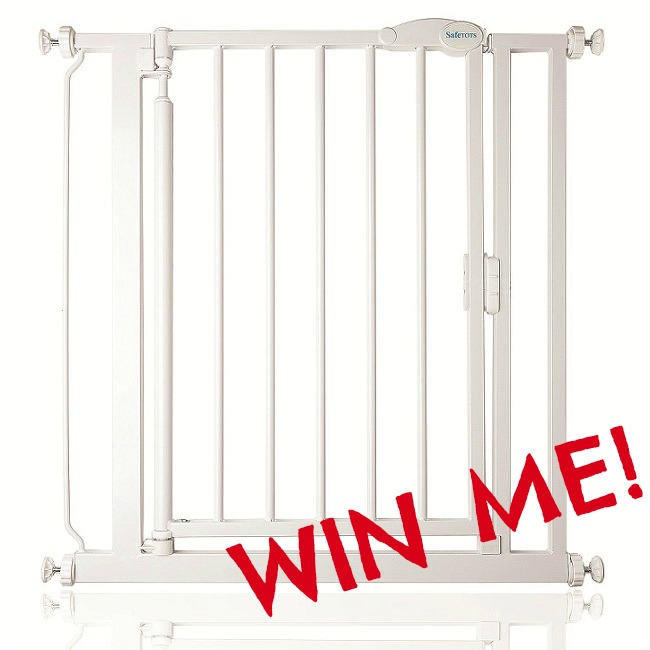 Terms and conditions. Competition open to UK residents, and will close on 6/3/15. Winner will be randomly selected from all correctly completed entries and contacted by email. Winner must claim their prize within 10 days or it may be redrawn. Prize will be supplied directly fromSafetots UK. Win competitions at ThePrizeFinder.com