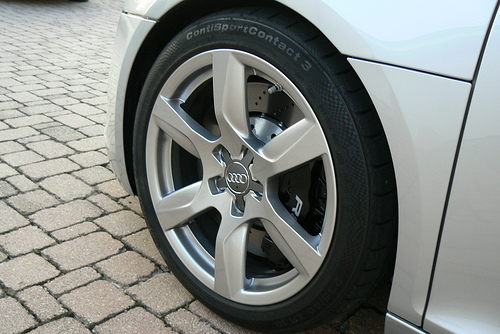 Photo Credit: ClearFrost via Compfight cc
We, like many others, are a 2 car family, and while most of the time they are just vessels for transporting children to clubs, doing the shopping and getting to work, sometimes they need a little bit of TLC. My car went in for an MOT last week, and I am always a bit on edge when this happens – will it pass, will it need lots of work? The car did actually fail the MOT this time, but it only needed a new tyre and a light bulb. That I can cope with – it's just wear and tear really isn't it? The type of thing you need to check on a regular basis. We are always keeping an eye on our tyres, and usually source them from Halfords Tyres or National Tyres.
Kevin is much better at this than I am. I tend to just run my car, as long as it starts I am happy. I fill it with diesel when the light flashes at me and top up the windscreen wash when it runs out. That's about it. Kevin is the one who checks the oil level, monitors the tyre tread and replaces the wipers when they start making that awful squeaking, dragging noise ever time it drizzles.
Knowing where to buy car parts can be a bit of a minefield. Left to my own devices I would just head for the nearest garage or large car store and probably end up paying over the odds for whatever it was I needed. Kevin is much more savvy, and would probably check out somewhere like onlinecarparts.co.uk to see if he could get what we needed for less. He is pretty handy when it comes to DIY and maintenance and would have no problems with fitting the everyday car parts we need.
Are you any good at maintaining and fixing your car yourself, or do you have a trusted garage or retailer to do it for you?
* This is a collaborative post. *