Jacob was always a Thomas fan when he was younger, and still likes it now (although he wouldn't admit it, he is far too cool for that 😉 ). Max has also recently become really interested in our Thomas trains, the tracks that are in the playroom and Thomas shows on the TV. So when we were sent the Thomas and Friends Trackmaster Breakaway Bridge playset I knew it would be a hit.
In short, this set is a plastic track with a motorized train. Thomas has to navigate a risky piece of track to get across the rickety bridge, and must get around the sharp curve on a single rail – with wheels off the edge – without falling. Daring stuff. The kids love it as there is a chance Thomas might crash, and all of them love a crash.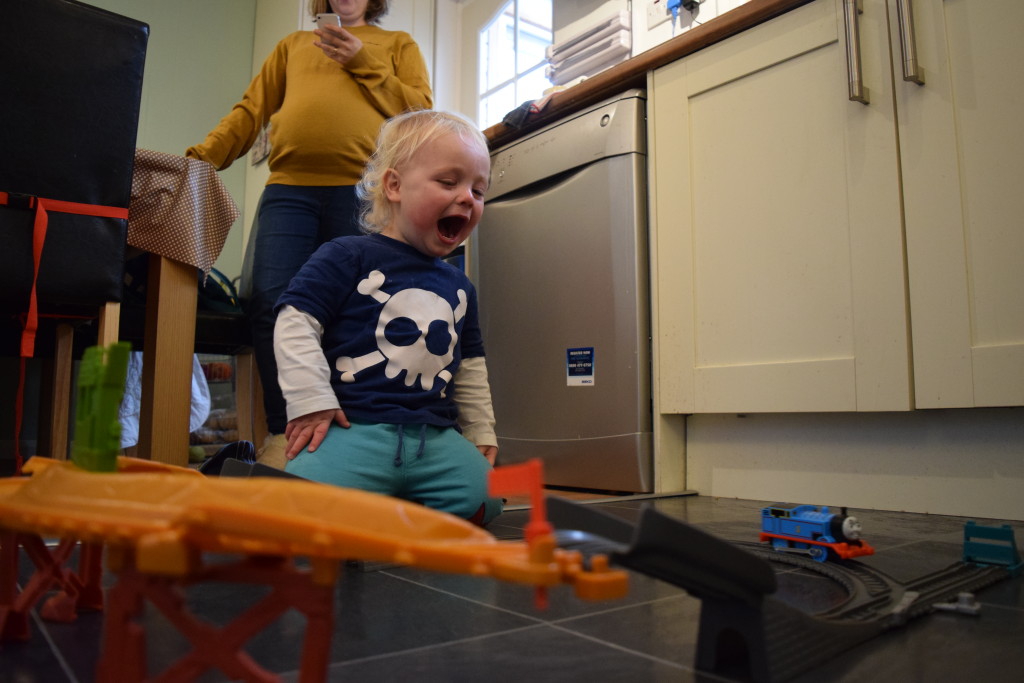 As you can see, Max was very taken with the Breakaway Bridge set. It's super easy to set up – the plastic pieces of the track simply click together in seconds – in fact Gemma and Jacob were able to set it up independently. Pop some batteries into the train and away you go. Thomas sets off round the track, balancing over the precarious bridge before speeding down the other side. Like this:
It's fantastic for all ages. It has so much scope for expansion with other Trackmaster sets, and makes buying birthday and Christmas gifts easy for people – there is always a new set or train to add to the collection. Another plus point with this set is the size – it's plenty big enough for good game play, but not so big that it takes over your living room. It's an ideal size for a toddler to play with – Max actually likes to sit inside the loop of the track and try to catch Thomas on his way around. It fits nicely on a standard sized train table too.
So would I buy this Thomas & Friends motorized playset? Yes I would. It's heaps of fun, great for all ages from 18 months plus (with supervision) and great for expansion with other Trackmaster sets. You can build endless imaginary Thomas worlds, and the Breakaway bridge will always feature – purely because it's one of the most fun!