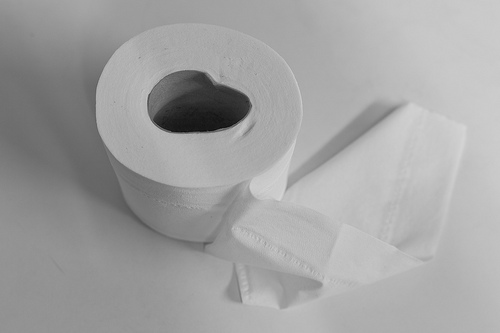 Photo Credit: eatmorechips via Compfight cc
Anyone who has ever tried to use a public lavatory and discovered that there is no toilet paper will understand why carrying your own supply is an excellent idea. Coping with an unexpected runny nose in public can also be problematic if you don't have any tissues to hand. Here are five occasions when you will be grateful that you have your own supply of this indispensable product.
Children always need toilet paper
Anyone who has decided to take a small child for an outing will appreciate the need for additional wipes or toilet paper. Brosch Direct have a wide range of paper supplies that are suitable for any occasion. Whether your child needs its chin wiping after a sticky ice cream has landed on their face, or you need to change their nappy and have run out of wet wipes, toilet paper is an invaluable resource, and you'll be grateful that you have added a spare loo roll to all the other clutter that travelling with a small child usually entails.
You never know when you'll need a spare roll
Staff using the brand new BBC London HQ will have wished that they had brought their own supply of lavatory paper into work in December. An article in The Daily Mail highlighted the fact that petty theft was rife within the corporation. 'Staff are even being told to stop stealing toilet paper – although a sign telling staff to refrain from stealing toilet paper was itself pinched.' Quite why well-paid BBC staff see the need to steal lavatory paper is another matter.
Festivals in the summer
Festivals are part and parcel of the UK's summer calendar. Sadly smelly and inadequate lavatories are also synonymous with these events. You can also use your lavatory roll to cleanse yourself in the morning. A note on the Get Reading website warned festivalgoers to bring their own lavatory paper as the festival organisers will no longer provide this essential item.
Travelling the world
If you're thinking of travelling the world, it is an excellent idea to travel with your own loo paper. The travel review site, Trip Advisor, urges those thinking of visiting Vietnam or other far flung places to come equipped – though it isn't only remote areas of the planet that need you to bring your own toilet paper. Parts of Europe either don't provide the stuff, or the products on offer are so abrasive that you'll be glad that you've brought your own.
5. Coughs and sneezes
Having a cold can be a miserable experience at the best of times. Somehow neat little packs of tissues don't quite cater for runny noses and sneezes. Linen handkerchiefs may look good, but aren't effective for a heavy cold. A toilet roll might not look elegant, but at least you can work without a streaming nose and you'll also be able to dispose of your loo roll in an hygienic fashion.
Today's rucksacks and large handbags are perfect for carrying a spare loo roll just in case of an unforeseen emergency.
* This is a collaborative post. *