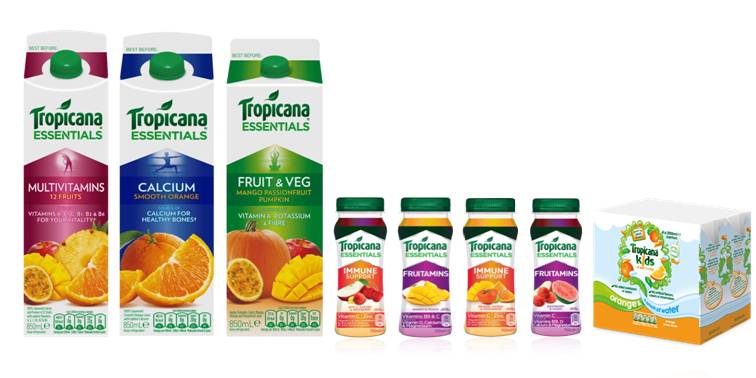 I won't lie – I adore Tropicana. I buy the big family sized cartons of their smooth orange juice and have it all to myself. Now, there is an exciting new range called Tropicana Essentials, packed with extra vitamins to help people get one step closer to reaching their daily dietary requirements. Independent nutritionist Fiona Hunter answered a few common queries in a recent Q&A session, and here are a couple of the things you might like to know!
Is there a best time of day to give children juice?
The best time of day is with meals, particularly with meals based on plant foods such as fortified cereals, some beans, lentils and spinach as the vitamin C in juice helps the body to absorb iron from these sources. Iron is a mineral which is important for healthy blood. Research shows that females in particular have low intakes of iron and 46% of girls aged 11-18 do not meet minimum dietary requirements1.
Does juice contain added sugars which are bad for kids' teeth?
Look for 100% pure unsweetened juices as they only contain naturally occurring sugars from the fruit – some juice drinks do contain added sugars. Studies have shown that the dental health impact of drinking fruit juice is no different to eating whole fruit or dried fruit when consumed at the same level of frequency . As with all foods and drinks which contain fermentable carbohydrate including sugars, juice should be consumed in moderation to help reduce risk of dental health issues. It can be a good idea to dilute juice and give it to your kids with a straw as this helps to reduce contact between juice and the teeth. Encourage them not to swish it around their mouths and ensure your kids brush their teeth at least twice a day and have regular dental check-ups.
Reference: [1] National Diet and Nutrition Survey: results from Years 1 to 4 (combined) of the rolling programme for 2008 and 2009 to 2011 and 2012. Public Health England and Food Standards Agency. Published 14 May 2014]
To celebrate the release of the new Tropicana Essentials range, I have 3 goody bags to give away to my readers. Each winner will receive:
Tropicana Essentials Multivitamins (850ml)
Tropicana Essentials Fruit & Veg Mango, Passionfruit & Pumpkin (850ml)
Tropicana Essentials Calcium (850ml)
Tropicana Essentials Immune Support Orange, Mango & Persimmon (150ml)
Tropicana Essentials Immune Support Apple, Cherry & Raspberry (150ml)
Tropicana Essentials Fruitamins Mango & Peach (150ml)
Tropicana Essentials Fruitamins Raspberry & Guava (150ml)
Tropicana Kids Orange (4x 200ml cartons with a straw)
I am super jealous of this prize – I would especially like to try the Apple, Cherry & Raspberry and Mango & Peach flavours! All you have to do to be in with a chance of winning one of these awesome goody bags is enter via the rafflecopter form below – good luck!
Terms and conditions. Open to UK residents, competition closes on 3/6/15. Winners will be randomly selected from all correctly completed entries and emailed. Winners should claim their prizes within 10 days or it may be redrawn. Prizes supplied directly from Tropicana. More competitions at ThePrizeFinder