Jacob and Max have been sharing a bedroom for a few months now, ever since Max moved out of our bedroom and into a cot. It has worked really well for us, and the boys love being in the same room together – even if it does mean that sometimes there is rather a lot of giggling before bed!
Although the boys room is a decent sized double, having fitted wardrobes, a chest of drawers, a bed and a cot takes up a lot of room, and so bunk beds were always on our radar. We were recently sent some Cloud Grey Darwin bunk beds from the Great Little Trading Company, and the boys couldn't wait for Daddy to build them so they could try them out!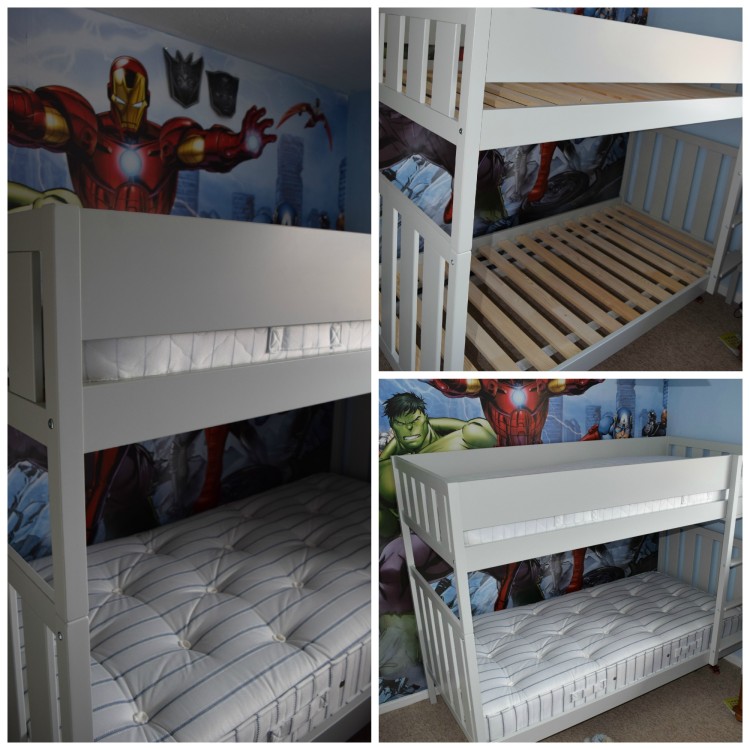 Building the beds was fairly simple – I know this because it didn't take Kevin very long at all and there was very little muttering 😉 It took less than an hour to put the beds together, although do make sure you read through the instructions fully before starting. The beds can be used as bunks or 2 singles, and the instructions for these are a little bit different, so make sure you are following the right set of instructions. We obviously did that, and definitely didn't start building 2 single beds first by mistake. Nope, not us.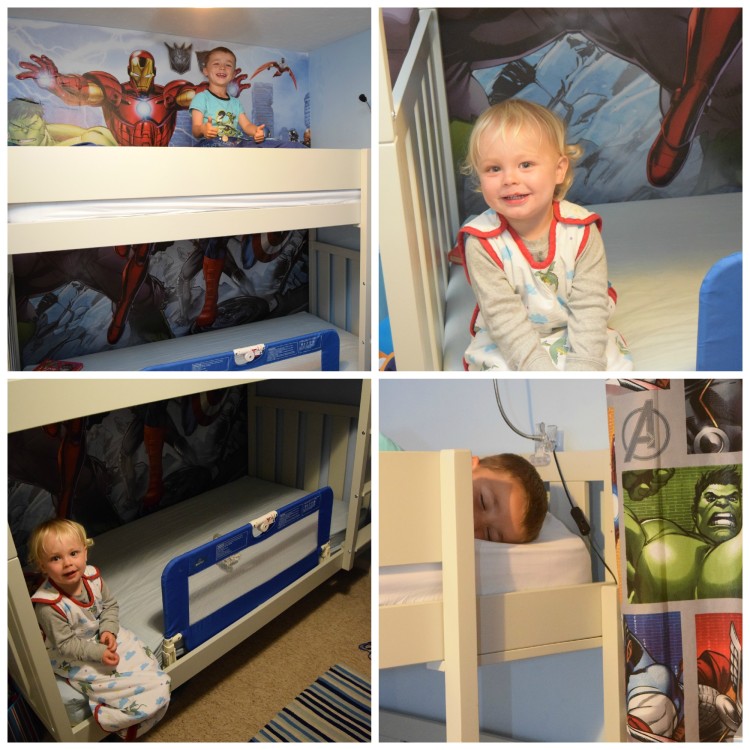 Once built, the beds are really sturdy, although it is worth checking and re-tightening everything after a day or 2, as we found the fixings were ever so slightly loose after a couple of uses. They look gorgeous – it's so nice to have furniture in this cloud grey colour – it fits really well with our interior style, and it makes a change from the usual wooden or white options. I think it would work equally well in a boys or girls room too.
The mattresses are amazing. The bottom one is super thick, and I actually wanted to steal it for myself – if it had been a double I think I might have! The top mattress is slightly thinner for safety purposes, but both are soft, supportive and ever so comfortable – both boys have slept really well since moving into the bunk beds.
The ladder can only be fitted at one end of the bed, so that is worth bearing in mind when planning your room design. The steps themselves are easy for Jacob to use – wide, flat and firm. The top bunk is fairly high up – again worth bearing in mind depending on the age of your child, although there is a decent height safety rail for peace of mind. The real bonus of this higher than average top bunk is that it leaves the bottom bunk with heaps of head room, which is a really great feature – there's nothing worse than banging your head when you sit up in bed. The only real downside to this arrangement is changing the bed sheets on the top bed – it's definitely not the easiest job!
Overall, I really like the Darwin bunk beds. They are priced at £599, which is more than I would usually look to spend, but when you consider the longevity of these, and the fact that they can be transformed into 2 full sized single beds if required, it doesn't seem such a bad price. The mattresses are sold separately, and there is also an underbed truckle drawer available, that can be used for storage or as a guest bed. If a friend or family was in the market for bunk beds, I would certainly recommend they checked out Great Little Trading Company for quality, well made furniture.