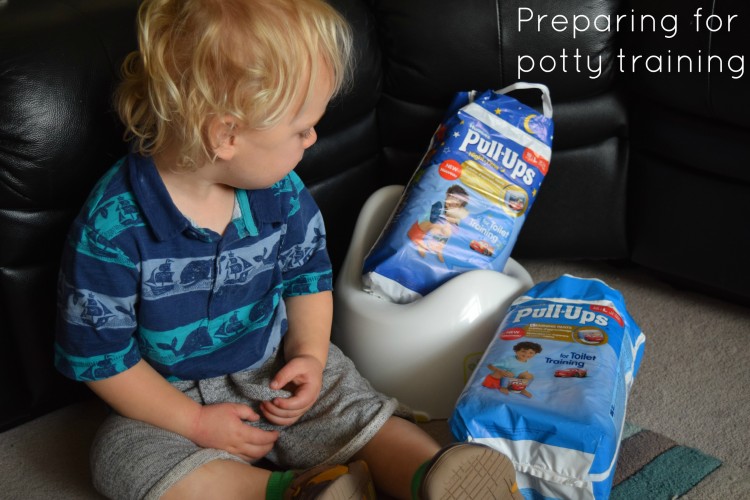 Max is now almost 26 months old, and potty training is something we are starting to think about. I don't think he is quite ready yet, which I am quite glad of with a 3 week old newborn to take care of, but he is definitely showing signs of being interested.
We have recently been selected as Huggies Pull-Ups brand ambassadors, and we are looking forward to sharing our potty training journey with you, right from the very start – and the first step is knowing when they are ready. The Huggies Pull-Ups 8 signs of readiness chart can help!
Looking at this, I still believe that Max isn't quite ready, but is definitely getting there. He can stay dry for a couple of hours, he asks to be changed when he is wet or dirty, he regularly asks to sit on the potty and is pretty regular. He can also let me know when he wants to go, although this is pretty hit and miss and he certainly doesn't do this all the time, and he is more than capable of following simple instructions. However, he shows no interest in wearing underwear just yet and would need help pulling pants up and down, as well as with hand washing – so although he is well on the way, I think it might be a few more weeks until we are ready to dive right in.
In the meantime, I am preparing for potty training by making sure we have everything we need. Here's my must have potty training list:
Pants – lots of them! Let your child choose pants that appeal to them – they are more likely to wear them then! You can buy pants with pretty much any TV character on nowadays, and I think we will take Max shopping for some Thomas or In the Night Garden pants in the next couple of weeks.
Huggies Pull-Ups – specifically designed to help make potty training easier, the new Learning Liner inside Huggies Pull-Ups allows toddlers to feel wetness for a few moments, before quickly drawing the moisture away. That way they learn the difference between wet and dry and can ultimately stay dry on their own. Huggies Pull-Ups are the perfect tool for potty training and will help you and your little one say goodbye to nappies.
Potty – again, more than one is useful. We tend to have one upstairs and one downstairs so that there is one easily within reach wherever you are. I prefer to keep the potty in a toilet or bathroom so that your little one associates using it with being in the bathroom – this tends to make the progression to the toilet much easier.
Toilet seat – the big toilet is scary for little ones, so a training seat can make the difference between success and failure. We have an in-built toilet seat with a flip down toddler section, but you can also buy the ones that just fit on top of a standard toilet.
Wipes – to start with, you will still need wipes – for cleaning up accidents and for wiping bottoms. Keep a stash with the potty.
Toddler friendly hand wash and towel – again, this is something we will let Max choose for himself. We will get him a brightly coloured handwash that he will want to use – we like the foam options as there is less waste. A small towel kept at his height will also encourage him to wash his hands independently in the future.
Travel potty – this is something we found invaluable last time. We had a foldable version that was small enough to keep in the changing bag and was easy to pull out when needed. You can guarantee that you will be nowhere near a toilet when your toddler decides they need a wee!
Sticker chart and stickers – toddlers love stickers, and we found a simple reward chart worked well for us – a sticker for every time they went on the potty, and a small treat when they reached 10 stickers.
I think that's it? Is there anything I have forgotten that you found useful for potty training? Would love to hear from you!
Visit www.pottytraining.co.uk for helpful tips advice and to request a free sample.