When Gemma, Jacob and Max were small they slept in moses baskets at the side of the bed. They were fine – they did the job, and were comfortable, but we often ended up with an unsettled child in bed with us after a night time feed. We also found the moses baskets looked worse for wear very quickly – the wicker would break and snap, leaving sharp ends that poked you when you walked past, and they always, always creaked. Why?! The last thing you need when delicately trying to lower a sleeping baby into a basket is creaking!
This time around I knew I wanted something different. I had heard a lot about co-sleeper cots and cribs, which allow for safe co-sleeping and easy night feeds. We were sent the Snuzpod from Little Green Sheep, which is a real multi purpose piece of furniture, and as such, great value for money.
In bedside form, the Snuzpod is able to be connected to your bed via straps, whether you have a slatted or divan bed. We have a slatted bed, and the straps just fasten around the frame, meaning the Snuzpod is safe and secure next to me. You can also choose the height setting so that it is level with your mattress – this means there is no chance of your baby rolling into a gap.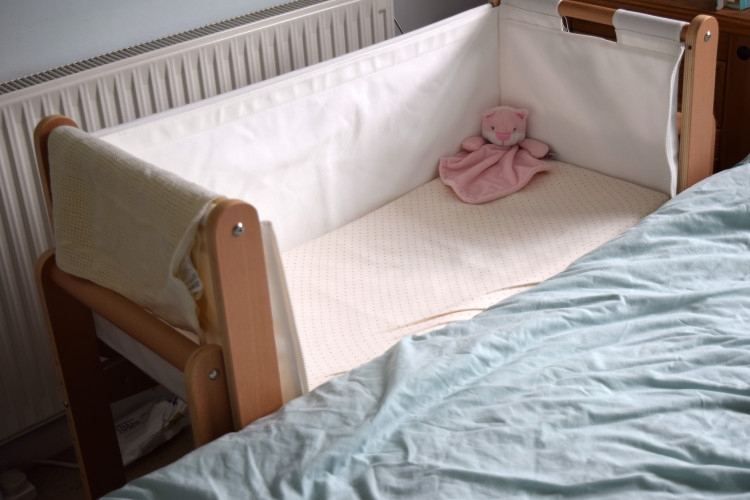 The side simply zips down so that you have access to your baby at all times. It allows Eliza to feel close to me as she would if we were co-sleeping in the traditional way, but she has her own sleeping space which reduces any of the risk factors associated with bed sharing.
The biggest bonus for me was being able to access Eliza easily after my caesarean section. I couldn't get in and out of bed easily, and bending and lifting were not an option for the first few days. Having Eliza in the Snuzpod next to me meant I could simply roll over to reach her and feed. When we had finished, I could simply slide her beck into the Snuzpod for sleep. There was nothing better in those first few days than waking up to this gorgeous little face beside me.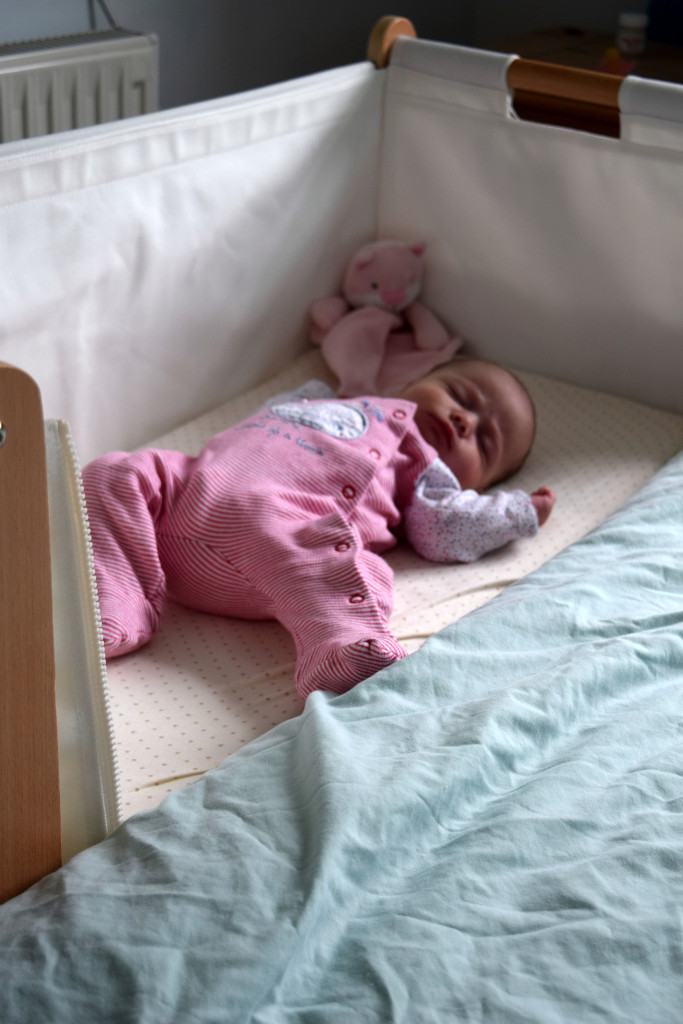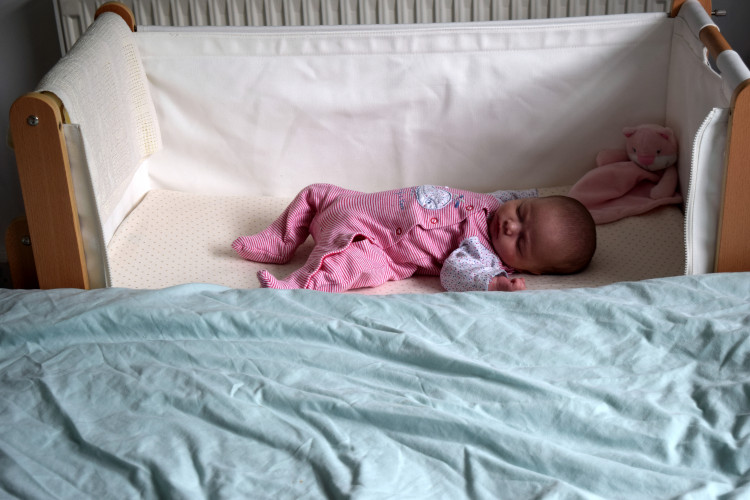 For daytime sleeps we have continued to use the Snuzpod, but in the traditional crib format. All you need to do is zip up the mesh side and insert the support bar and you have a stand alone crib. I love the fact that the mesh side allows me to peep in on her. The mattress is chemical free so I feel happy leaving her to snooze, and if she needs some help to settle, the Snuzpod has a rocking frame so I can gently soothe her.
The third sleeping option is the bassinet feature – you can simply lift the top section away from the frame and can carry it downstairs if you prefer your baby to sleep there while you get on with the washing and cleaning. It has a gently rocking base too, so again you can soothe your baby easily.
Underneath the bassinet section is a large storage area. We have popped 2 storage boxes on the base – these are the perfect place to keep nappies, wipes, blankets and bibs so everything is close to hand for those middle of the night wakings!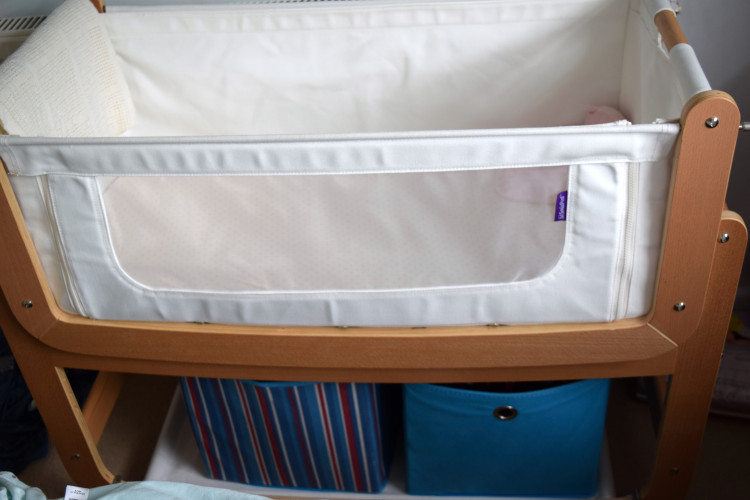 We really love the Snuzpod. I would really struggle to find anything negative to say about it. The only slight downside I can think of would be the size – but for us this is a positive. It's much bigger than a standard moses basket, and so will easily last most babies from 0-6 months. If you are really short of space it could be a tight squeeze, but if you are using in bedside mode you can obviously have it tucked right up to your bed and save a bit of floor space. I think it's well worth a tight squeeze for a few months – it's far superior to any moses basket we have tried.
So what do we like best? Well, everything really – but here are our top 5 Snuzpod features:
The fact it is 3 products in 1 – bedside crib, stand alone crib and bassinet.
How easy it makes breastfeeding – especially after a caesarean section. No need to stand, bend or lift.
The size – bigger than most newborn options, and so much better value for money. Eliza will easily be able to sleep in here until 6 months.
The fact that you can wake up to your baby smiling at you in a safe and comfortable bed sharing option.
The height is perfect for Max to bond with his baby sister. Every morning he comes running in to chat to her. It melts my heart.