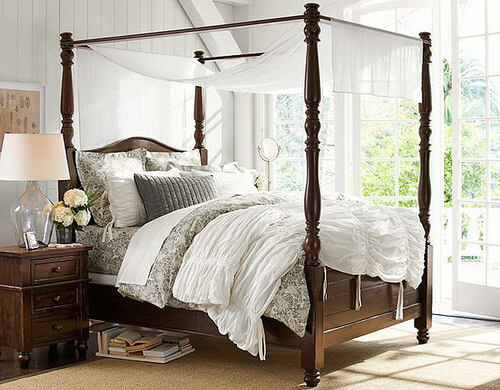 Photo Credit: juliamarshall369 via Compfight cc
OK, so luxurious lie-ins may be something of a novelty if you're bringing up young kids, but that doesn't mean you shouldn't benefit from a top-quality bed. The perfect sleeping platform can help ensure you get better quality shuteye and it will be a real treat on the rare occasion when you are able to enjoy a leisurely start to the day. Here are three dreamy bed styles that are guaranteed to make you want to spend extra time between the sheets.
1) The timeless four-poster
For sheer spectacle, it's impossible to beat the four-poster. These classic furnishings have been around for centuries and their popularity shows no sign of subsiding. Originally, these luxury beds, complete with their characteristic curtains, were intended to insulate sleepers from draughts. Thanks to central heating and double-glazing, blocking out breezes may not be top of your list of bedroom concerns, but four-posters can still envelop you and offer a reassuring sense of protection and comfort. For a truly dreamlike look and feel, why not create a canopy and drapes for your frame from pale, silky materials? You'll feel like you're stepping into a cloud each time you climb between the sheets.
You can take your pick from a range of different four-poster designs too, including traditional timber creations and ornate forged iron frames.
2) Elegant sleighs
For something a little more playful, perhaps a sleight bed would fit the bill. These furnishings feature headboards and footboards that curl outwards towards the top, giving them a fairy tale look and feel. The elegant curves have an instantly soothing effect on interior design schemes and exude a sense of luxury and opulence.
Perhaps you'd like an exquisitely carved sleigh that's finished to perfection with intricate lion's feet or other ornate detailing. This could make a real style statement in your bedroom. Alternatively, you could opt for something more modern and minimalist. You can also take your pick from a variety of different finishes, including polished mahogany or decadent gold or silver leaf. Whichever design you go for, you can be sure you'll find it hard to prise yourself away from your beloved bed come morning time.
3) Marie Antoinette-inspired splendour
If there's one woman who's synonymous with luxury and indulgence, it has to be Marie Antoinette. As the wife of Louis XVI and queen of France, she was renowned for her extravagant sense of style and she has influenced interior design trends for well over two centuries. If you're keen to add a touch of regal class to your room, why not go for a bed inspired by this one-of-a-kind royal? There are a range of furnishings available that take inspiration from Marie Antoinette and the French court of the period. Characterised by their Greek bands, wreaths and oak and laurel leaf patterns, they have an undeniable air of sophistication. To really follow in the queen's footsteps, opt for pastel paint finishes. These soft hues have a relaxing vibe and are perfect if you're trying to create a dreamlike sleeping space.
Given that we spend a third of our lives asleep, there's no place for second best when you're searching for a bed. By opting for designs like these, you should find it easier to nod off at night. The only difficult thing will be tearing yourself away from your favourite new furnishing when your alarm, or your kids, sound the wakeup call.
* This is a collaborative post *