Brighten up any kids' room with these simple steps.
A lick of paint
The first step to create a fresh new bedroom for any child is to refresh the walls. Whether it's the same colour or a different one, paint is inexpensive and relatively quick – you'll be surprised at the results.
If you're feeling crafty, a lick of paint to the furniture will work wonders too. There are loads of tutorials out there, so whether it's chalk paint for a tween who wants a sophisticated bedroom or a small child wanting something bright and breezy, it can be done really easily.
Quick and easy gallery wall
Personalise their bedroom with a gallery wall just by attaching a length of string to the wall and pegging art work on to it. This could be work that your child has created, if they are still quite young or simply images that they like from magazines, Pinterest or just greeting cards if they are older. This is a particularly great way to personalise a room if you are renting and can't put lots of holes in the wall.
Make the bed the place to play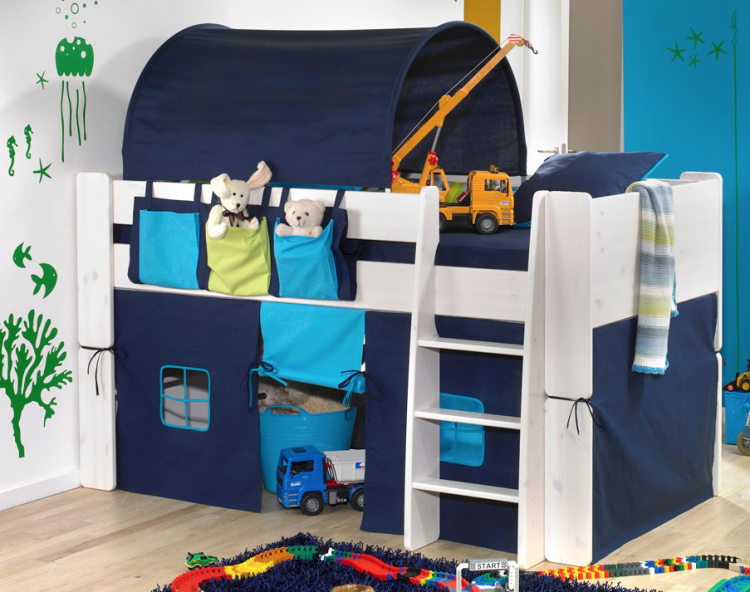 Choose a midsleeper bed from Steens for cheap but sturdy and fun but practical beds. They are the perfect budget bed if it needs replacing, because you can add to it as they grow. With a range of accessories and colours, they can transform any bedroom into the depths of space or a medieval realm, and the extra storage space opened up below means that they have more space on the floor to play too.
If you're going for something girly, make an easy canopy by draping fabric over the bed.
Splurge on investment furniture
If you're on a right budget, you can be loath to spend a lot of money on anything. However, if you spend your money on furniture that's cheap but that won't last, then it is a false economy because you'll just have to buy more furniture when yours falls apart. Instead, invest in pieces of furniture, like a dresser or a wardrobe that your children won't outgrow, as opposed to a crib or a child bed.
Wall stickers
If your walls are bare, then a wall sticker will add a touch of playfulness to any child's room. They're available in a range of designs so there's something to suit everyone. The best thing is that you can take it down when your child outgrows it or you move home.
* This is a collaborative post *