There are loads of easy and inexpensive ways to spruce up your child's bedroom – read the budget bedroom post for loads of inspiration. As well as using colour, one of the best ways to inject a bit of fun is with lighting.
Depending on the age of your kids, you'll need different types of lighting, such as a funky lamp for doing homework or a nightlight to help little ones sleep. So here are some super cool lights that they'll love.
Reach for the Stars
So many kids are amazed by stars and space, so it's a great theme to inject into their bedrooms. There are tons of space inspired lighting options to choose from, perfect for a wide range of age groups. Cox & Cox offer a great selection, from full solar system lights to free-standing star lamps, that are both educational and fun.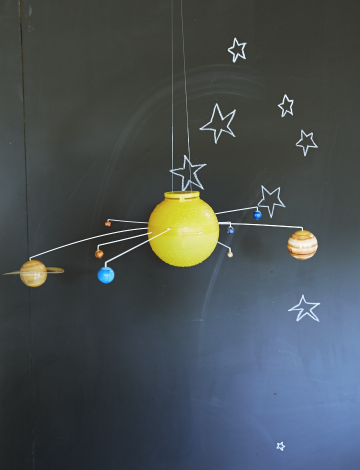 Bring the Carnival Home
Theme parks and fun fairs are a fantastic family day out, but the excitement doesn't have to end there. Bring the carnival fun home with grown up wall mounted lights. Buy oversized bulb string lights, select from wooden light up arrows and stars, hang a circus inspired pendant, or go for a personalised option with your child's name or birthday.
Cute Animal Options
As a general rule, children adore animals. Animals can make the best companions for little ones, so decorate their bedroom with their very own furry friends. There's a huge range of animal lights on the market, such as rabbit and squirrel night lights, farmyard inspired lampshades, exotic animal pendants and dinosaur string lights.
Hang String Lights
Speaking of string lights, they're such a fun and practical option for a child's bedroom. The great thing about fairy lights is that there's so many different styles, making them perfect for little ones and teens. Carry on the space theme with rocket or star string lights, go girly with butterflies and flowers, choose moons and clouds, pick dolphins and fish or there's boats and cars. The possibilities with string lights are endless!
Make Your Own
If you want an amazing and unique light but just can't find the perfect one, then you could always consider a little DIY. No one knows your child better than you, so think about the things they love and make them their very own lighting. You could transform an ordinary lampshade with comic book print, layers of ribbon or fake flowers. Or involve your children and have fun turning a paper pendant into a hot air balloon, jelly fish, owl or fluffy cloud.
Kids lighting options can be so fun and exciting. What lights have you used in your children's bedrooms?
* This is a collaborative post *