Experian
's latest survey suggests that the rising cost of weddings is rocking the boat for many couples, and not just for the bride and groom. In fact, almost a quarter of those surveyed have argued with their partner about the cost of witnessing others tie the knot – with many people actually missing the weddings of loved ones altogether as they just cannot afford to attend. This equates to losing more than one guest at each wedding table – and that's a huge amount to lose when we are talking about our nearest and dearest. With the
cost per wedding guest
now being so high for the happy couple, you know they must really want you there – which just makes it even more painful if you can't attend.
More than 1 in 10 couples have spent more than £800 attending a wedding, compared to just 6% of single people. As many as 4% have spent a staggering £2000 or more just to attend the wedding of someone they love. How many of us have that sort of disposable income? I know we don't – and if those sorts of costs were involved, I am fairly sure that we would miss out too. It's also bound to cause friction between couples – who pays? If it is your family member getting wed, do you foot the bill? Do you split it down the middle? Financial decisions are tough at the best of times, without throwing an emotive occasion into the mix!
Wedding season should be full of fun, laughter, happy tears and families coming together, but this recent research shows that more often than not it is actually causing tension and dispute, with disappointments for both the wedding party and the ones missing out on seeing the nuptials. Many people are now having to use a credit card or overdraft just to witness a joyous occasion – which kind of puts a dampener on it doesn't it?! Then you have the continuing worry about how you will pay that money back after the wedding – will that involve more borrowing just to set you straight? It can be a never ending spiral – which again can put undue pressure on couples in the home.
So how do you avoid this? It pays to discuss plans well before you jump in. Decide in advance whether, as a couple, you want a joint or single accounts – and decided how you will split joint expenses. Work out who will look after the budget – if one of you is naturally more frugal, it may pay to put that person in charge of spending limits and credit card management. Try not to spend all your time thinking about money – it can be so stressful, and although it is important, so is time together. Don't forget that. If you do find yourself in financial trouble, make sure you talk to your partner about it. Burying your head in the sand will help no-one.
But most of all? Enjoy. Enjoy the money you do have, spend wisely and make sure you have enough to pay the mortgage and put food on the table. Everything else is less important. But it might be worth trying to keep a small savings pot, just in case someone you know is about to pop the question – your invite might be in the post!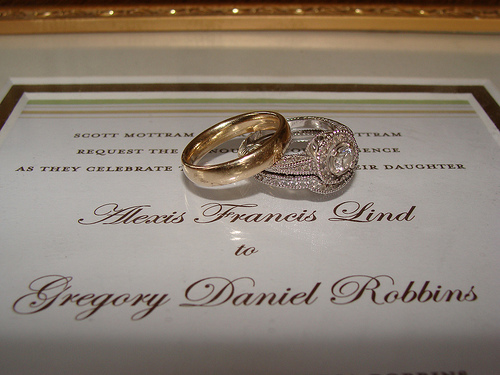 * This is a collaborative post *