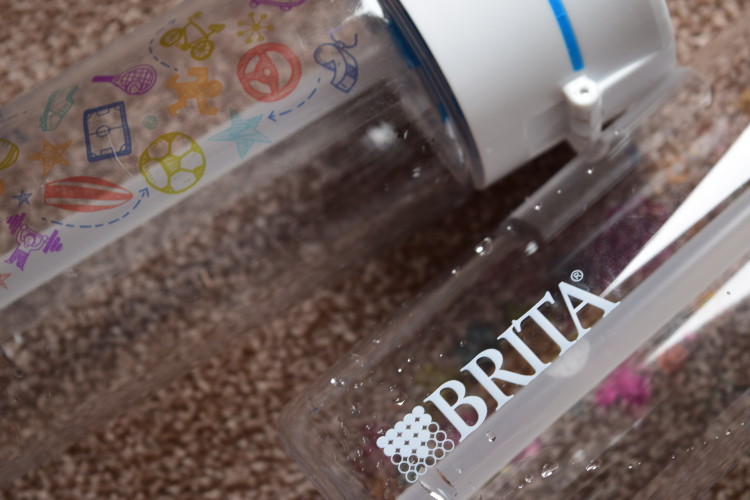 Did you know that almost thee quarters of parents (73%) do not know how much their children drink whilst at school, and two thirds (66%) do not know the recommended daily intake of fluid for children. I include myself in these statistics. I don't have any idea of the recommended amount of fluid for my children, and although I send them to school with a bottle of water, I don't really know how much of that they are drinking, or whether they are reflling it throughout the day.
But that's all changed since we got our hands on the new BRITA Fill&Go. The Fill&Go has a special design and ruler which outlines how much water your child should be drinking throughout the day, and when. It's a fun way for children to learn about what they should be drinking and at what points in the day, based on official guidelines. The ruler outlines the amount of water that needs to be drunk by 1st break, lunch, 2nd break and hometime.
We have 2 different designs – Gemma's bottle has a pink lid and a floral ruler sticker, while Jacob's is blue with a sports themed sticker. There are other colours available too. The stickers come in packs of 2, and simply peel off the paper and straight onto the bottles. They stay firm too, and withstand washing well.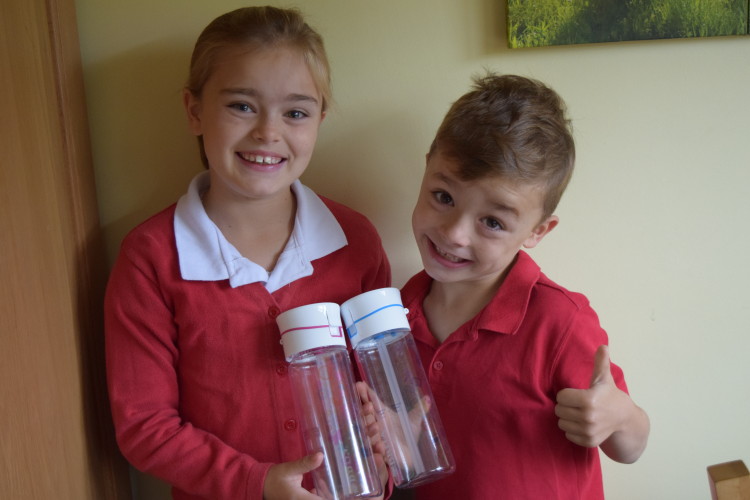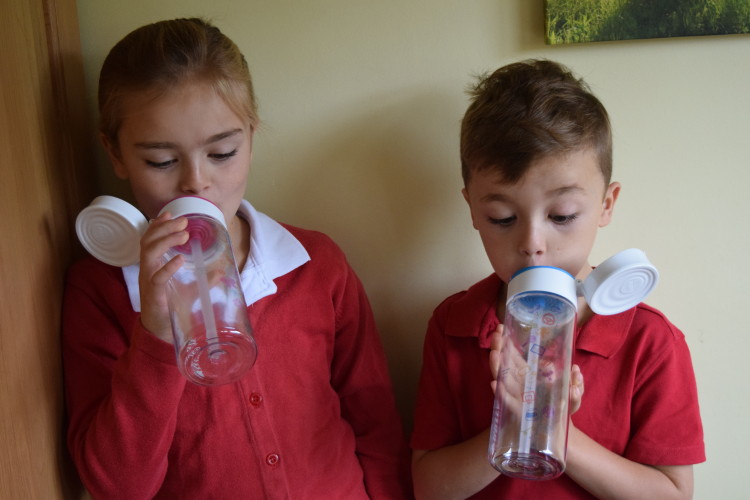 Part of the reason these work is the novelty factor. They are so much more fun than bog standard drinks bottles, and the children love the challenge of drinking the right amount before the end of break, or before I pick them up from school. They have even drawn up their own rulers on paper, and use them to measure their water against when they are at home – they try and drink half before the end of their football game, or finish a bottle before dinner time.
As with all BRITA products, part of the beauty is the filter. The Fill&Go bottles come with 4 filter discs (approx a months supply) which simply slot into the underside of the lid and transform tap water into BRITA filtered water, which my children do seem to prefer. The bottles also have an integrated straw, meaning they are easy to sip on the go, perfect for sports and days out, and don't leak. They also fit into standard cup holders in cars and car seats so are ideal for travelling too.
These Fill&Go bottles have totally replaced the childrens usual drinks bottles, and I can see they will continue to use them for years to come – partly becuase they are so practical and easy to use, and partly because they make drinking water that little bit more exciting. #BetterWithBrita
I have teamed up with BRITA to offer one reader the chance to win a limited edition BRITA Fill&Go bottle and set of stickers. All you have to do to be in with a chance to win is enter via the rafflecopter form below – good luck!
Terms and conditions. Open to UK residents, competition closes on 10/10/15. Winner will be randomly selected from all correctly completed entries and contacted by email. Winner should claim their prize within 10 days or it may be redrawn. Prize supplied directly from BRITA. More competitions at ThePrizeFinder