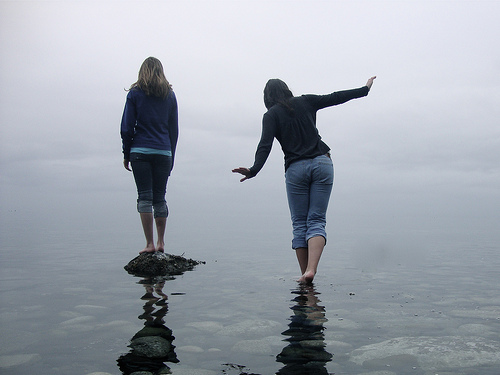 Photo Credit: *sparkly*olivia via Compfight cc
It is usually pretty easy to plan a day out with the kids – something like the zoo, the park or the soft play centre always goes down well. But it can sometimes be harder to plan a grown up day out – where do you go and what do you do? Here are some ideas for days out without the kids:
Go dancing. Put on your high heels and your sparkly clothes and head off to the local club. Take no notice of all the young ones, don't let them feel like you shouldn't be there. No matter how apprehensive you feel going in, I guarantee you will have a great night. Get dancing around that handbag!
Informal house party. Invite all your friends around to your house, get the drinks and some buffet style food flowing, pop on some good chick flicks and have a go on some of the bingo sites with free sign up bonus – always great for a lot of laughs, and you might even win some money along the way!
Theme park day out. There are so many 'grown up' theme parks to choose from now – go for one with plenty of high speed, high thrill rides for the best fun – the ones you can't go on when you have the kids in tow. Let your hair down, treat yourself to fast food for lunch and act like a child again. We really like Thorpe Park for this sort of day out.
A grown up meal. Head to a really nice restaurant such as Prezzo with your friends, the sort of place that is definitely NOT child friendly. Choose whatever you like from the menu, chat and laugh with your friends without worrying about little people who may spill drinks or drop food on your lap.
Garden centre trip. Take it easy with a trip to a local garden centre. Wander around in your own time, planning your dream garden and choosing your favourite plants and garden ornaments. Have a cream tea in the cafe and take your time. Bliss.
Shopping. Grown up shopping without children is much more pleasurable. You can go in as many shops as you choose, take your time trying on clothes and shoes, spend your money on yourself and even stop for lunch or a cuppa when you need a break.
Take a trip to the beach. This sounds more like a child or family day out, but it doesn't have to be. Head for the sea, enjoy the freedom to sunbathe without having to make sandcastles. Paddle in the sea without having to chase after a runaway toddler. Have an ice cream that you don't have to share, and enjoy a romantic stroll on the sand with your partner. There really is nothing better.
Family days out are the best. But sometimes you just need to kick back and relax on your own, with your partner or with your friends – no children in sight. That doesn't make you a bad parent, that makes you human. Take time for yourself now and then, and enjoy it!