While many school lessons take place inside, sometimes it's nice to head into the great outdoors for a change of scenery. Not only is this exciting for little minds but it can prevent boredom and renew interest in a given subject – particularly if you make the lesson plan stimulating and engaging.
Many teachers and nursery staff like doing fun activities outside with the children in their class as they don't have to worry too much about mess, and venturing out of the classroom can really help to inspire and stimulate young minds. To maximise learning and fun, it's important to buy the right furniture from the likes of Hope Education, as this will facilitate learning.
With this in mind, here are several must-have items:
Outdoor tables and chairs
When children break from their routine, they can get a little excited so it's important to keep things as normal as possible by creating a relaxing, comfortable and organised seating arrangement outside. Child-friendly, plastic tables and chairs can be bought in a wide variety of colours and provide a great place for little ones to do their work – be it a writing, drawing or colouring-in task. They can also kick back for story time or sit nicely while watching presentations and plays.
Many of the table and chair sets available also come with round corners for safety and have numerous compartments on the table top for storage. They're often stackable for easy storage, wipe clean (to make a teacher's life easier) and are suitable for both indoor and outdoor use.
Child-friendly picnic benches
Wooden or plastic picnic benches are not only a great place for children to have lunch.
They also provide the perfect outdoor seating arrangement for group activities such as outside poster making or small group reading sessions. Benches with a circular seat all the way round the table are particularly useful for conversational tasks where children have to discuss ideas with one another. Letting children play outside is an important part of their wellbeing so be sure to stock on the right equipment and check out an array of fantastic outdoor play ideas.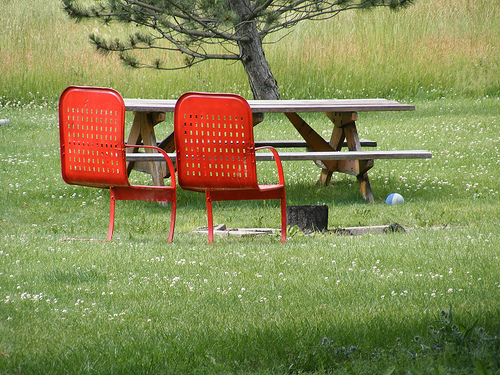 Storage boxes
If you've limited classroom space, or don't want bulky outside toys clogging up your living room, large storage boxes and benches are ideal. These are often weatherproof meaning they can stay outdoors all year round and are the perfect place to put ride-on toys, dressing up essentials and props that are necessary for fun role-play activities and other bulky equipment. Many storage boxes available these days have finger-trap safety lids preventing little ones from getting hurt and will help free-up much needed space indoors without limiting the facilities needed to enjoy a good outdoor play session.
Outdoor gazebos
Children love playing in dens and as outside gazebos are similar, they're sure to have fun playing underneath the shade of one of these essential garden accessories. While the gazebo itself offers protection from the sun on a warm day, many come with seating allowing children to sit and relax during the course of the lesson. Teachers and parents can even move little tables and chairs into the gazebo creating a fun work area for kids to enjoy.
The right children's garden furniture can help make learning fun, so it's worth investing in the essentials.
* This is a collaborative post. Photo Credit: flintstones80 via Compfight cc *