At the moment our house looks like this: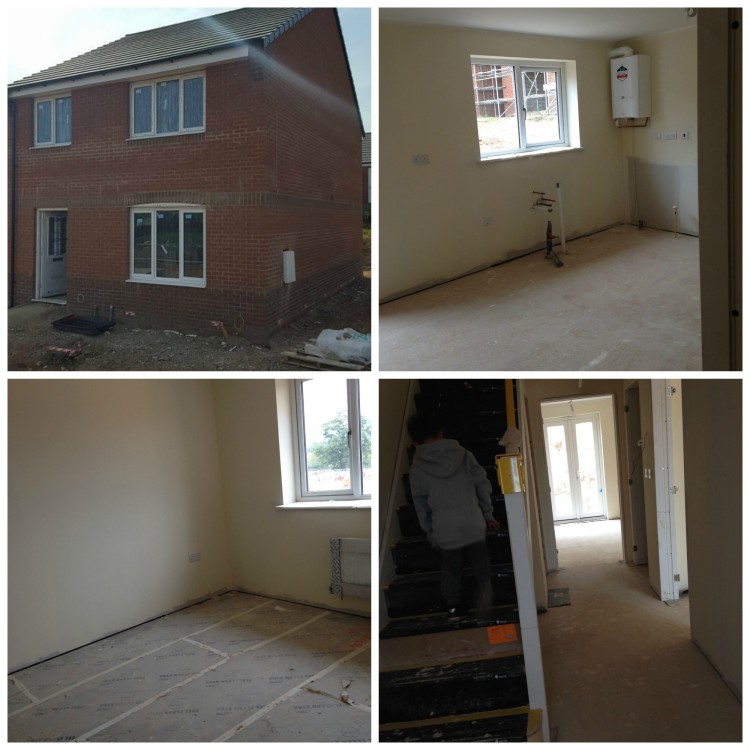 We are in the process of buying a new build house, and it is definitely getting there, after months of waiting. We are hoping to be in and settled before Christmas, which is very exciting – and I have been doing some serious Pinterest browsing to find inspiration for the interior. I know in my head what I want my new house to look like – now I just have to bring that into reality!
Follow Kate's board Living room decoration ideas on Pinterest.
Let's take it room by room:
Kitchen: The kitchen will almost be done for us. We have chosen anthracite grey gloss cabinets with a cinnamon wood worktop. All our appliances will be integrated and the look should be very sleek. We have chosen wood flooring, a black glass dining table and spotlights, as well as lovely comfortable bar stools for the breakfast bar.
Utility room: The cupboards will be the same as the kitchen and there will be an integrated washing machine.
Living room: A light grey carpet and cream walls, this will be a simple room. I want a fluffy, luxurious rug and new colourful cushions. I have bought slate grey curtains and we are having a curved electric fire installed. I want it to be a real haven, a grown up area.
Master bedroom and bedrooms 1,2,3 and 4: These will have the same light grey carpets as the living room and we are paying for fitted wardrobes with sliding doors to be installed. The walls will all be cream. The master bedroom will have duck egg blue curtains and bedding. The boys room will have red star curtains, the girls will have pink with cream butterflies. Nothing too bright, nothing too over the top, just simple, clean lines.
Bathrooms: The downstairs toilet, main bathroom and en suite will all be the same – dark grey tiled floors, white walls and suites and cream textured tiles.
I just can't wait to get in now. It has been such a long time in the planning, and now we are ready to start our life in our new family home.
Are you thinking about moving home soon? It can be such a headache working out mortgages and how much you can borrow – we used a basic mortgage calculator at first and then got some expert advice before proceeding – it is such a big undertaking, but it doesn't need to be a stressful one.
* This is a collaborative post *