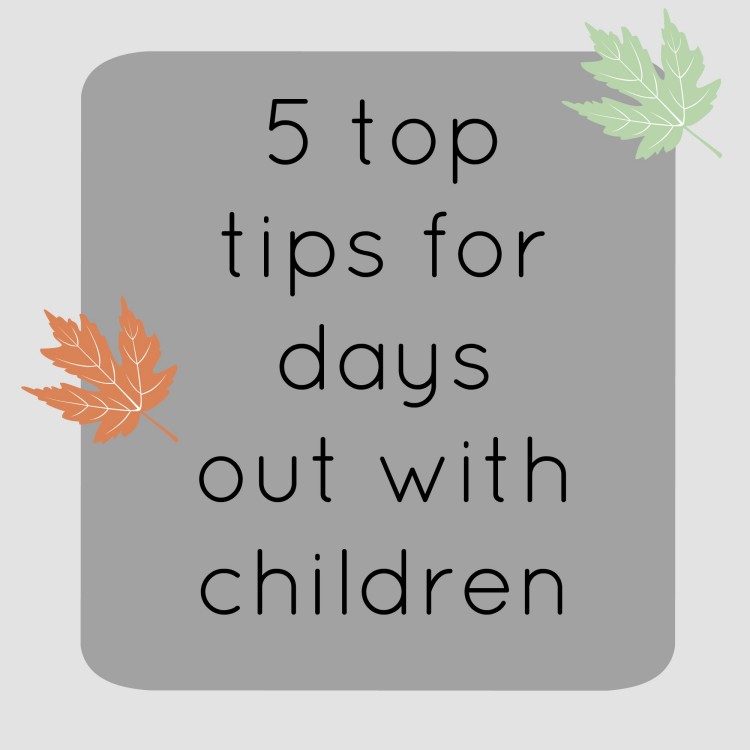 Going on a day out with young children can be a lovely way to spend some quality family time together – but it can also be full of stress if you don't plan ahead. We go out a lot with our 4 children, and we always take a bit of time beforehand to plan the day, pack what we need and tell the older children what we expect of them so that we can all enjoy a fun packed family day out. Here are my top 5 tips for days out with small children:
Pack plenty of food and drink. Always pack more than you need as there will always be someone who is still hungry! We nearly always take a packed lunch when we are out for the day as buying food when we are out can be very expensive, especially if you are going somewhere like a theme park. We also pack heaps of snacks – again, more than we think we will need. Try and choose things that won't melt or perish – we like fruit flakes and bars, breadsticks, cereal bars, crisps, fruit and vegetable sticks and crackers. Make sure you take plenty of drinks too – especially if the weather is hot. We make up a drinks bottle for each child and pop 2 extras in the car as a spare or for the journey home.
Make sure you have all the baby equipment you need. Babies don't travel light, and there is nothing worse than getting to your destination to find you have forgotten something essential. We use a Cosatto travel system so that we don't need a separate pushchair and car seat – we can either take Eliza out the car and put her in the pram, or we can pop the car seat onto the frame if we are just popping in and out of somewhere. We also make sure the changing bag is stocked up with nappies, wipes, nappy bags, bibs, muslin cloths, bottles and a change of clothes.
Keep spare clothes and a towel in the car. We leave a bag in the car with a change of clothes for all the children plus a couple of towels. This means that if one of the children falls in the mud or jumps in a puddle or we stop for an unscheduled paddle in the sea, there are always dry clothes in the car and everyone can travel home in comfort. There is nothing worse than sitting in damp clothes.
Plan your journey times. We always try and leave fairly early when we go out for the day so that we beat the late morning traffic that builds up at weekends. If you are travelling during the week then try and plan your journey to avoid rush hour, and always make sure you have planned in a few rest stops if it is a long trip. Make sure you know where the service stations are, and maybe look up a picnic spot where you can stop for lunch and let the kids run around and stretch their legs.
Set out your expectations. If your children are old enough then talk to them about the day out. Tell them where you are going and what you will be doing. Let them know that they need to stay nearby at all times. Ensure they know what to do and where to go should they get lost. Consider using reins or a harness for toddlers so that you can keep hold of them in a busy environment, or carry them in a baby carrier if it's easier.
What are your top tips for days out with young children? How do you make sure you have fun while still saying safe? If you are looking for ideas for products that can make days out easier and more fun, from travel systems and pushchair toys to bikes, trikes and scooters then take a look at Online 4 Baby who have 1 hour delivery slots to make your life easier.
* This is a collaborative post *