I can hardly believe I am writing this, but it's been almost 3 years since I started blogging – 3 years! I honestly don't know where the time has gone, and I can't believe how much blogging has given me over those 3 years – an income, the chance to try some amazing products and work with some incredible brands – but most of all, friendship. The friends I have made through blogging are now some of my best – people I know will be there any time of day or night if I need a chat or some advice, the people who were there when Eliza was born, cheering me on and sending gifts and well wishes, the people I would never have known if it wasn't for this blog. And for that, I am so grateful for my little corner of the web, and so grateful to you guys – the ones who read it, share your own stories and make me smile on a dark day with your words of wisdom and support.
On to day 5 of the Birthday Bash giveaways – and it's good one! Today you have the chance to win a Tots Bots PeeNut Christmas nappy!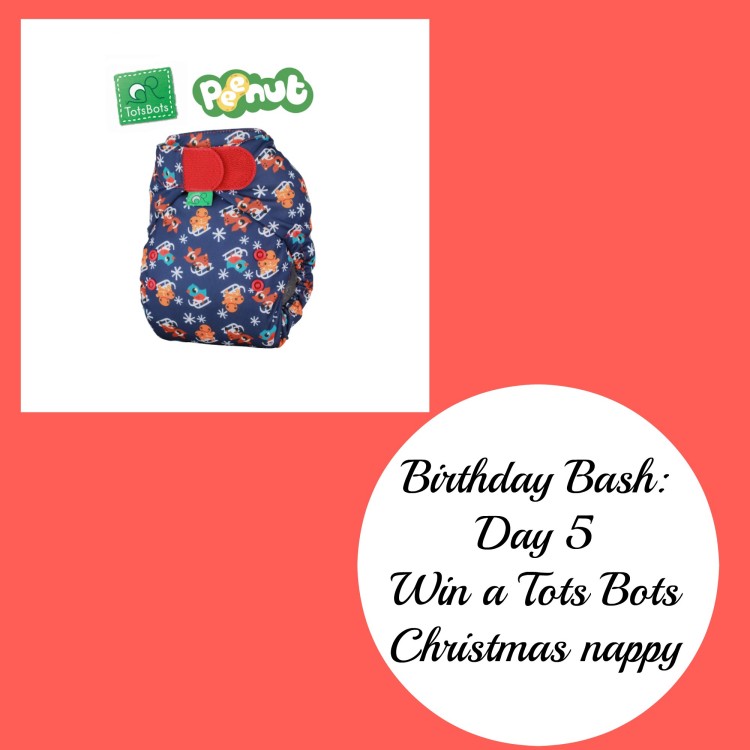 I am a huge fan of the PeeNut nappy, and they are a firm part of our cloth stash – and I think this new Festive Fling design might be finding its way onto Eliza's bum soon – it's so pretty!
If you are not familiar with the PeeNut, it is an easy to use waterproof wrap and pad cloth nappy system. You can use them day or night, they fit from birth to potty, are slim-fit, soft and fast drying. Simply insert nappy liner and use. Fits 8-35lbs. Simply Brilliant!
All you have to do to be in with a chance of winning is enter below – good luck everyone!
Terms and conditions: Giveaway is open to UK residents and closes on 27/11/15. Winner will be randomly selected from all correctly completed entries and contacted by email – they should claim their prize within 10 days or it may be redrawn. Prize supplied directly from Tots Bots. More competitions at www.theprizefinder.com