I can hardly believe I am writing this, but it's been almost 3 years since I started blogging – 3 years! I honestly don't know where the time has gone, and I can't believe how much blogging has given me over those 3 years – an income, the chance to try some amazing products and work with some incredible brands – but most of all, friendship. The friends I have made through blogging are now some of my best – people I know will be there any time of day or night if I need a chat or some advice, the people who were there when Eliza was born, cheering me on and sending gifts and well wishes, the people I would never have known if it wasn't for this blog. And for that, I am so grateful for my little corner of the web, and so grateful to you guys – the ones who read it, share your own stories and make me smile on a dark day with your words of wisdom and support.
Today's prize is a fantastic one – you could win a gorgeously soft and fluffy Cuddledry Original towel.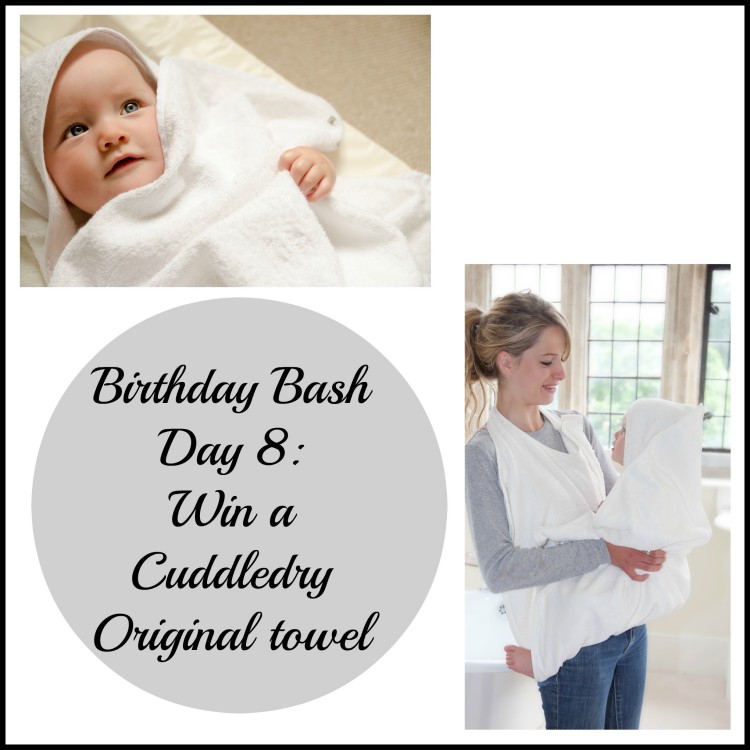 Out of the bath and into your arms, in the cuddliest, most natural way possible. The Cuddledry Original towel is worn like an apron, keeping you dry and leaving both hands free to lift your baby from the water. Pop the hood on the baby's head, and they are instantly snuggled into a wonderfully warm and soft double layer of gorgeous bamboo and pure cotton, and you can give them a lovely cuddle without getting wet. It's simple, it's safe, and it brings you and your baby even closer together.
Loved by thousands and the winner of over 40 awards, it's the towel parents buy for their precious babies, or that families and friends buy as a thoughtful and special gift – and you could win one! All you have to do is enter on the form below, and cross your fingers!
Terms and conditions: Giveaway is open to UK residents and closes on 30/11/15. Winner will be randomly selected from all correctly completed entries and contacted by email – they should claim their prize within 10 days or it may be redrawn. Prize supplied directly from Cuddledry. More competitions at www.theprizefinder.com