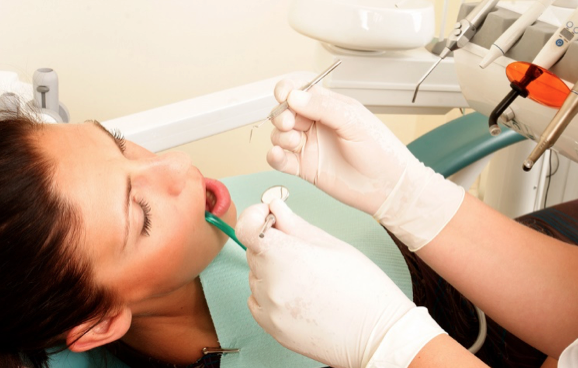 Image by Missouri Kintner Clan via Flickr
Not many people enjoy going to the dentist, but that's probably because the vast majority of us go only when we're in some kind of pain. Whatever your feelings about going for a check-up, I'm sure you'd agree that the situation gets no easier when everybody in the family needs to go. That's right!It's time to take the family to the dentist and you'd swear it's easier getting a pet to the vet. Everyone is reluctant, dad is anxious, and it's one of the kids' first time. This is not going to be easy but it needs to be done. So to help you along, here are some tips on how to make a family dentist visit as painless as possible for everyone in the family.
Find a clinic that specialises in family dentistry.
The thing most people don't like about going to the dentist is that everything about it is so impersonal; walking into the white walled clinic, being greeted by a robotic receptionist and being slapped onto a cold leather chair while a physician works on your mouth like it's an engine and he's a mechanic in a hurry. No wonder people are so put off.
But with dentistry firms that gear their services towards families, you find a few more warm faces, and you don't feel like you're sitting in the principal's office while waiting for the poor soul in the next room to be done with their torture so that you can get on with yours. No, family dentists are a little friendlier, which takes the edge off even for the most anxious patient. So it's an easier way to go, finding a family dentist, Brisbane has quite a few.
Get your family ready
Each family member will likely feel differently about going to see the dentist. Some might not mind at all while others could be completely anxious about it. This becomes really important especially with very young children who have not been to the dentist before. For them, try and make it a fun day's outing. Point out the cool scientific equipment in the office and remember to smile. If you are the anxious type, be careful of passing that outlook on to your children; poker face.
For older family members who might be experiencing some anxiety, there's no harm in taking something for that. Unfortunately, some fears are harder to ignore than others. If it helps to find the gentlest dentist you can find to quell a bit of your fears, then ask your dentist to be as gentle as possible, and it helps if they explain what they are doing, while they are doing it.
The trip doesn't have to turn into a big thing, going to the dentist is unfortunately just one of those things that has to be done every now and again. Besides, with the speed at which dentistry is constantly developing, it probably doesn't deserve its bad rap of being unpleasant or painful to go through.
*This article is published in partnership with Mediabuzzer*