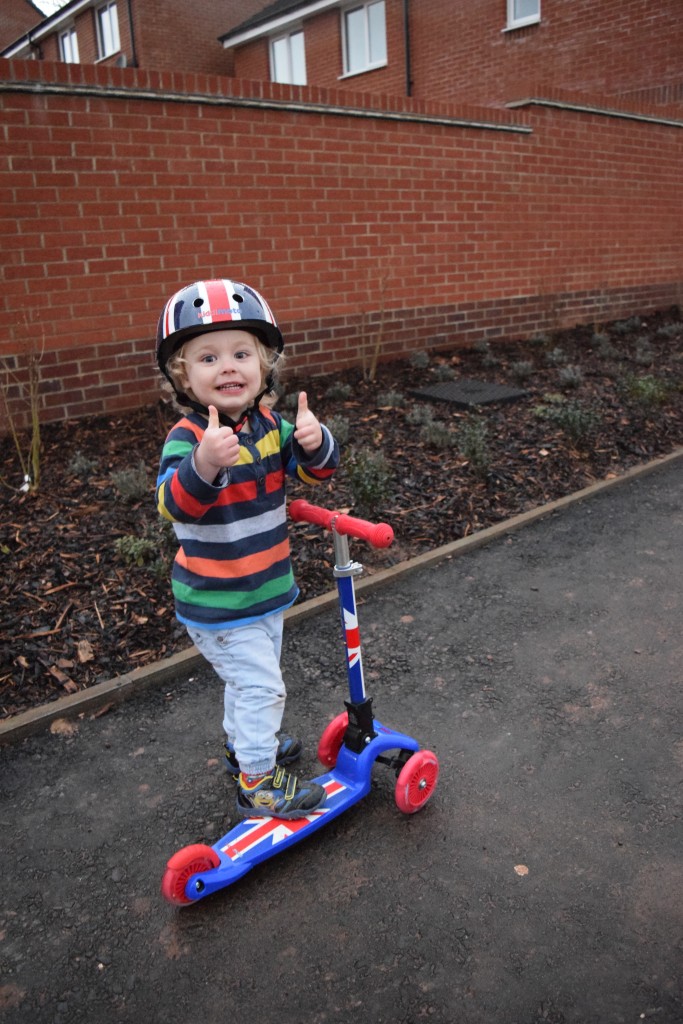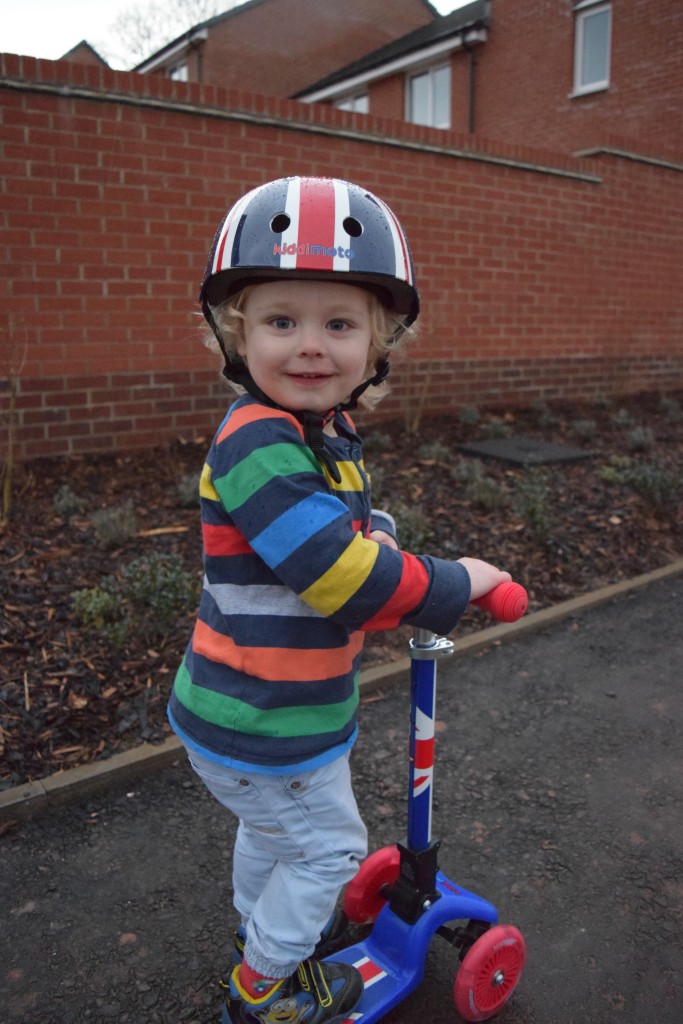 A scooter is a toddler essential, but finding one that smaller children are able to handle easily can be tricky. Max is not ready for a 2 wheeled version just yet, so the Kiddimoto U-Zoom, with its sturdy construction, is perfect for him.
Designed with both kids and parents in mind, this little scooter is packed full of features. Max loves the on trend Union Jack design with its bright and appealing colours, and the matching helmet is a real winner too. He doesn't usually like wearing a helmet, but he actually asks to put this one on every time we go out on the scooter.
The U-Zoom scooter also comes with super cool motion activated flashing wheels, which Max adores. He loves the fact that he can make the lights flash by speeding along – he spends ages riding up and down outside the house just to make the lights flash.
Learning to ride a scooter isn't always easy – it can be hard to understand that you need to lean to turn, and this can sometimes unbalance a toddler. The Kiddimoto U-Zoom has easy lean technology, with the 2 stabilising wheels at the front. When you turn the handlebars, the front wheels will lean in the direction you are heading, but the footplate doesn't lean – this means your little one can turn the scooter but still stand upright – meaning less falls and bumps. This is our favourite feature, and has definitely helped Max to ride the scooter more easily.
There are other features that I love as a parent too – the fact that the scooter folds is a real bonus for me. This means it is easy to transport – it will fit easily in the pushchair basket if we need to pop into a shop. It also means that if Max gets tired and wants to walk for a while, I can easily carry it. It's pretty lightweight too at just 2.3kg – it's not an effort to carry it around. The handle is adjustable from 610-715mm, so I know it will last Max for a good while yet.
So would I recommend the Kiddimoto U-Zoom? I absolutely would. Having had several scooters over the years, I can safely say this is by far my favourite. It is the most toddler friendly, yet it works just as well as they grow older too. I love the easy lean technology which makes it easier for small children to handle, and the fun light up wheels. I love that it is really adjustable and will last for a long time – I definitely think it is worth the money.