We have thousands of photos stored on the computer and on our phones, but we rarely get round to printing them out or displaying them. We have a few favourites that are in frames and on the wall – our wedding photo, a canvas of the children running along the beach and the birth frames that depict the date and time that Gemma, Jacob, Max and Eliza entered the world. Despite having had a wonderful family photo shoot last year, we still hadn't got around to getting those photos off the disc and onto the wall – until The Sugar Shed got in touch.
The Sugar Shed print your photos onto pieces of hardwood, locally sourced in the Lake District. Each piece is hand finished, and no two pieces are the same – the grain of every tree is different, so you can always be confident you will receive a truly unique piece of artwork.
Ordering is easy – you simply upload your image on the website and they do the rest. We were sent The Sugar Slice – a beautiful slice of printed, hand finished wood measuring 20x25cm approx (remember this is a natural product so sizes may vary slightly). The original image we chose was one of our favourites of all 4 children:
As you can see, the image has been reproduced beautifully on the stunning piece of wood. I love the way it looks with the grain across, and I really love the fact it is a little bit different – much more interesting than your usual frame or canvas. You can choose to have a piece of wood with the bark edge like we have, or you can choose a smooth edge if you prefer. The Sugar Slice costs £45, which I think is pretty reasonable for a piece of this quality. It has become a real focal feature in our home, and we have already had several people comment on it. I intend to order The Longboard very soon too – a 1 metre long plank which can have 5 images printed on – I think it will look just perfect above the sofa!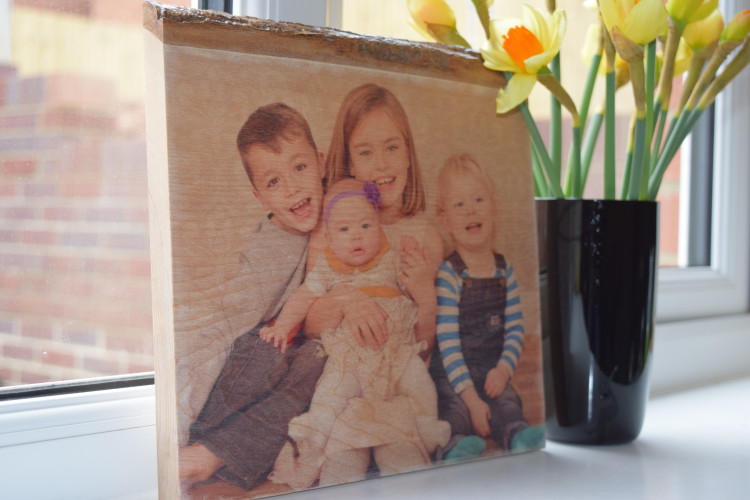 You can also buy gift vouchers from The Sugar Shed – I think these would make a beautiful, unique and much appreciated gift for any occasion.