Back when Max was a tiny tot, we used a lot of Dentinox eye wipes with great success, so when I found out we were expecting Eliza I restocked my baby medicine cabinet with a few Dentinox products. It is a brand we know and trust, and we have used the teething gel and infant colic drops regularly over the last few months. If you are expecting a baby, or have just welcomed a new bundle of joy, here is my must have Dentinox medicine cabinet for the first year:
Dentinox Medicine Dispenser: Designed by a doctor, the Dentinox Medicine Dispenser is the simple, soothing way to give a pre-measured dose of medicine to a baby aged three months and upwards. Your baby can passively suck the medicine through the orthodontic silicone teat or you can deliver the full content of the medicine chamber simply and quickly using the unique plunger. £6.99
Dentinox Eye Wipes: Suitable to use from birth and containing a sterile saline solution, Dentinox Eye Wipes are designed to gently cleanse a baby's eyelids and lashes, safely removing sticky residue and refreshing a little one's eyes. Great to use when out and about too. Dentinox Eye Wipes are not a medicine. £3.49
Dentinox Infant Colic Drops: Containing Dill oil, Dentinox Infant Colic Drops are suitable from birth and come with a handy syringe for easy application. The drops can also be added to your baby's bottle to help relieve their discomfort, providing effective relief for those trying, colic episodes. (Contains activated Dimeticone). Always read the label. £2.96
Dentinox Teething Gel: Suitable to use from birth, this soothing gel, which can be applied every 20 minutes if necessary, gets to work swiftly, providing effective pain relief. It's sugar free and contains an antiseptic. (Contains Lidocaine Hydrochloride and Cetylpridinium Chloride). Always read the label. £2.39
Dentinox Cradle Cap Treatment Shampoo: Suitable to use from birth and mild enough to use as an everyday shampoo once the cradle cap has cleared up. Dentinox Cradle Cap Treatment Shampoo can help maintain a healthy scalp and hair. (Contains Sodium Lauryl Ether Sulpho-Succinate and Sodium Lauryl Ether Sulphate). Always read the label. £2.59
The range is available from Tesco, Sainsbury's, Superdrug and Boots.
One of my favourite products is the Dentinox medicine dispenser – such a clever piece of kit that makes your life as a parent just that little bit easier:
There is nothing worse than seeing your little one feeling under the weather, and so anything that makes getting medicine into them a bit less stressful is a winner in my book! Just like the Eye Wipes and the Teething Gel, the Medicine Dispenser is great for on the go, and can easily be popped into the changing bag for days out.
I have teamed up with Dentinox to offer 5 lucky readers the chance to win a prize bundle, containing Dentinox Eye Wipes and a Dentinox Medicine Dispenser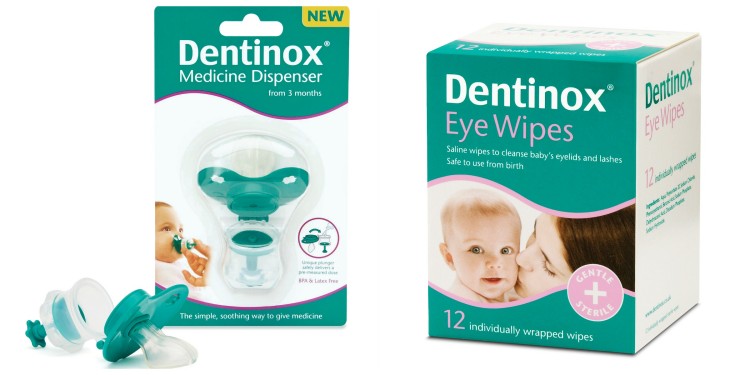 Terms and conditions. Open to UK residents, giveaway ends 8/4/16. Winners will be randomly selected from all correctly completed entries and contacted by email. Winners should claim their prize within 10 days or it may be redrawn. Prizes supplied directly from Dentinox. More competitions at ThePrizeFinder