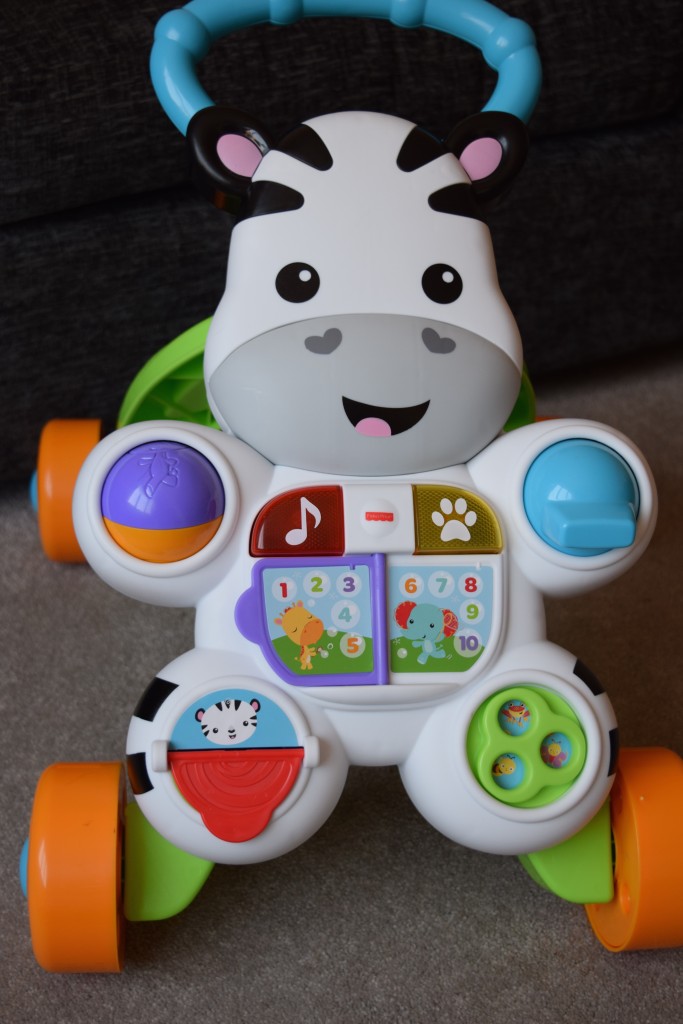 I can't believe we are already at the stage where a baby walker is a suitable toy for Eliza – I am sure she was only born about 5 minutes ago?! Yet here she is, 9 months old and already up on here feet. pulling herself up on the furniture, crawling off at high speed whenever you try and change her nappy.
Having never been a fan of the sit in walkers, we knew we wanted a push along version, and recently we were sent the Fisher Price Zebra walker. As well as being your traditional push along toy, this also has heaps of extra 'Learn with Me' features, such as flip over book pages which sing and talk about numbers or the alphabet, sing along songs or phrases. There are flashing lights, a roller ball and a spinner on the front panel, and baby friendly colours and animal characters – making the front panel a toy in itself.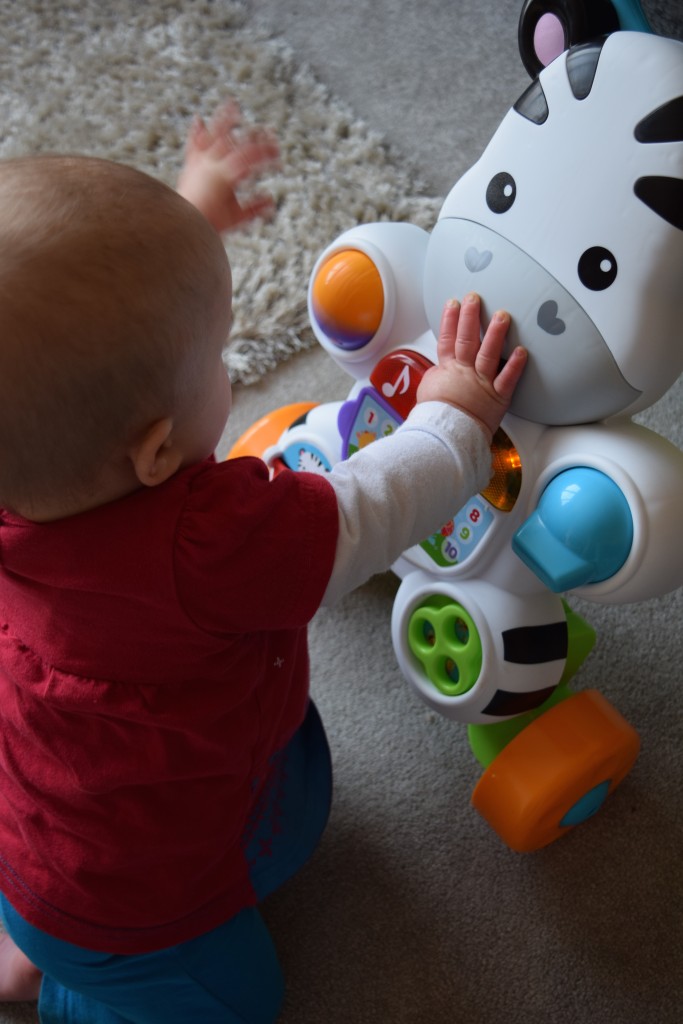 Of course, it didn't take Eliza long to realise she could use it as a walker too – after pulling herself up on the sofa, she soon had a hold of the handle and was up on her feet. Remember to try the walker on a carpet first if possible, as it will go a lot faster on hard floors, and can be a bit too speedy for little ones who are only just finding their feet!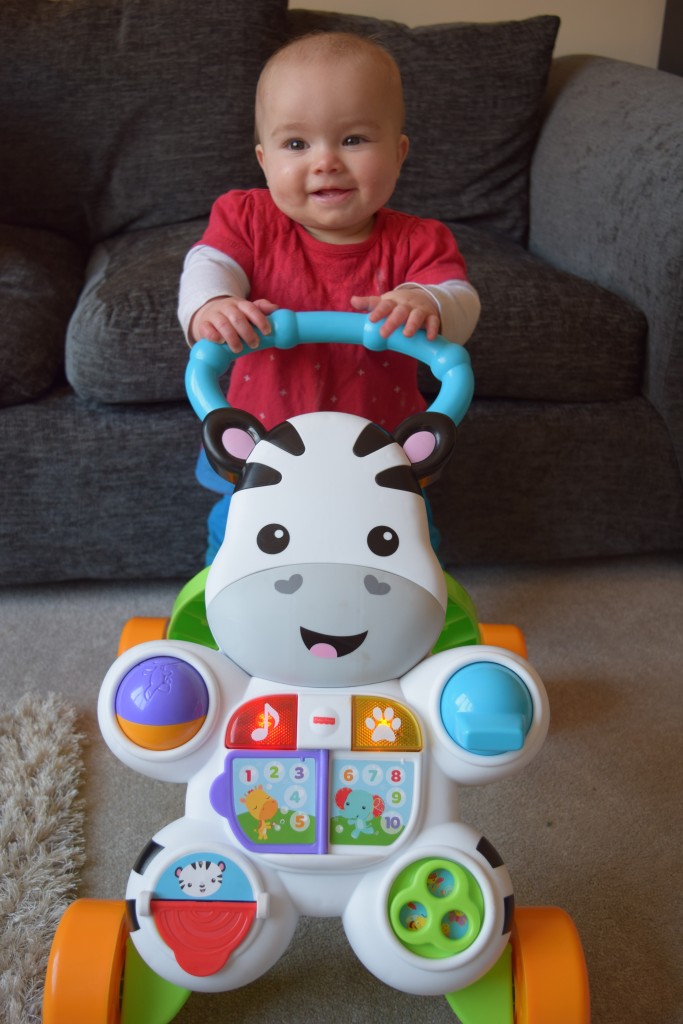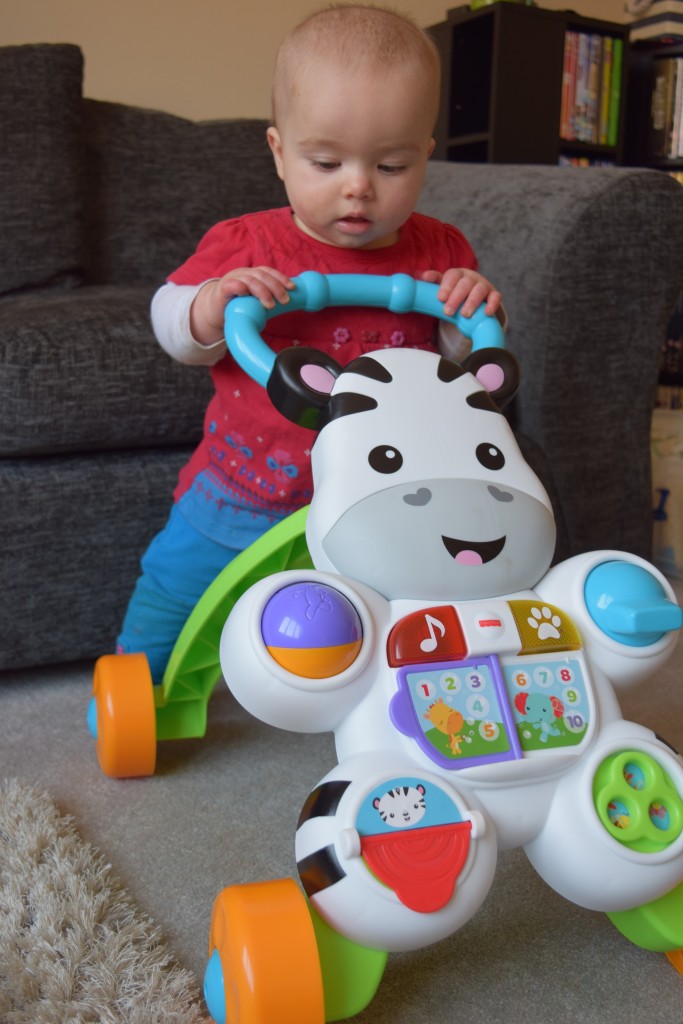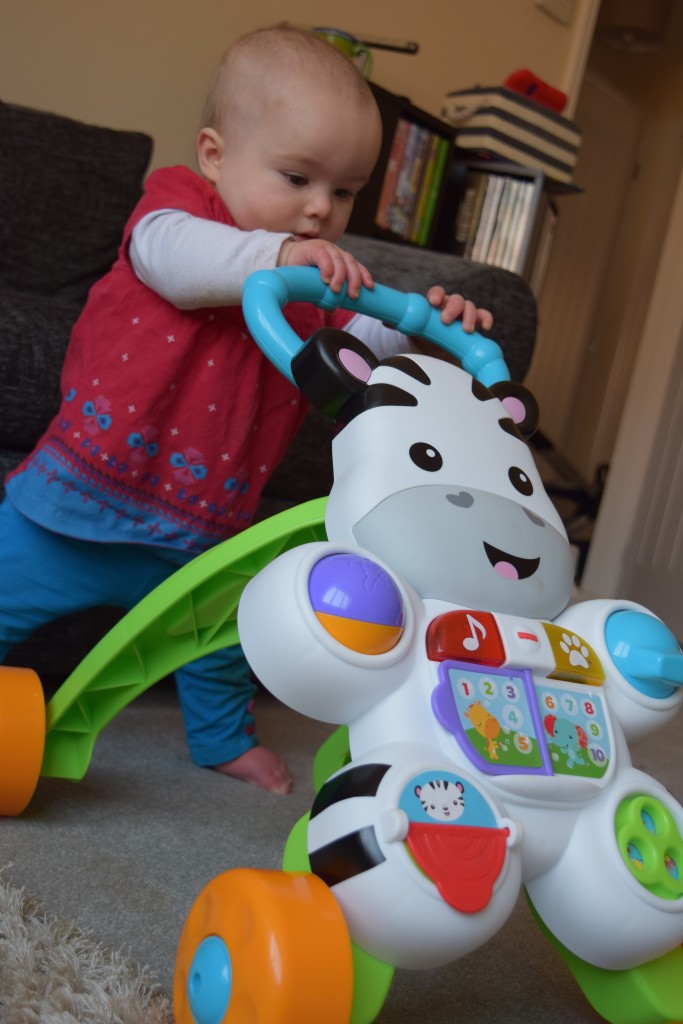 The Fisher Price Learn with Me Zebra Walker is pretty sturdy, and I feel confident that it won't tip as Eliza moves. The handle is wide and has moulded grips for your little one to hang on to, and the wheel base is wide, offering more support. As Eliza moves with the walker, the songs and phrases will play – 'Let's go for a walk, Brilliant, Let's walk some more, Keep Going' – and this in turn encourages little ones to keep moving. The lights also flash on movement, and there are some songs amongst the phrases too. It's all geared towards tots, and makes the toy heaps of fun for this age.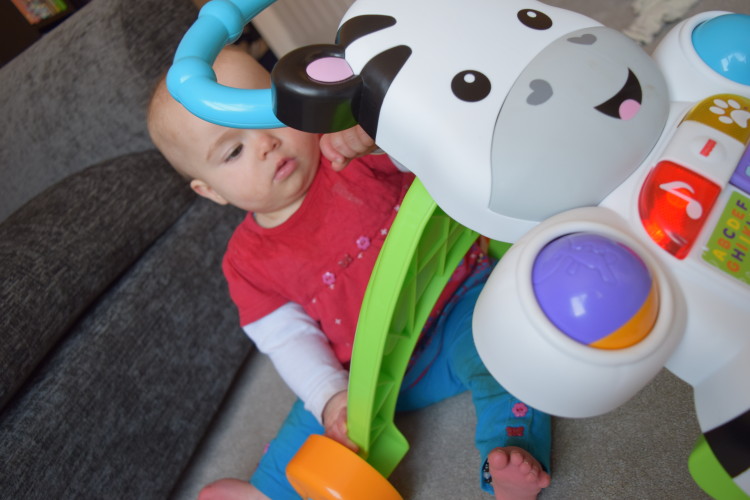 Sold as suitable for children aged 6-36 months, I think Eliza is at the perfect age to really appreciate this walker. She will get a lot of use from both the front panel 'Sit and Play' area, as well as the walking 'Stand and Play' features. Although I wouldn't buy this for an older toddler, if your little one has older siblings, they will love playing with it too!
Overall, we are really impressed with the quality and amount of features on the Fisher Price Learn with Me Zebra Walker. If you are looking to buy, do bear in mind that it comes flat packed, and you do need to allow 10 minutes or so to pop it together with a screwdriver – and don't forget the batteries for the lights and sounds!
I wouldn't hesitate to recommend this walker to friends and family, and I know we will get many, many months of play from it. Thanks Fisher Price!