A couple of weeks ago, I introduced you to a new messaging app called Tengi. In short, it is a messaging platform that allows you to chat with friends, in a similar way to Facebook messenger or Whats App. You can chat to one person, or you can create a group chat with several people. The difference with Tengi is that you can actually win cash prizes – just for chatting to friends! While you are using Tengi, you earn tickets, and these tickets give you entries into the weekly prize draw. You can win all sorts, from £5 in cash or Amazon vouchers, right through to a £10,000 cash prize. The longer you chat, the more tickets you earn, and you can grab extra tickets for introducing others to the app too.
I have been trying Tengi out with a few blogger friends, and it has been a great place for chat. There are no notifications popping up like you get on Facebook – that can be pretty distracting! Tengi uses advertising, and these notifications pop up in your chat inbox, although they are in a separate 'chat' to where you are talking to friends. I like this idea – I was worried the advertising would be really distracting and irritating, but it's pretty easy to ignore – if you don't want to read the adverts, you can just choose not to click on that section.
With regards to the cash prizes – do they really exist? Well yes, they do – one of the bloggers in our group won £5 in last weeks draw!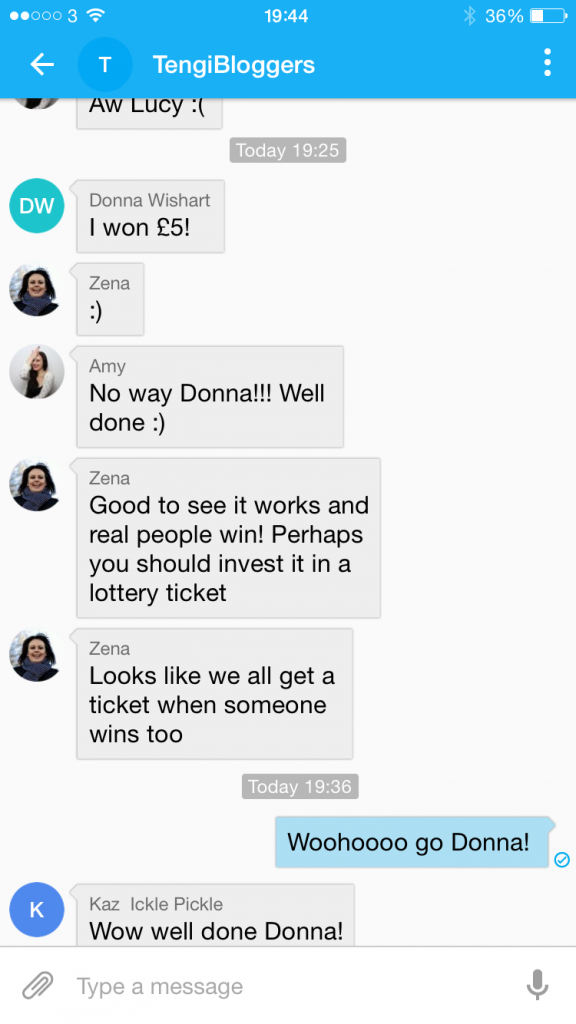 Using Tengi has been fun – it has been a great place to share jokes and inspirational quotes to cheer each other up on a bad day: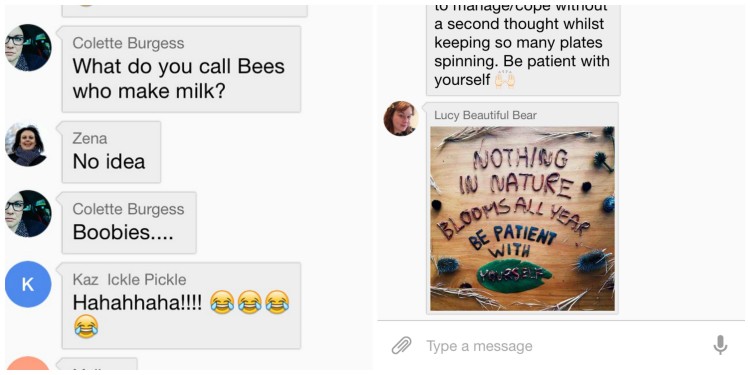 So will I keep using it? I am undecided at the moment. I love the easy access to group chat, and how quickly you can share photos, video and even location. At first the notifications drove me mad – you get a 'ping' every time an advert or new message comes through – and with a big group chat this can be a lot! But once I worked out how to turn the notifications off on my iPhone settings that wasn't an issue. The real problem for me is the battery usage – since I installed Tengi my battery has been running down a lot faster, and I don't know if the app is worth that for me. However, I do like the fact I could win cash just for chatting with friends. It is still on my phone at the moment, and I will see how things go for now I think.
If you fancy trying the app, you can download in on Android or Apple – use code BLOG when you register. I would love to know what you think of Tengi!