Bed. It's possibly my favourite place in the world. I love that time of day when I can sink into my bed knowing that I have hours and hours (hopefully, depending on children) before I need to do anything or help anyone make breakfast, put their socks on or pack their school bag.
Choosing a bed is really important – it needs to suit your needs, and those of your home. It's no good buying a huge bed if you only have a small bedroom – you need to be able to move around too! If you do have a large bedroom, how about a cheap King Size from bedsos? There are loads to choose from – I especially like the look of the Emporia Ottoman storage bed in blue – I love the idea of bringing a bit of colour into our room, and extra storage is always a bonus!
Remember to invest in a really good mattress too – I know they seem expensive, but they really are a long term purchase and a good mattress can mean the difference between a good nights sleep and a terrible one. We have a memory foam mattress with an orthopaedic support layer – it wasn't cheap, but it was worth every single penny!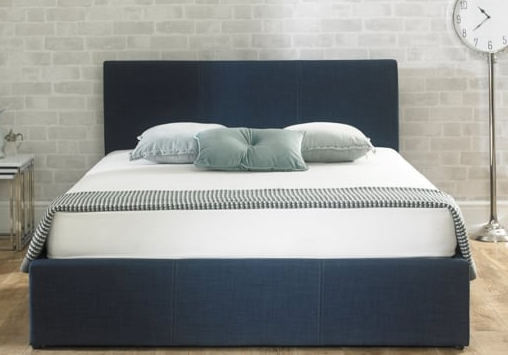 Studies have shown that sleep really is the most important thing for a healthy body and mind – it controls so many of your daily functions, from your diet (poor sleep makes you more likely to snack on high sugar, unhealthy options) to the way you exercise.
So don't fight it. Switch off the screens, dim the lights, treat yourself to some fresh, crisp bedding and dive under those covers. It's worth it. You will feel so much better if you sleep well!
*This is a collaborative post*