We have used Britax products for many years now. The first car seat we ever purchased was a Britax one, and we were impressed from the start. Britax make good value, high quality items which are designed to be both parent and child friendly.
The most recent Britax design to hit the shelves is the Britax Affinity 2. Designed to give parents the best of both worlds, its sleek design and colour customisation options teamed with dual suspension performance make it perfect for city or rural living.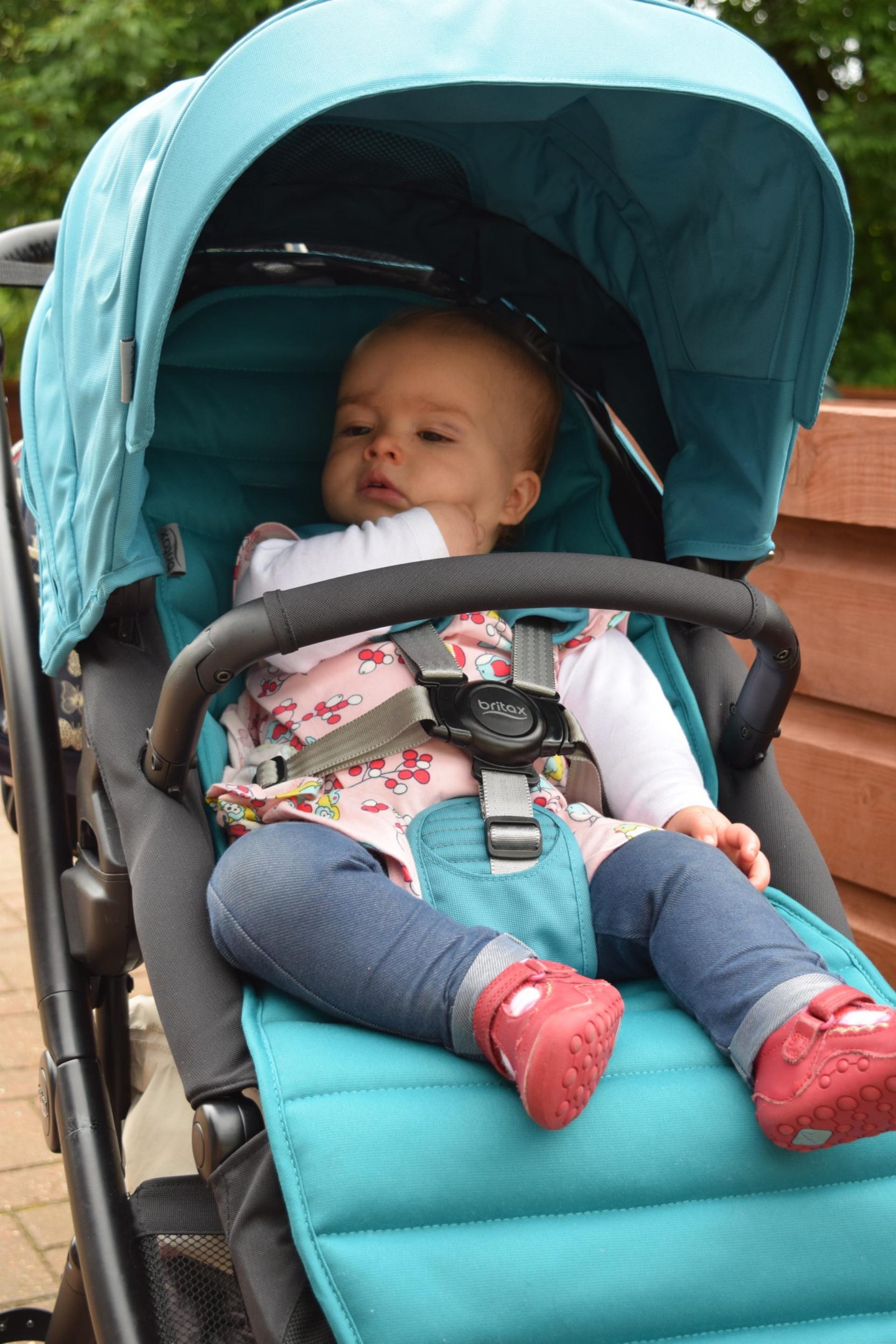 We chose the black chassis with the Lagoon Green fabrics, and I have to say – we were not disappointed! The colour is eye catching, unusual and unisex, and the black frame makes it look modern and stylish. There are loads of different colour options to choose from – fabrics also come in Cosmos Black, Wood Brown, Flame Red, Ocean Blue and Mineral Lilac, and you can choose from a black, white or silver frame. This allows you to create your own perfect pushchair. If you get bored, you can buy a new colour pack to update the look.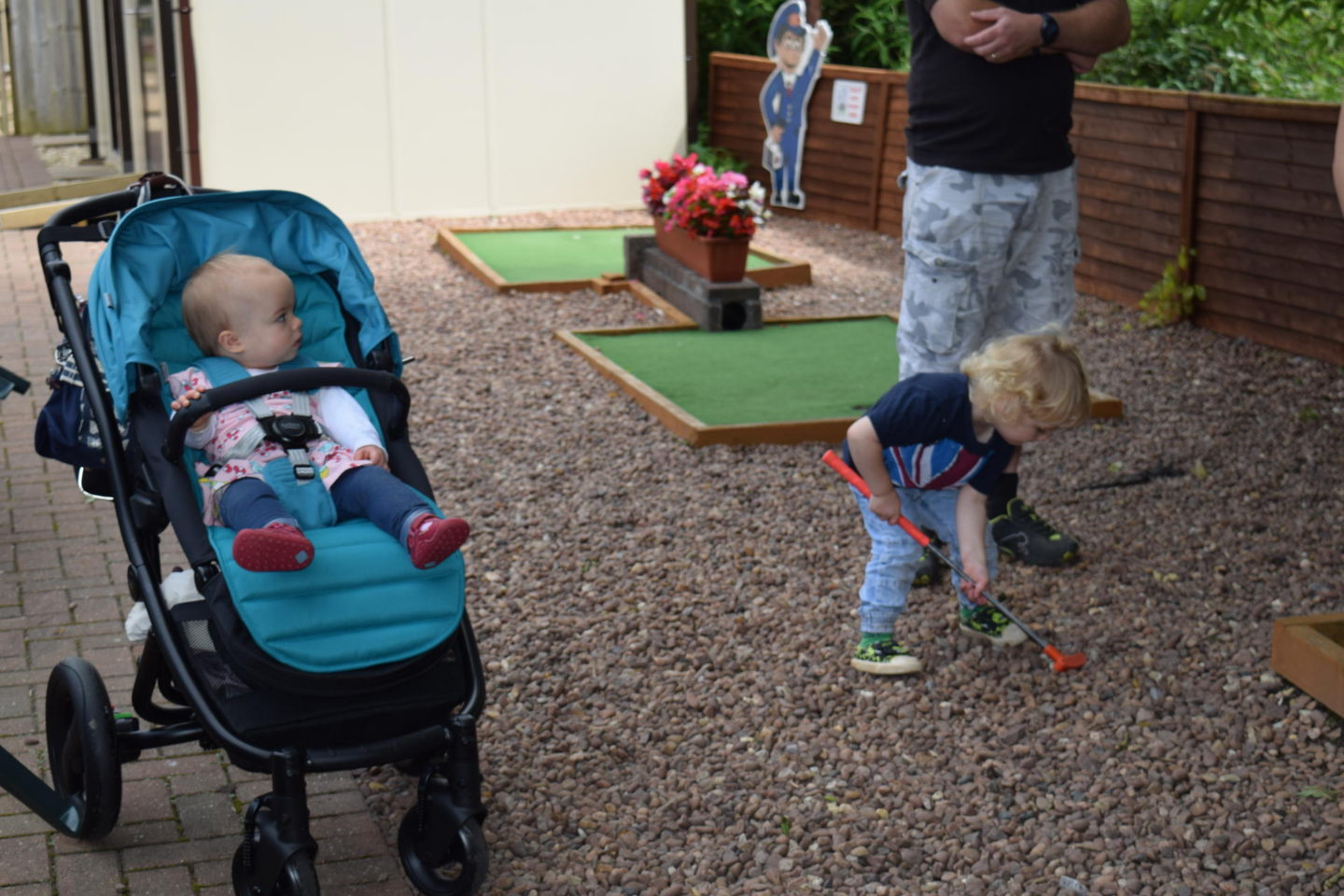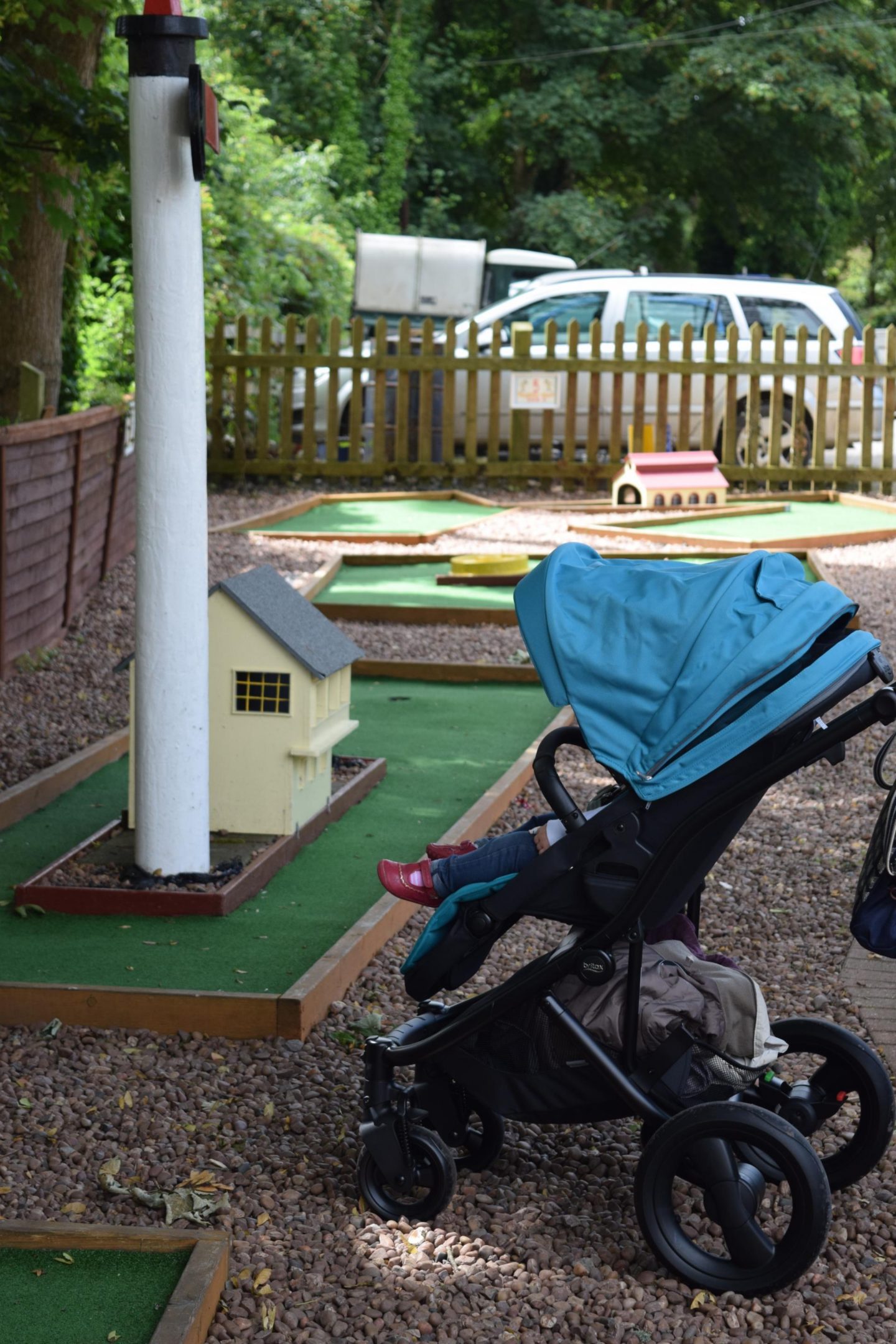 The Britax Affinity 2 is very versatile. The seat can be parent or world facing, and is easy to change – it's just a case of pushing in 2 buttons underneath the bumper bar and turning the seat round. The seat has a great recline, with loads of different positions for upright exploring or flat out snoozing. Eliza never usually sleeps in the pushchair any more, but she has had a couple of naps in here, so it must be comfortable! There is plenty of padding on the seat itself, and the footrest can also be adjusted to support little legs.
Handle height can sometimes be an issue with pushchairs, especially if you and your partner are different heights. The Affinity 2 has an easy to adjust handle – there are 2 buttons on either side of the handle, which allow you to life it up or down to suit, and it is covered in soft and supple leatherette for comfort. This pushchair is a pleasure to push. The dual suspension makes for a super smooth ride, and it handles tarmac, gravel, grass and mud with ease. The large pneumatic rear wheels make it easy for the pushchair to glide across almost anything – in fact, we went to the beach yesterday, and although I had to drag the Affinity 2 backwards (as with most pushchairs), it was light and easy to manoeuvre, and never once got stuck in the sand.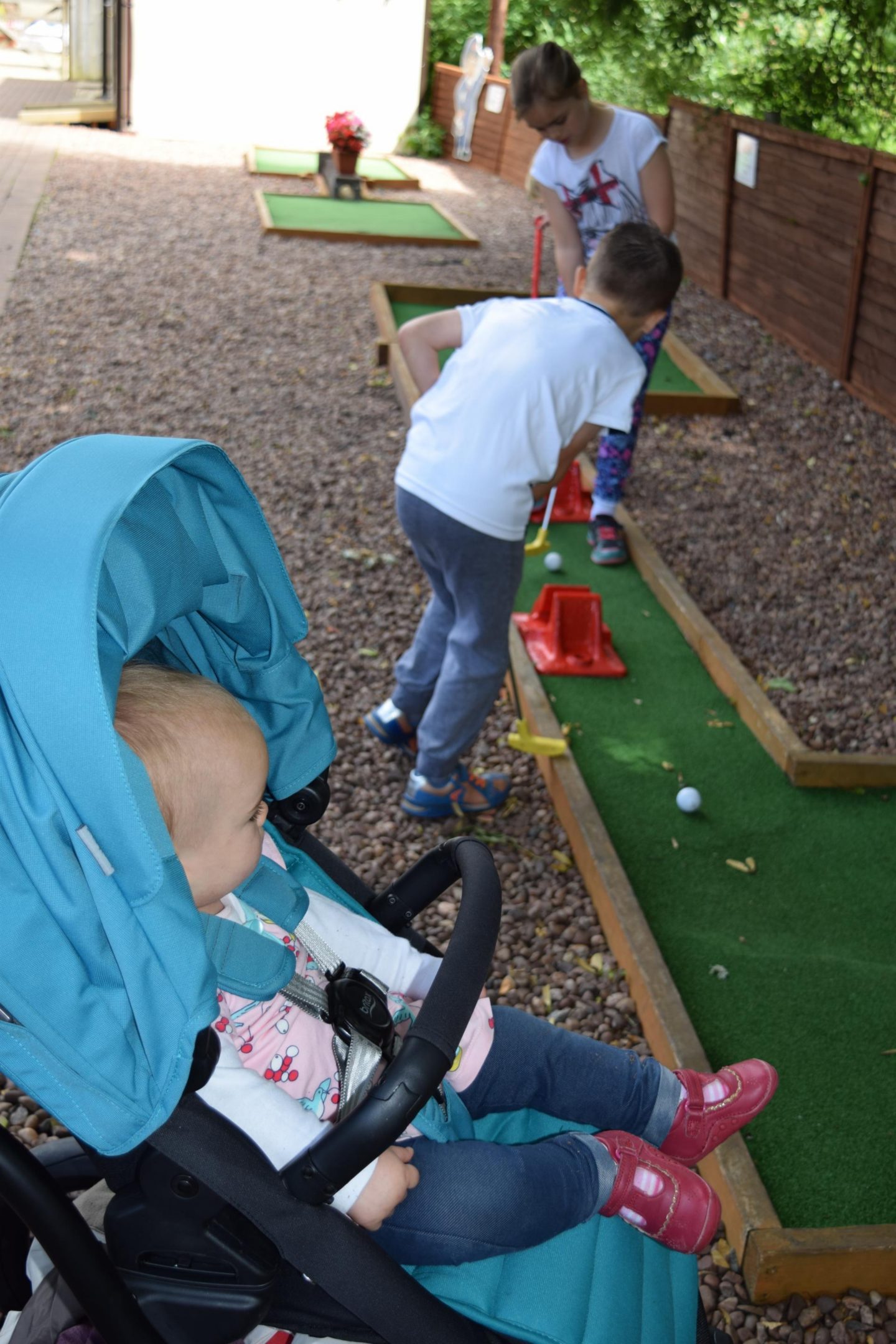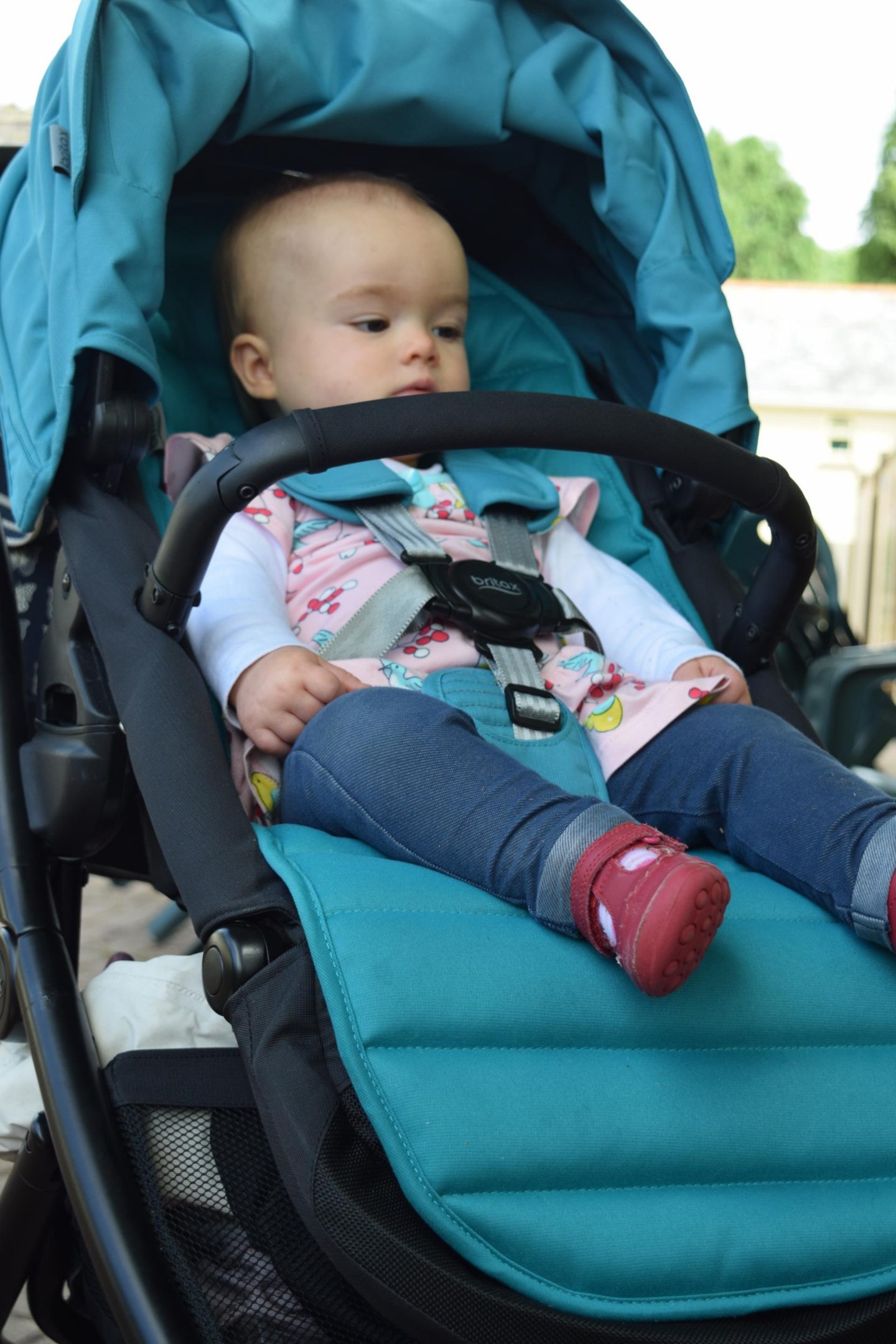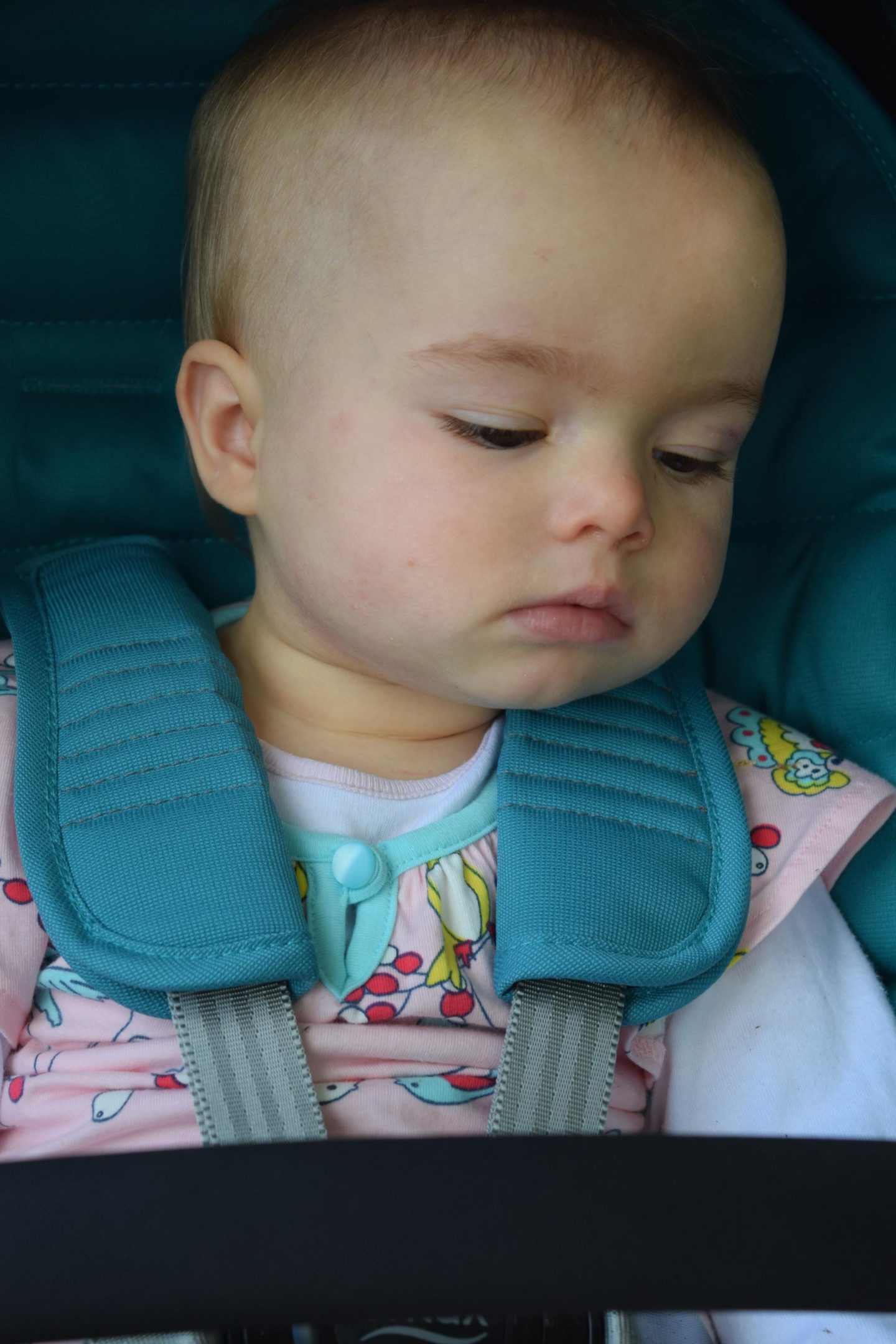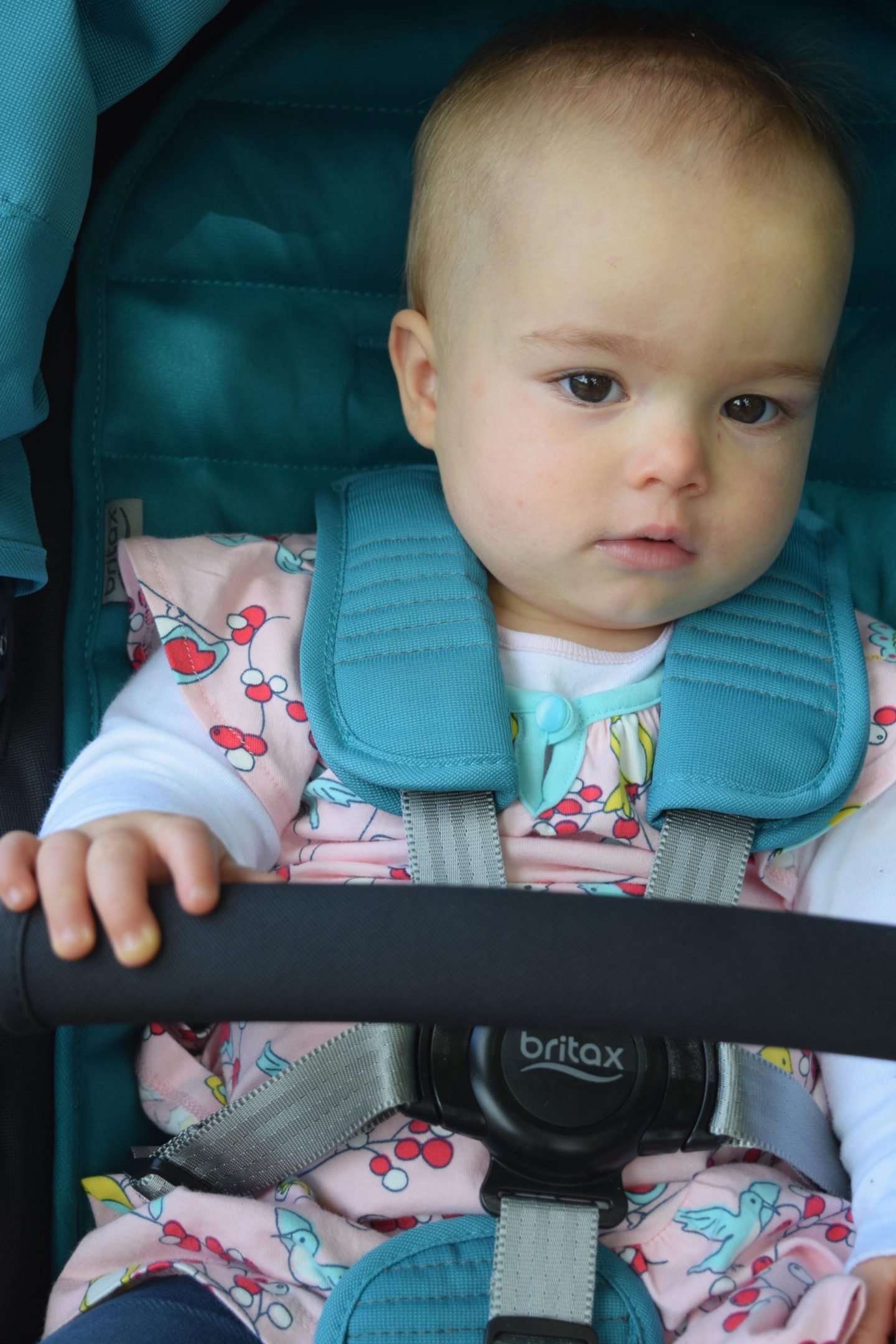 The padded 5 point safety harness is easy to adjust, even when Eliza is int he seat, and the quick release buckle is simple to use, but not easy enough that little fingers can undo it! I love the coordinating shoulder and crotch straps that come in the colour pack, and I also love the fact that they popper onto the straps, so they don't move or slide about when in use. A small touch that makes a big difference!
A bumper bar is a great addition to a pushchair, and something I have always been a fan of. They are ideal for little ones to hold onto, or for putting toys on to keep them occupied. However, the downside with this one is that it has a fabric cover, which gets pretty mucky pretty quickly. Yes, you can take it off and wash it, but I don't really want to be doing that too often, and I think a leatherette bumper bar to match the handle would be a real improvement.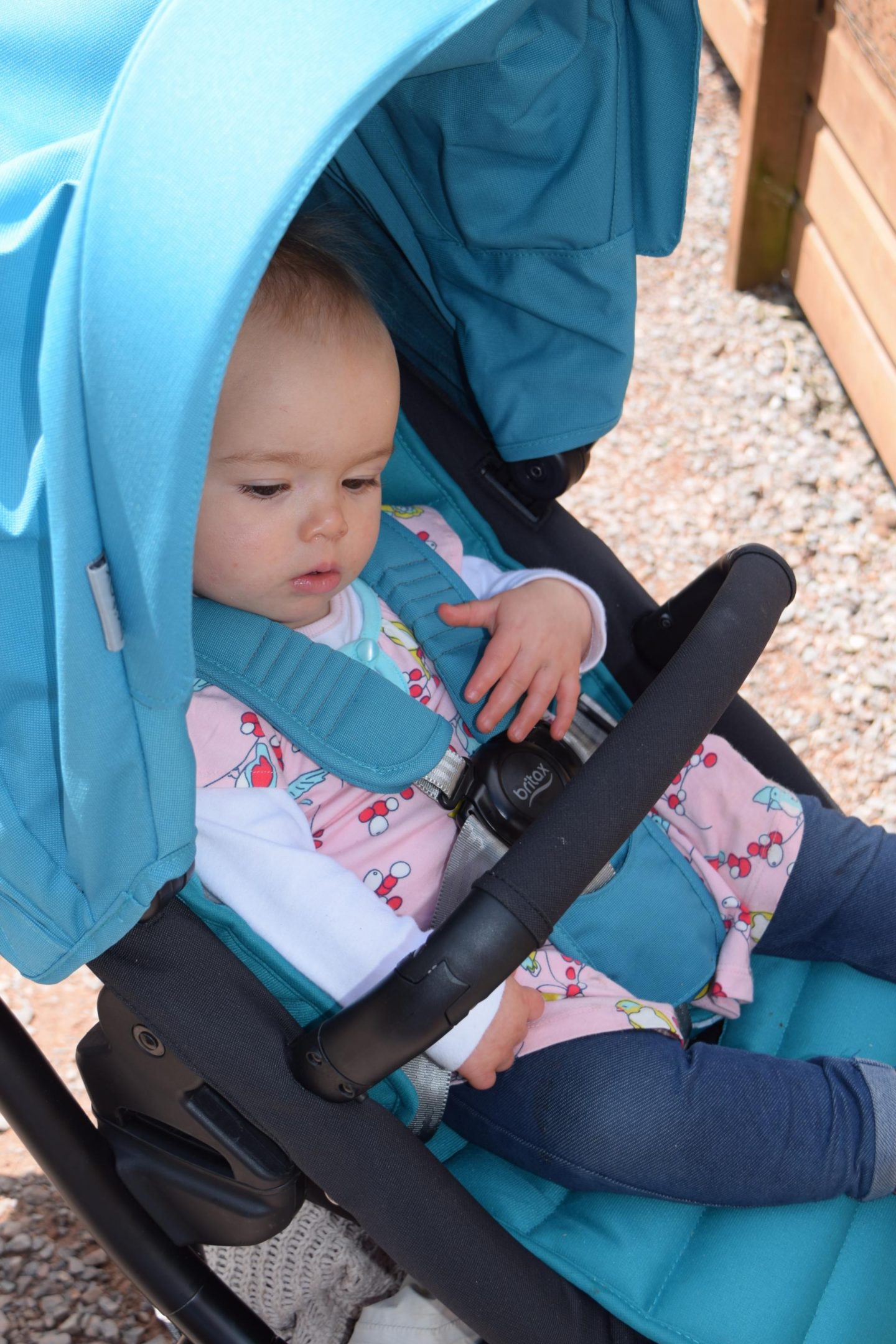 A large hood is a real must have for me when looking for a pushchair, and the hood on the Affinity 2 is amazing. It has UPF 50+ sun protection, and there is a zip to extend the canopy out when you need more shade or coverage, a viewing window in the standard section and a mesh area when the extended hood is used, so you can always see what your baby is doing. The mesh section also allows air to circulate and prevent overheating.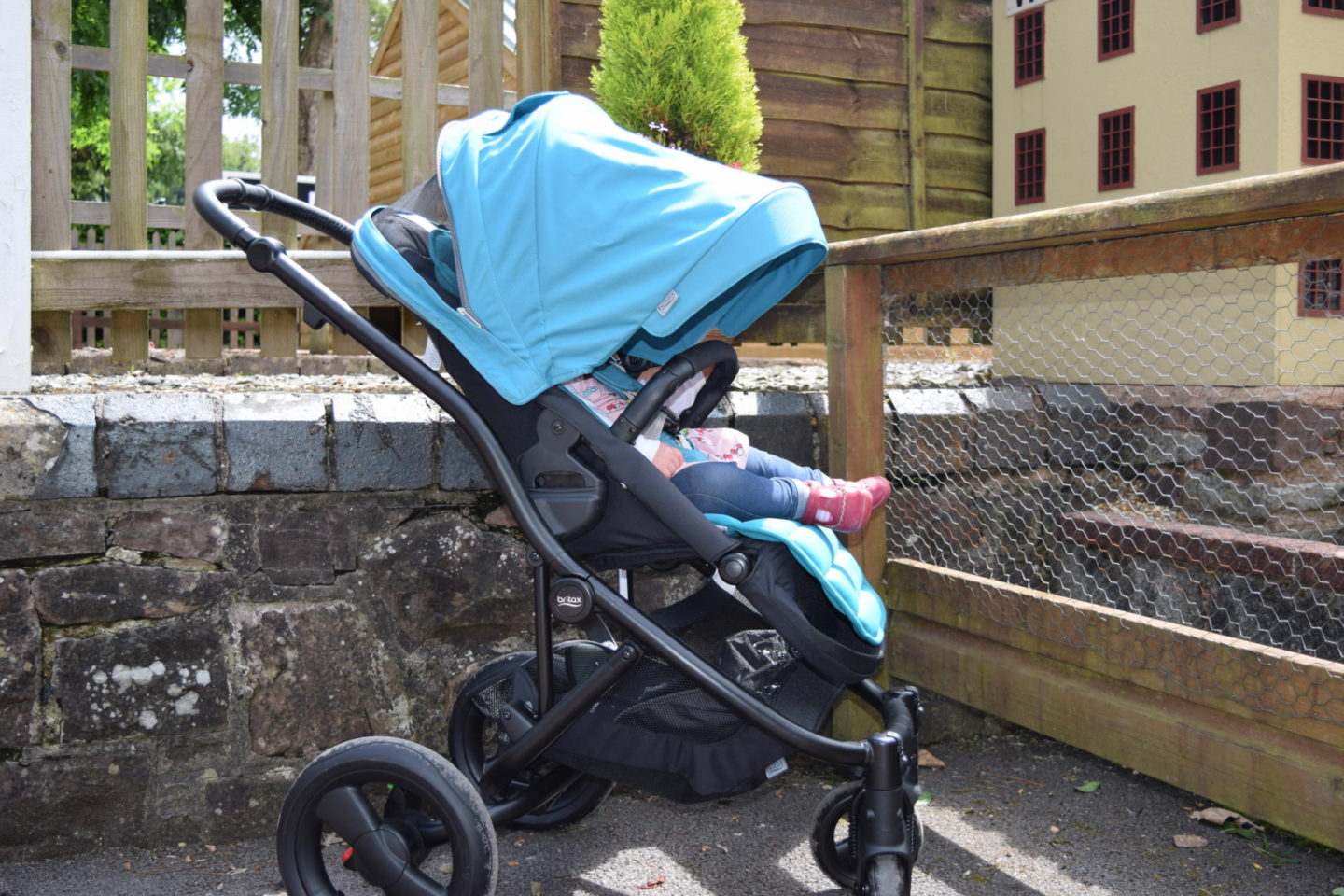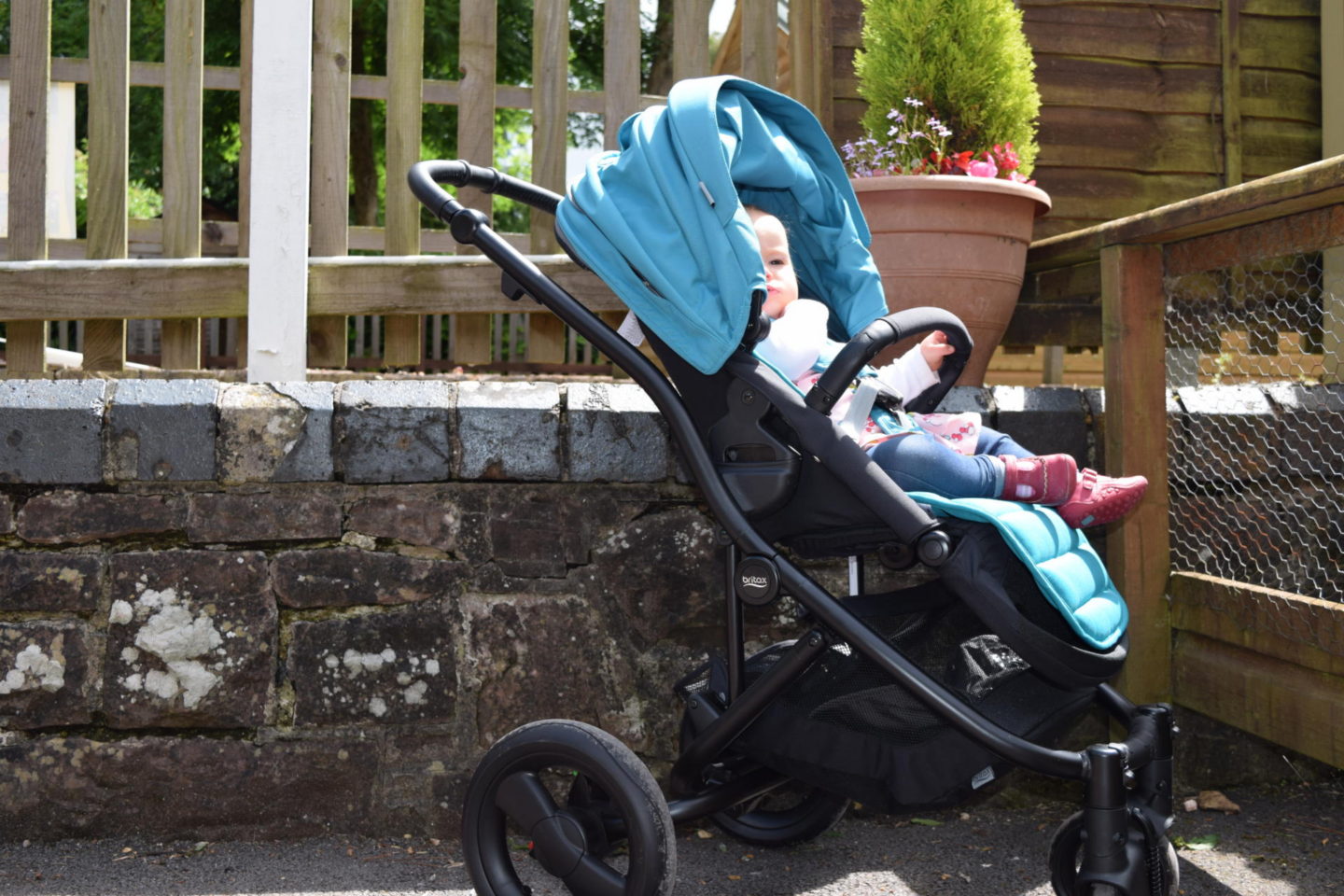 The basket on the Affinity 2 isn't the biggest. The raincover does fold down into a small bundle, so that doesn't take up too much space, but it could definitely benefit from a slightly bigger storage basket area. The rear of the basket is quite low too, so things can fall out, especially if you are going up a kerb.
One of my favourite features of this pushchair is the braking system. Some pushchairs can have such fiddly brakes that are hard to operate and you can never really tell if they are on fully or not. With the Affinity 2, there is no doubt – a push down on the green button gets you going, and to come to a stop you just push down on the red one. You can see at a glance if the brakes are on or off – perfect for that extra bit of security when needed.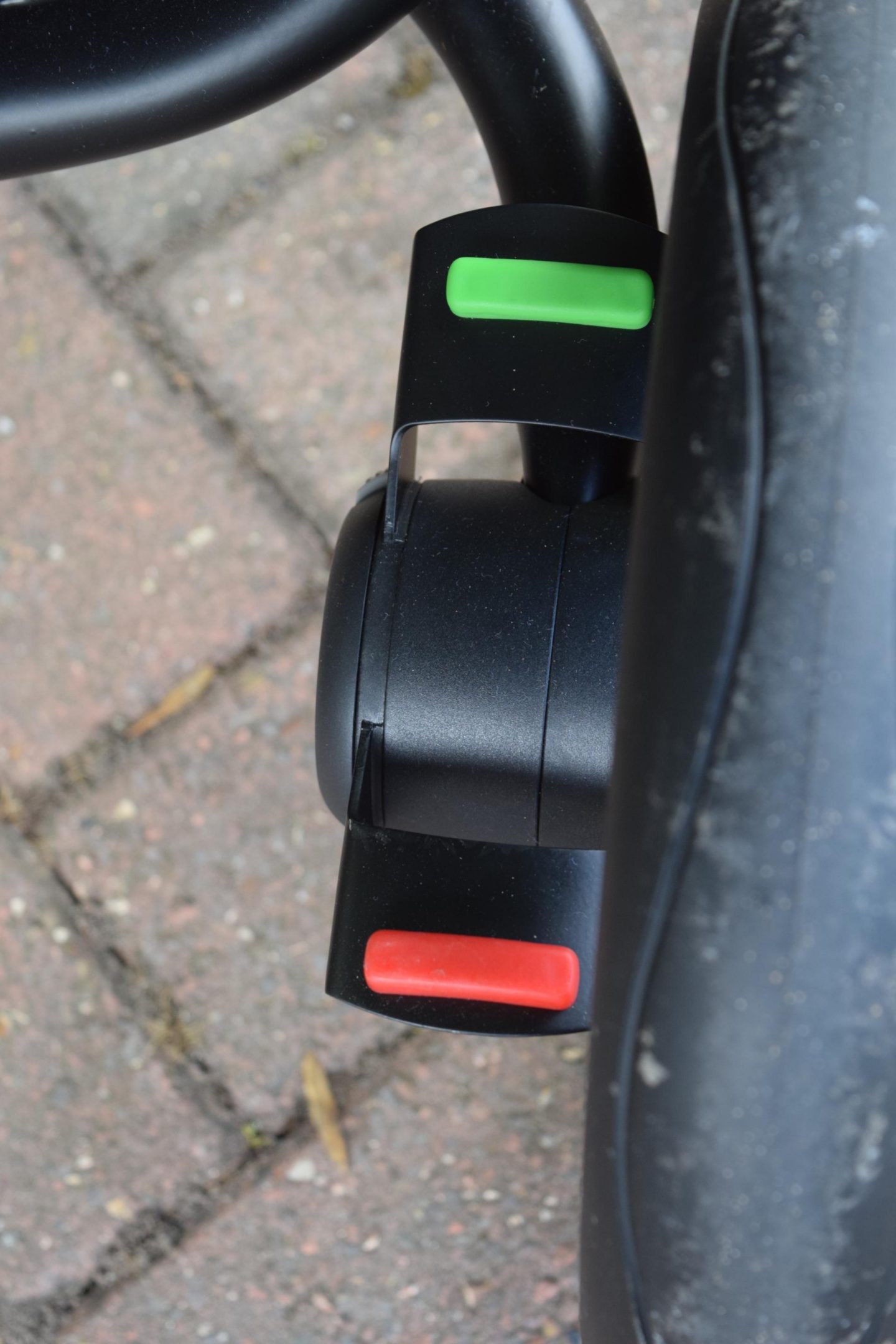 Folding the Britax Affinity 2 is simple too. There are trigger buttons on the underside of the handle which you simply pull. You can fold with the seat off, or with the seat forward facing. It has a relatively small fold either way, and you can remove the quick release wheels too if you need more space.
Our overall impression of the Britax Affinity 2 are great – we have actually stopped using our regular pushchair and started using this one daily instead. I love the smooth push, the easy to adjust handle and recline, the intuitive breaks and the large, protective hood. I would love to see a larger basket and a leatherette bumper bar, but they really are minor issue, and don't detract from the use of the pushchair. I would recommend the Affinity 2 to everyone, from birth upwards. You can use as a travel system with all Britax infant carriers, without the need for additional adaptors, and you can also purchase a co-ordinating carrycot.
Priced at £465, the Britax Affinity 2 is a good value, high quality pushchair which would see you through from the newborn days to the day your toddler wants to explore the world on their own two feet. It won't disappoint.