Jacob rides his bike a LOT. Just before Christmas, he chose a BMX bike, and that was his main Christmas present last year. He absolutely loves it, and we often visit the local BMX track where he can try out all the ramps and slopes. However, when it comes to family bike rides, the BMX bike doesn't fare so well. Because it has no gears, he finds it hard to get up hills (and living in Devon there are plenty of those), and the thinner wheels aren't ideal for the off road terrain either. We had been considering getting him a mountain bike for a while when Ridgeback got in touch about their MX24 kids bike.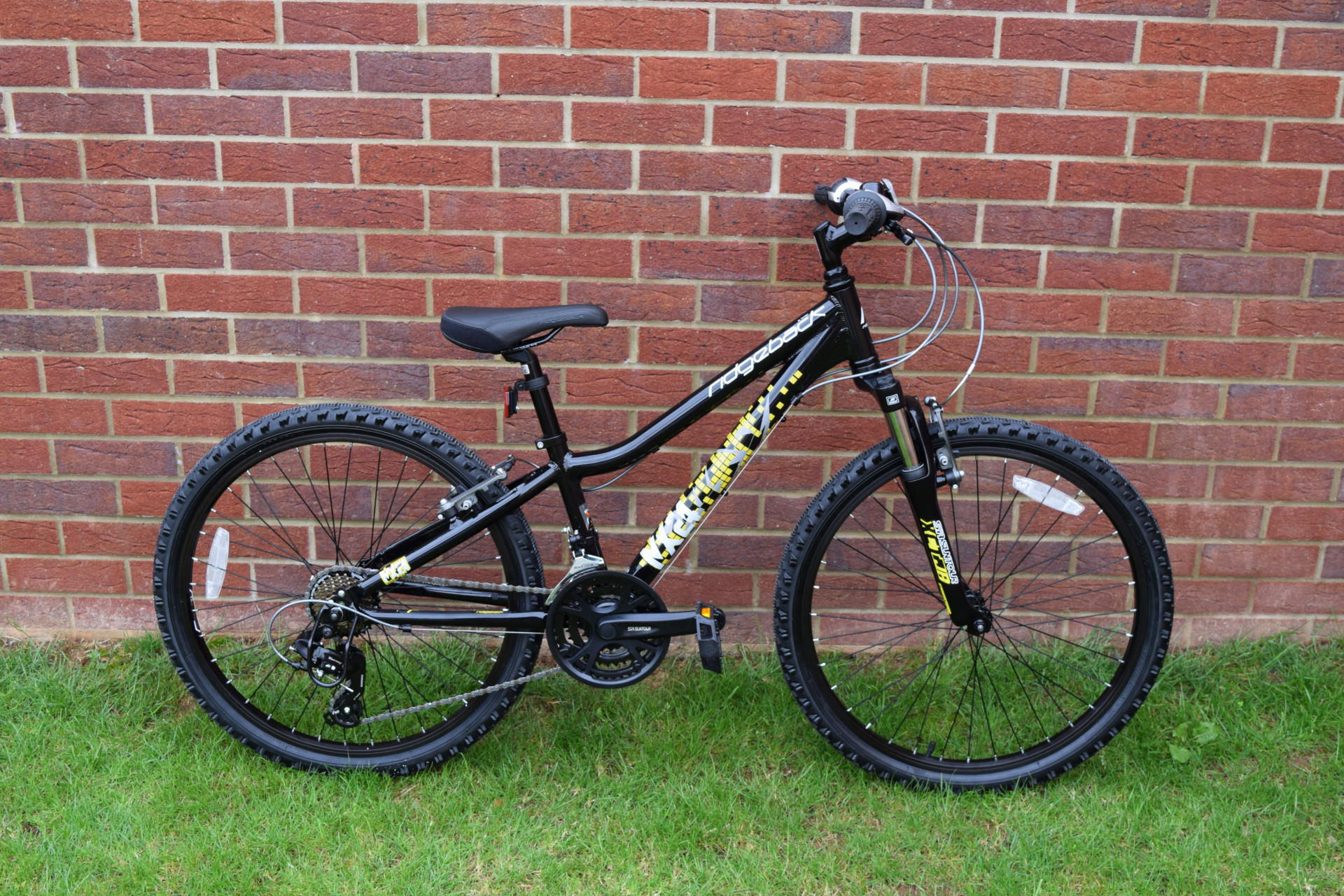 The MX24 is designed in the same way as an adult mountain bike, with all the same features, but perfectly proportioned to provide the best fit, comfort and control for younger riders.
The frame is made from lightweight aluminium, making it easy to move around and ride, even for younger kids. There are 21 gears, arranged in a 3×7 Shimano Revoshift formation. This allows Jacob to have much more flexibility when going up hills, and means he doesn't have to work so hard – his poor little legs used to feel wobbly after getting his old bike up a steep incline!
Using the gears has taken a bit of practice – we had one incident where the chain came off mid journey because he was trying to change gear while freewheeling – but this has come with practice, and he has now got the hang of changing up and down as needed. The gear twist levers are easy to use – really child friendly – and Jacob can see at a glance which gear he is currently in. The handlebars have a junior single density rubber grip, which is fairly comfortable, although we have found that on longer rides Jacob's hands become a little sore, so he tends to wear cycling gloves now. He loves the addition of a bell, and uses it regularly to let people know he is coming! The brakes are within easy reach of the handlebars, and smooth to use.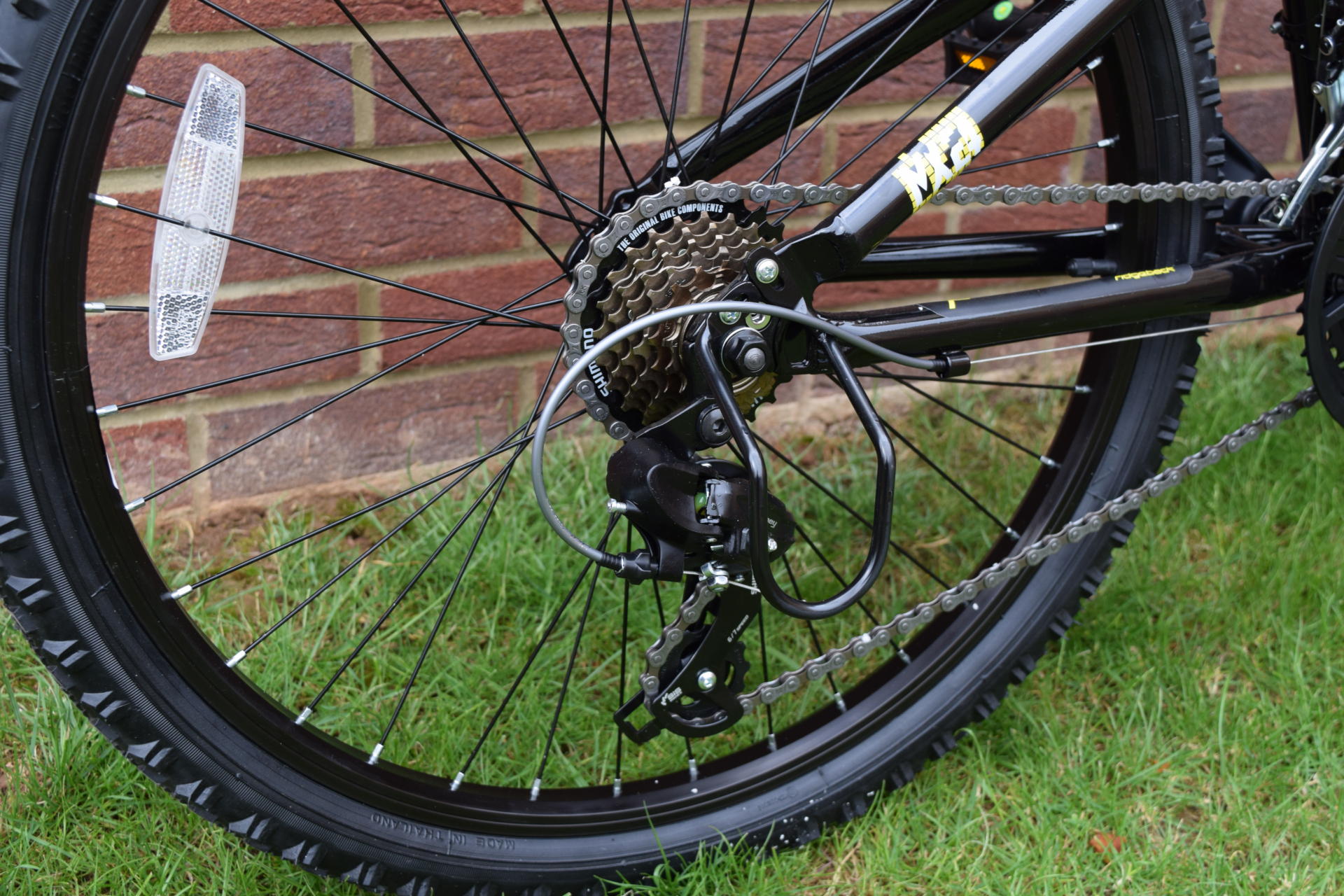 The 24 inch wheels have a set of wide tyres with really good grip – ideal for off roading and wet conditions. They don't slip, slide or skid, and we have tried them out on mud, grass, gravel and tarmac! The pedals are a good size for Jacob's feet – big enough for him to have a solid base for his feet, without being so big that his feet slide off.
In essence, this is very much a 'real' bike, not a gimmick or toy. It will last Jacob well in to his teenage years, and the design is something he won't outgrow either. His friends have given it the seal of approval, dubbing it 'well cool'.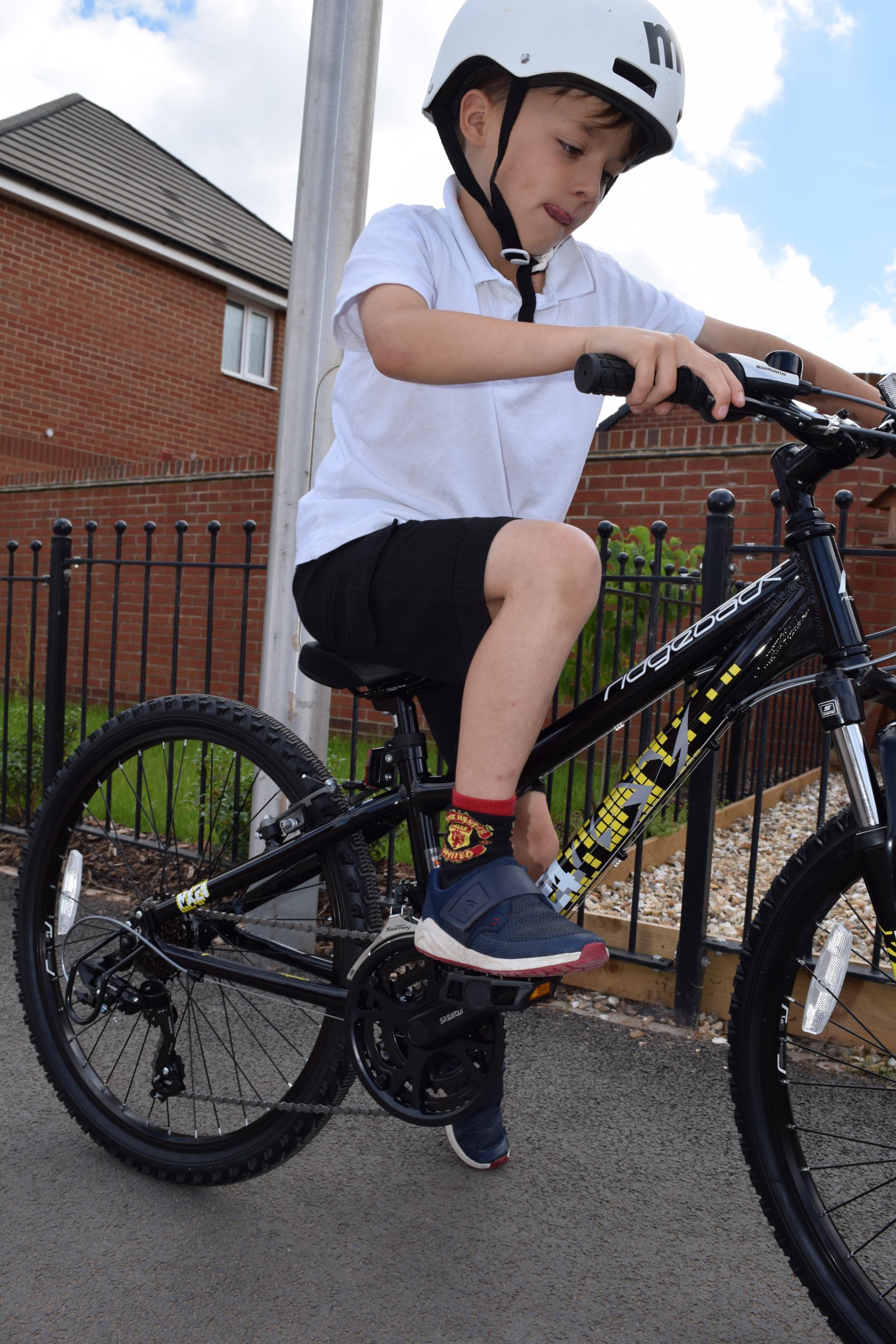 As much as Jacob loves his BMX bike, we had noticed that he hadn't been using it as much – only really utilising it when we took him to the BMX track. Since having the Ridgeback MX24, he has been out on the bike almost daily, coming home from school and heading straight out with his friends. He has also been asking to go on family bike rides at the weekend, which is something he hasn't done before. I really do think this is down to the fact that he found the BMX bike hard to ride on roads, hills and muddy/grassy tracks. Now he has off road wheels, a comfortable seat and a fantastic set of gears, he really is unstoppable.
You can find out more about Ridgeback bikes here. There is something for the whole family, with a great range of kids bikes, traditional, road, and mountain bikes for the adults, and even an electric collection. Bikes come fully assembled, which is SUCH a huge bonus for me – there is nothing worse than trying to build a new kids bike on Christmas Eve, and they are all reasonably priced too.