BoBo Buddies
There is always a debate within the parenting community about reins, but for us they are a toddler essential. Eliza is at the stage now where she isn't keen on being in a pushchair for long periods of time, and she wants to be out exploring. But sometimes, it's just not safe for her to be doing so without reins. As much as I always hold onto her hand, it's very easy for her to slip out of my grasp, and so reins give me that extra bit of security.
BoBo Buddies have designed a toddler rucksack with a rein attached, and we have been trying out the Raffy Giraffe design. It fits on Eliza just like a normal backpack would, with a chest strap for extra comfort and to prevent the straps slipping. She loves the cuddly giraffe holding on to her, and happily wears this, whereas she's not been so keen with traditional reins.
The detachable rein is 70cm long, so perfect for allowing some independence and freedom to explore, while still maintaining a safe distance. It has a loop on the end that you can easily slip over your wrist. The giraffe bag itself is the perfect toddler size, and even allows me to zip some of Eliza's bits and bobs in when we are out and about – I can easily get a nappy, some wipes and a drink in there.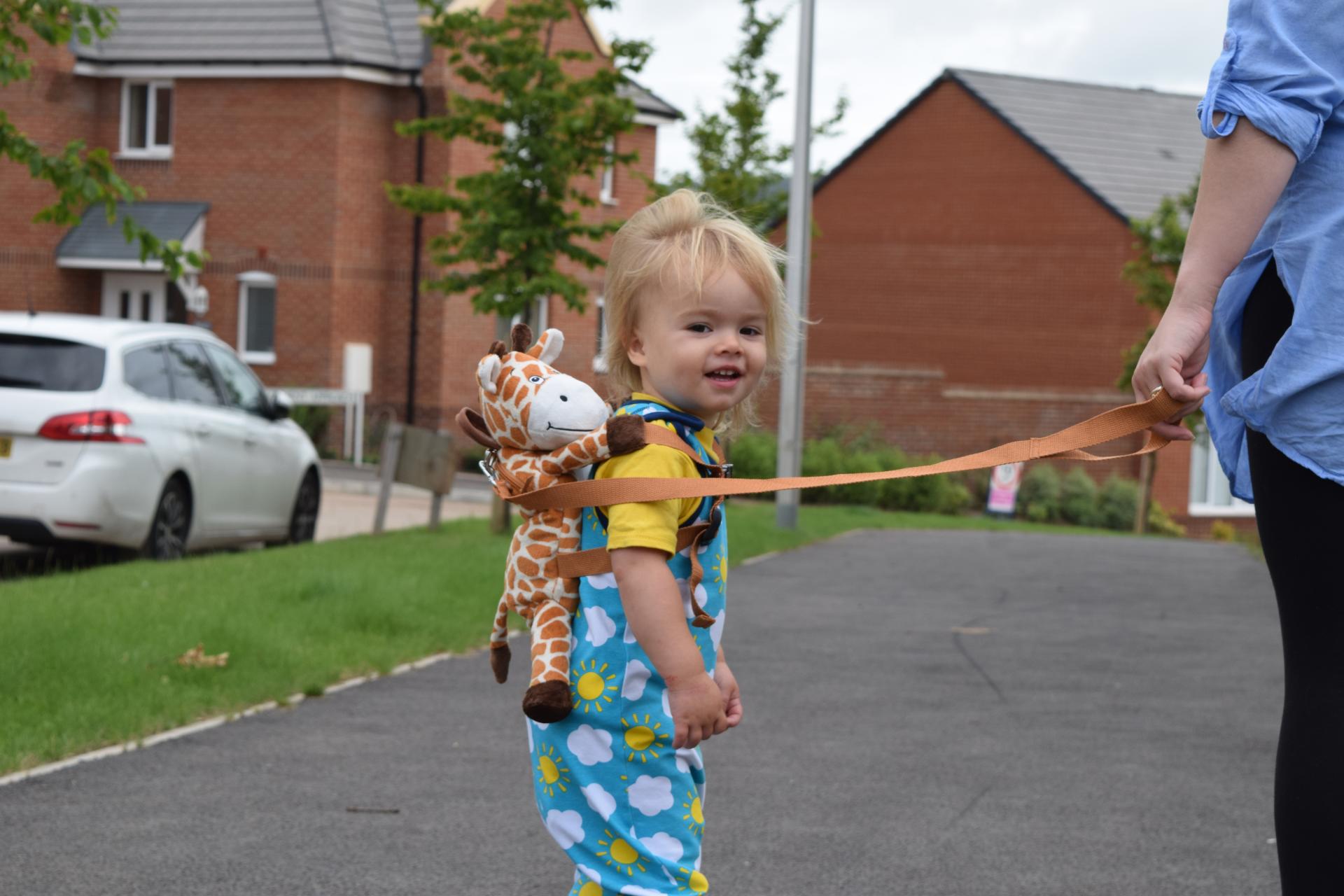 Joolz Essentials blanket
Joolz is a brand that I associate with luxury and quality, and their Essentials blanket is no different. We have been cuddling up with their Honeycomb Off White blanket, and it just screams comfort. Made from 100% organic cotton, this blanket absorbs moisture and regulates heat, making it the perfect choice for a new baby. It has so many uses – daytime naps, night time sleeping, trips in the pram or car seat, or just snuggling up on the sofa. This blanket is off to a very good friend of mine who is expecting a baby boy in September, and I can't wait to see it in use.
Paw Patrol Fuzzy Felt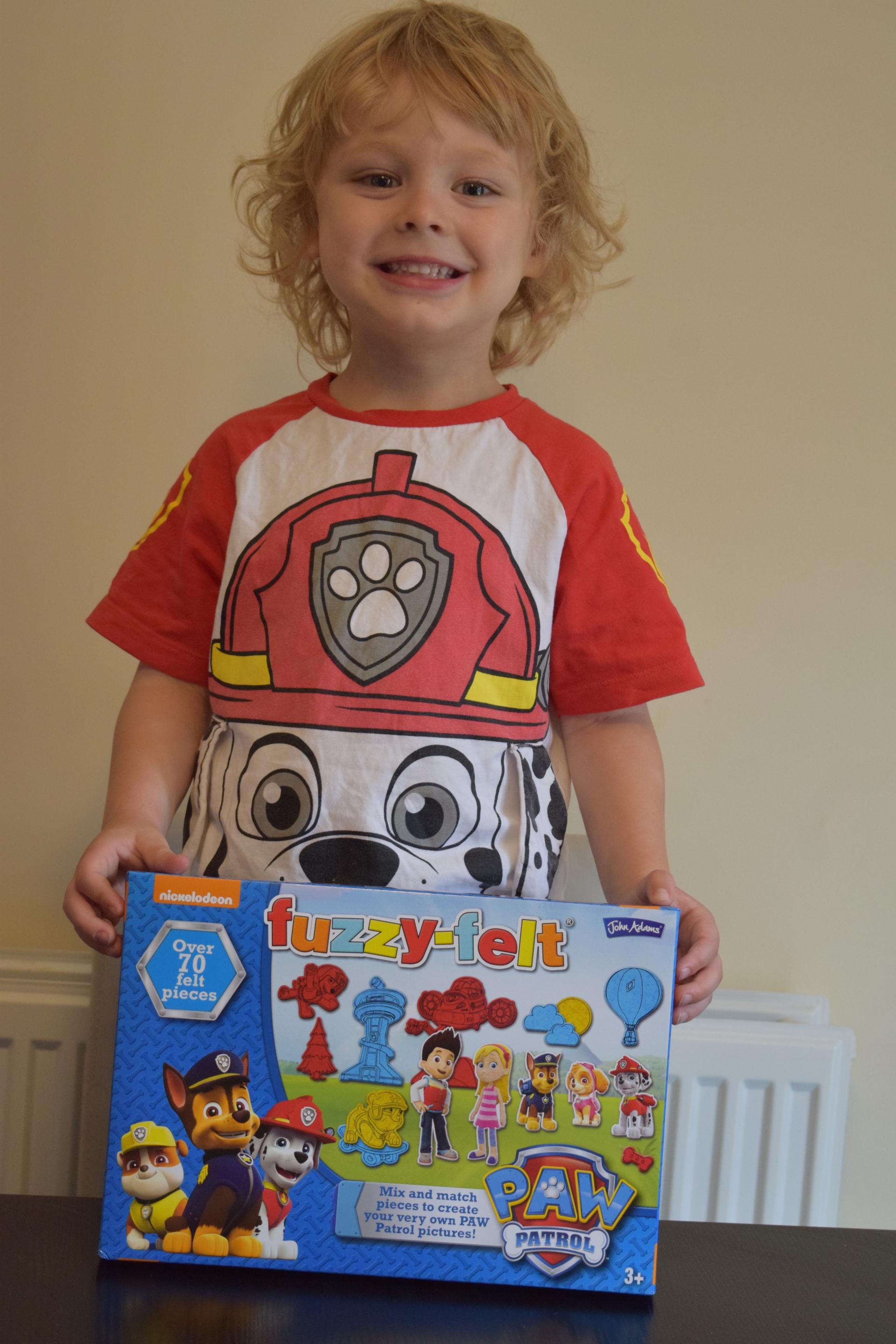 There are 2 huge Paw Patrol fans in this house (as you can tell from the tshirt). We were recently sent the Paw Patrol Fuzzy Felt set from Toys R Us, which took me right back to my childhood – I remember loving Fuzzy Felt sets when I was small! This set features all the main Paw Patrol characters – Ryder, the Pups, Katie and Callie and even Chickaletta. The coloured pieces include the Lookout, the Paw Patrol vehicles, and lots of added extras such as bones, bridges and balloons, so you can make all sorts of scenes and stories.
The pieces stick lightly to the green board, but not so firmly that they are difficult to remove. They haven't lost their sticky-ness over time, and are still in the same quality they were when we got them. The pieces are flexible, so they can be bent and moved without them losing their original shape, and they are the ideal size for little hands. Not only has this been encouraging some great imaginative play from the little ones, it's a great toy for all the children to share.
Magic Tracks
Magic Tracks is pretty new to the market, so we were really pleased to be able to get our hands on a set. The glow in the dark racetrack is super simple to put together – each piece of track simply clicks on to the next one, so you can make and remake into as many different layouts as you like really easily. The track bends and flexes, so you can make loops, ramps or whatever takes your fancy!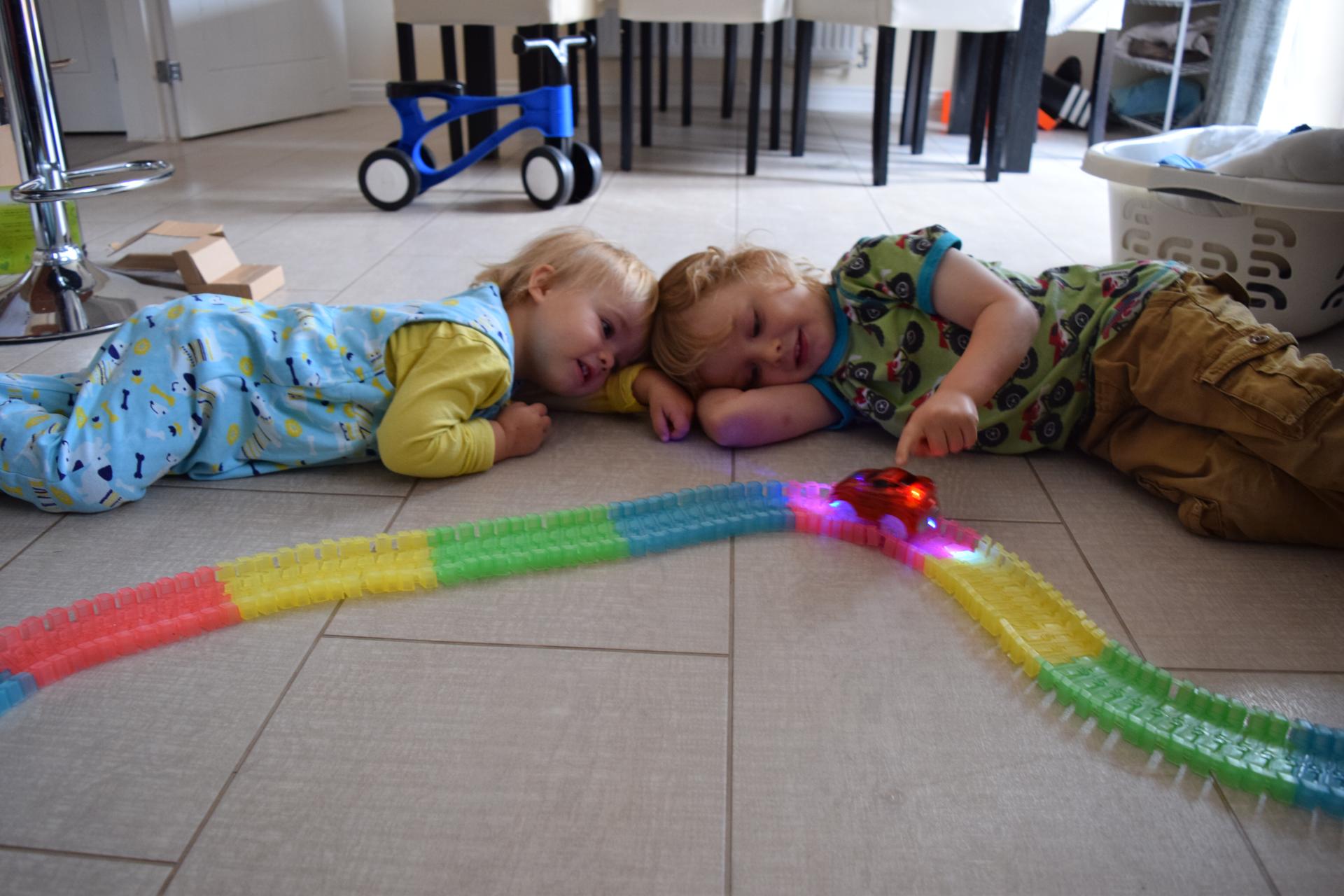 Once you turn out the lights, the track glows in 4 different colours, and the car included lights up too. It would be great to have another car included, as the box shows 2, and the kids wanted to race each other, but you can buy additional cars separately. In total, you get 11 feet of track with this Magic Tracks starter kit, so the possibilities are endless! We are waiting for the new tunnel accessory pack to be released too, so we can expand our set further!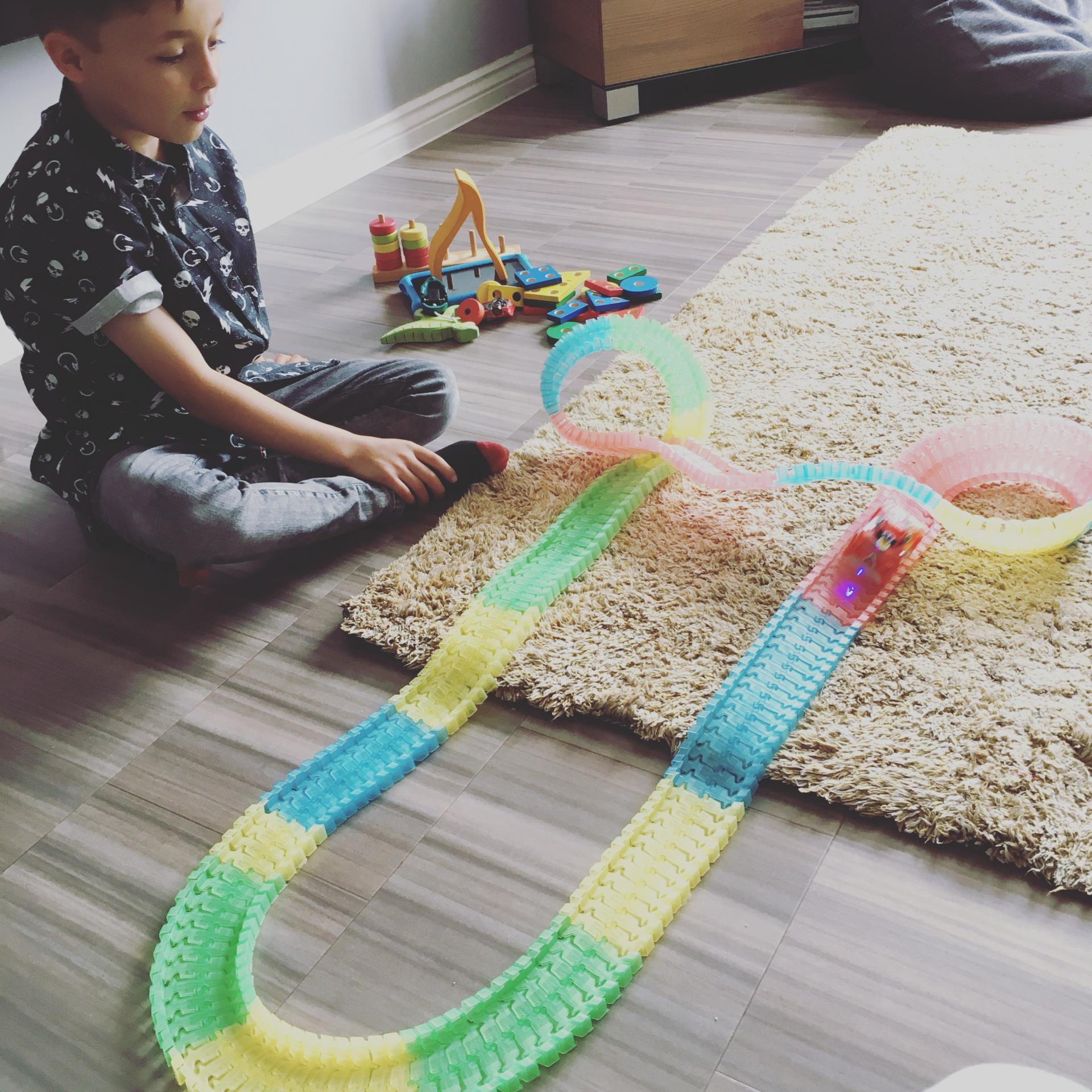 Epaderm Junior
Epaderm have just launched a new junior range, suitable from birth. It is designed to care for dry skin prone to conditions such as eczema and psoriasis. Free from fragrance, colourings and SLS, it is developed by dermatologists and recommended by doctors.
The 2 in 1 emollient can be used as a cleanser and a moisturiser, and is perfect for keeping in the changing bag for regular top ups. The ointment is a 3 in 1 product, again useful for cleansing and moisturising, but also ideal for popping into the bath to soothe sore skin. We have been using the emollient cream during the day, and the thicker ointment as a bath and bed cream.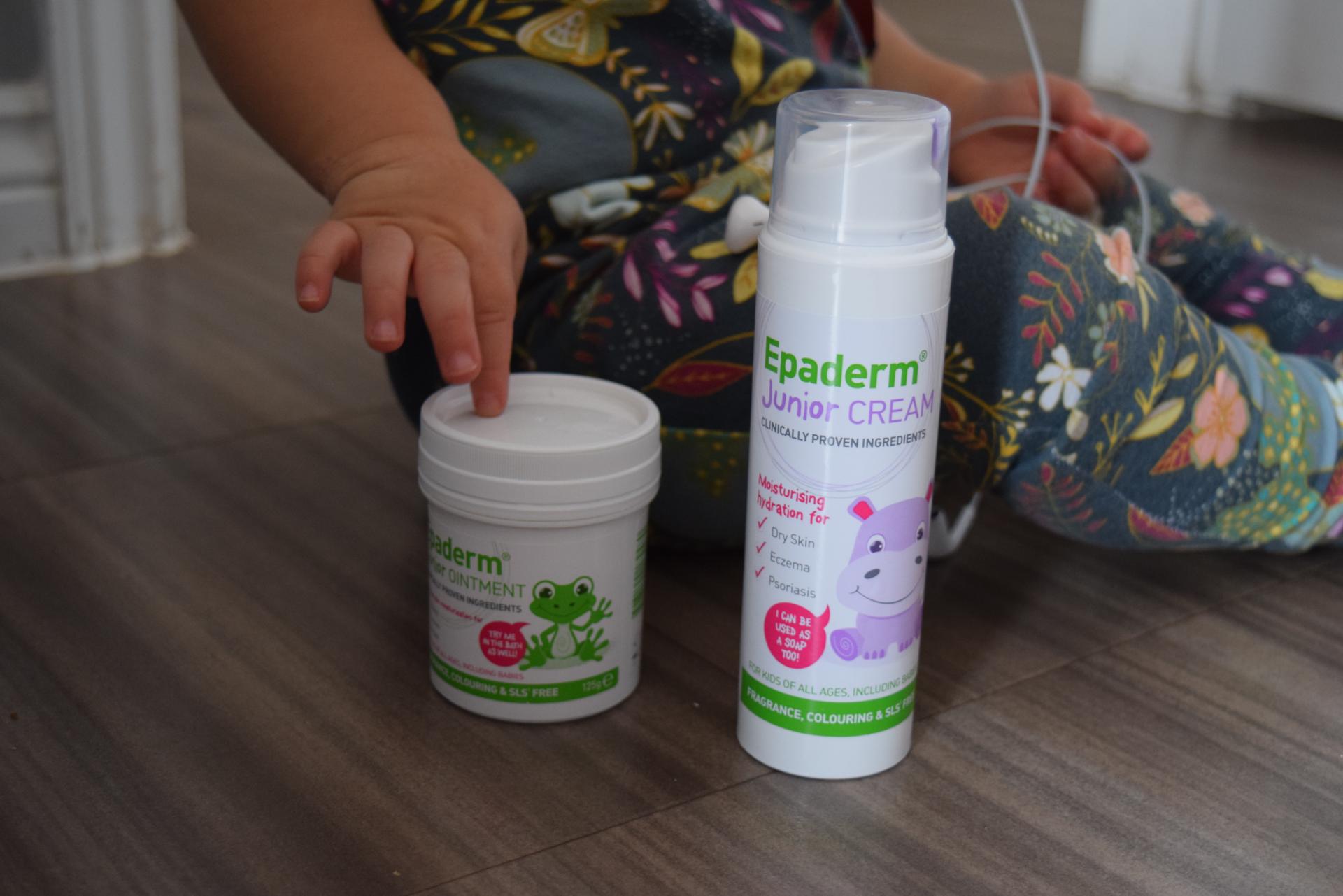 So far, we have noticed a small improvement in Eliza's eczema – it is definitely less red and doesn't feel as rough. The emollient cream absorbs into her skin quickly and isn't greasy. The ointment helps to keep her skin moisturised whilst in the bath and overnight. We are going to keep using the Epaderm for another week or so and see if there is a big improvement as part of the #OneTwoFreeYourSkin campaign.