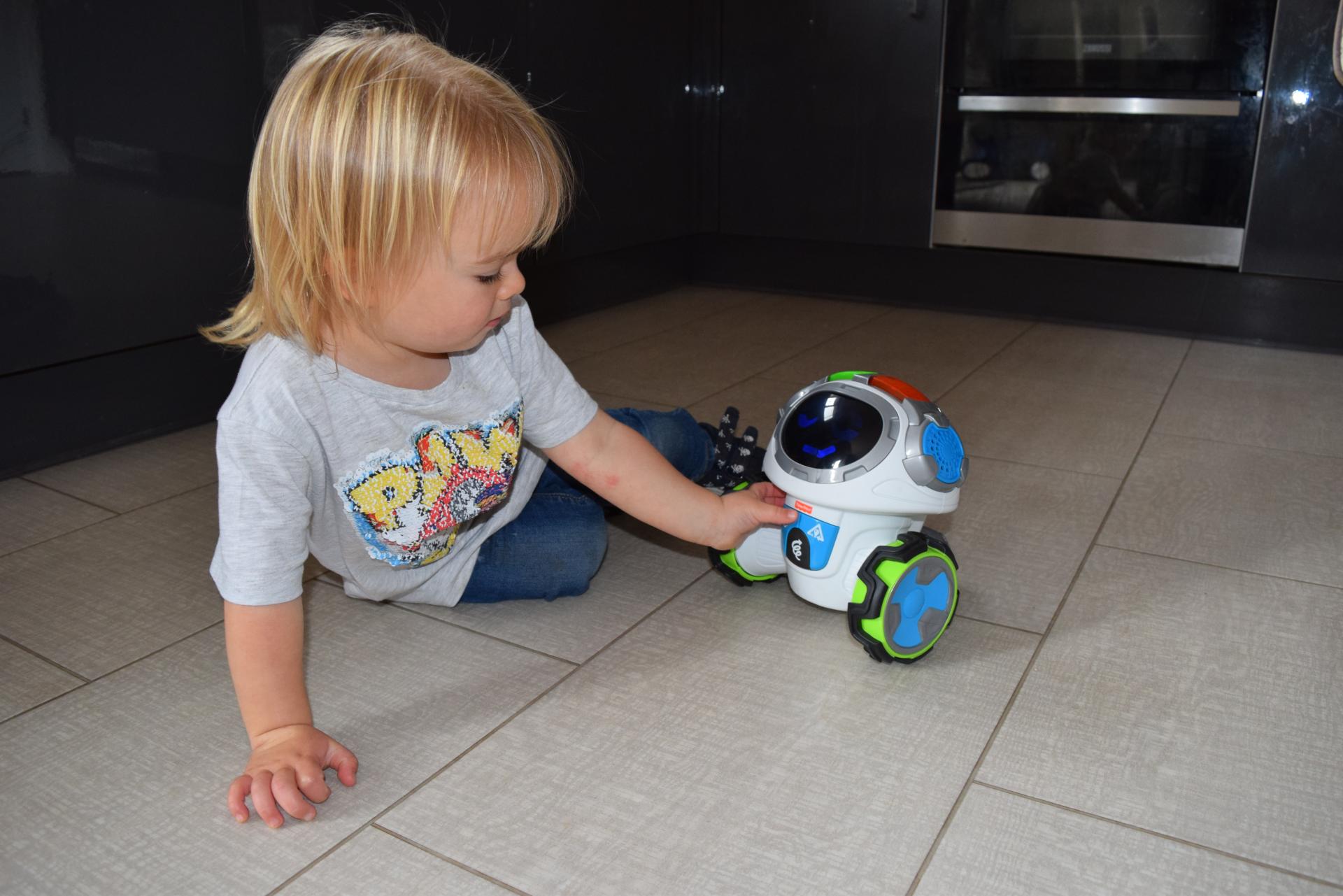 Eliza just loves to dance – well I say dance in the loosest terms but she does love to get jump around to any music and it's great fun to watch. So when we were offered the chance to try 'Teach 'n Tag Movi' we literally jumped at the chance! Movi is a robot who likes to move around with music, getting kids to dance with his moves. There are also games to play, including animal actions and Movi says.
It has 3 game modes with with a total of six games:
Alpha Fun Actions
– Animal Actions listening for instructions about the animal and it's action
– Movi Says pressing buttons or hopping on one foot just be careful only to do what Movi says!
Think & Move Shapes
– Shape moves listening for directions or a question then follow Movi with the shape he draws (square, triangle or circle) and answer the question using the buttons on his head
– Step-by-step listen for the dance move and put them together for a dance
Learn & Play Games
– Red Light Green Light move around on the green light stop on the red
– Silly Sounds Tag if you can catch him tag the button on his head
Eliza's favourite game was the step-by-step which is great for her hand eye coordination.
Eliza is at the lower end of the age range that Movi is aimed at but she was able to get the basic commands and really enjoys interacting with Movi. As she gets older she will be able to fully grasp the instructions, and I don't think that will be long!
Max is also at the perfect age to use Movi, and he loves the Animal Actions and Tag. I love the fact that there are so many dimensions of play, and it's a great toy to bring all the kids together. Movi has over 60 different faces, 360 degree mobility and encourages critical thinking skills and direction following.
Overall we really love Movi. It keeps Eliza and Max entertained, provides hours of fun and learning, and gets them moving! Highly recommended, and a great option for Christmas. Aimed at children aged 3+, Teach 'n' Tag Movi is priced at £44.99.